Silvio Lorusso: Hello every­one. Thanks for being here. Today, I'm going to talk about a few ideas relat­ed to the entrep­re­cari­at, a con­cept I've been try­ing to artic­u­late for some time now.
I'd like to start by say­ing some­thing on how this inter­est came about. Not so long ago, I got a three-year research schol­ar­ship, which among oth­er things pro­vid­ed me with a cer­tain degree of sta­bil­i­ty, char­ac­ter­ized by a rarely long tem­po­ral hori­zon. Despite this being an obvi­ous excep­tion, my rel­a­tive sta­bil­i­ty felt nor­mal to me. And from this van­tage point I could per­ceive all the ​"short inten­tion spans" of my friends and col­leagues as a struc­tur­al aber­ra­tion.
All of this changed when the schol­ar­ship was com­ing to an end. This is when I felt the full weight of real­i­ty all at once.
From now on, you will be in the grip of a human emo­tion that the good Lord, or more like­ly his neme­sis, cre­at­ed just for entre­pre­neurs.
Wilson Harrell, Entrepreneurial Terror, Inc. Magazine, 1987 [pre­sen­ta­tion slide]
At the time, I did­n't know exact­ly how to describe what I was going through. Then while I was delv­ing into entre­pre­neur­ship, I stum­bled upon an old Inc. arti­cle by Wilson Harrell. Here, this suc­cess­ful entre­pre­neur described a spe­cif­ic feel­ing that only entre­pre­neurs were sup­posed to expe­ri­ence. Wilson Harrell named this emo­tion ​"entre­pre­neur­ial ter­ror." And, even though I had noth­ing to do with entre­pre­neur­ship in the strict sense, I could deeply relate with the roller coast­er ride described by Harrell.
In order to demon­strate how this pecu­liar form of ter­ror is so com­mon among entre­pre­neurs, Harrell sug­gest­ed to go to one of them and ask, ​"So how are you cop­ing with ter­ror?" According to him, such a ques­tion would trig­ger some sur­prise. Yet it would be imme­di­ate­ly under­stood by the fel­low entre­pre­neur. Now, I believe that the reac­tion of many of my friends, espe­cial­ly the ones involved in acad­e­mia or in the cre­ative indus­tries, would­n't be that dif­fer­ent.
Today, exact­ly thir­ty years after the pub­li­ca­tion of Harrell's arti­cle, any kind of human activ­i­ty or endeav­or is under­stood through an entre­pre­neur­ial per­spec­tive. This is par­tial­ly due to the pro­pa­gan­da car­ried out by pro­fes­sion­al entre­pre­neurs them­selves. Like Reid Hoffman, co-founder of LinkedIn, who intro­duced his book by quot­ing Muhammad Yunus. Here, the Bangladeshi social entre­pre­neur declares, ​"All human beings are entre­pre­neurs. When we were in the caves, we were all self-employed, find­ing our food, feed­ing our­selves. That's when human his­to­ry began. As civ­i­liza­tion came, we sup­pressed it. We became labor because they stamped us, ​'You are labor.' We for­got that we are entre­pre­neurs."
So this is how entre­pre­neur­ship turns into entre­pre­neuri­al­ism, an ide­ol­o­gy that nat­u­ral­izes risk-taking and self-determination. And while doing this, it expands entre­pre­neur­ial ter­ror to the whole social spec­trum.
Both pre­car­i­ty and entre­pre­neuri­al­ism are impal­pa­ble yet con­sti­tu­tive ele­ments of the cur­rent social real­i­ty. They form the social atmos­phere.
[pre­sen­ta­tion slide]
As you prob­a­bly know, there is anoth­er term that is often asso­ci­at­ed with this now-widespread form of ter­ror. The word is ​"pre­car­i­ty." While pre­car­i­ty indi­cates the very con­tent and con­text of this fear, entre­pre­neu­ral­ism is meant to offer an escape from that. Both are con­sti­tu­tive ele­ments of the cur­rent social real­i­ty.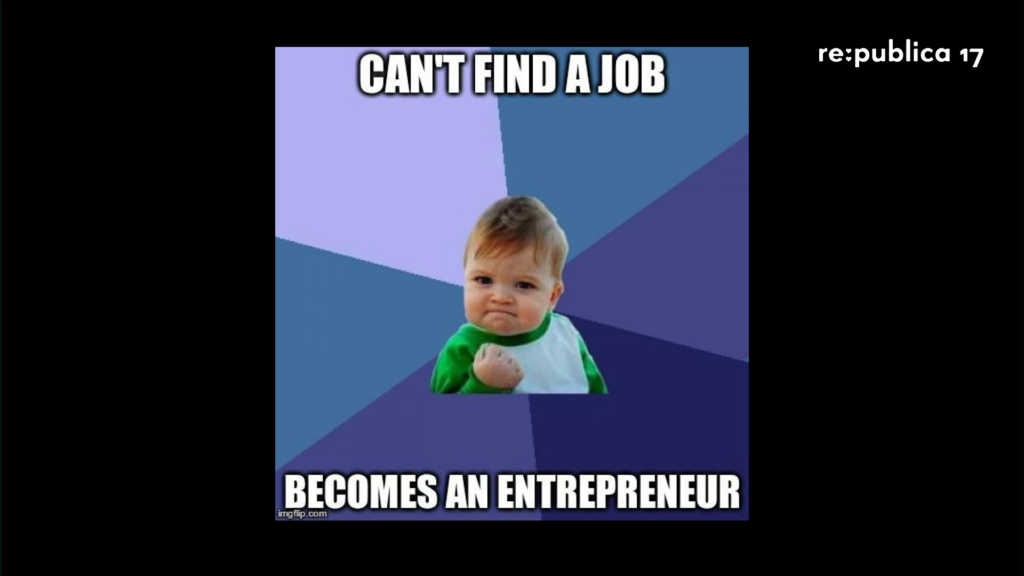 Here is a one-liner that high­lights the rela­tion­ship between pre­car­i­ous work and entre­pre­neuri­al­ism. ​"Can't find a job, becomes an entre­pre­neur." As I'll show you after­wards, the choice of the ​"Success Kid" meme is not acci­den­tal.
The rec­i­p­ro­cal influ­ence between an entre­pre­neuri­al­ist regime and per­va­sive pre­car­i­ty, their ambiva­lent coex­is­tence, is what the con­cept of the entrep­re­cari­at refers to. To artic­u­late some of the ways in which this mutu­al influ­ence takes place, I'd like to intro­duce what I would call a pos­tu­late of the entrep­re­cari­at. So here it is: The more pre­car­i­ty is present, the less entre­pre­neuri­al­ism is vol­un­tary.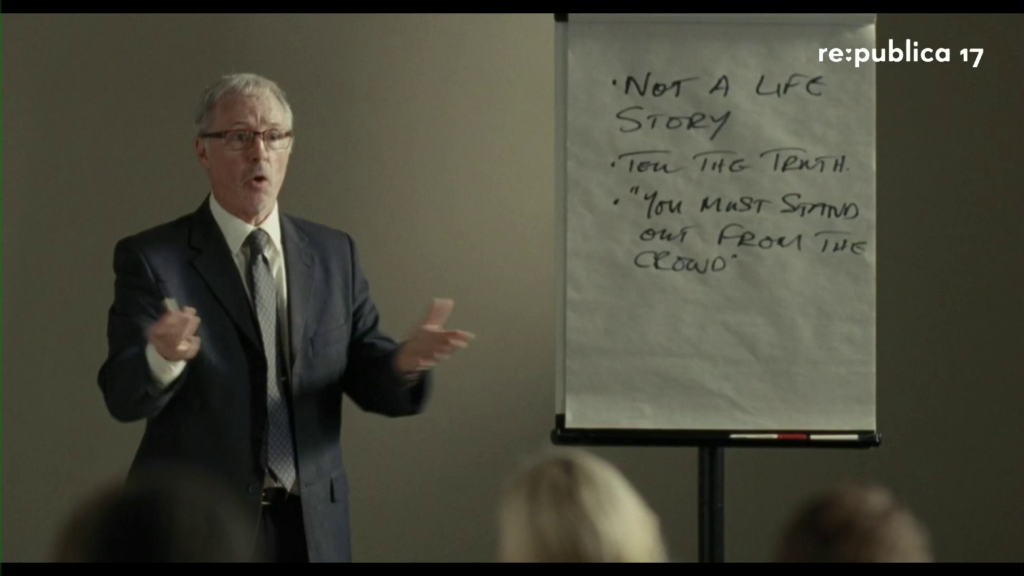 The pos­tu­late is well exem­pli­fied by a scene of I, Daniel Blake, a 2016 movie by Ken Loach on the night­mare of work­fare in the UK. Here, a group of unem­ployed peo­ple is required to take a course to improve their chances to find a job. According to the course coach, in a con­text char­ac­ter­ized by the scarci­ty of avail­able posi­tions, it is imper­a­tive to stand out from the crowd. This atti­tude implies the under­stand­ing of indi­vid­u­als as com­peti­tors, as micro-companies con­stant­ly seek­ing atten­tion through per­son­al pub­lic­i­ty.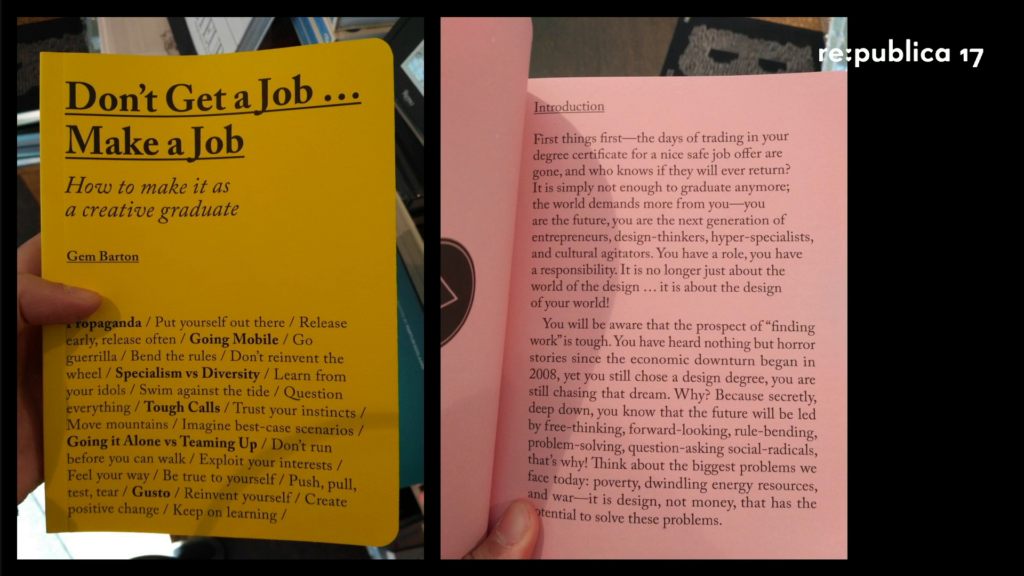 The par­a­digm of a per­son as micro-company is so per­va­sive to be almost invis­i­ble. We find it for instance in the field of cre­ative indus­tries, where a mon­grel lit­er­ary genre mix­ing self-help and cre­ative inspi­ra­tion is emerg­ing. A case in point is this book, which adapts a series of gener­ic job-seeking plat­i­tudes to the tar­get group of cre­ative grad­u­ates. In its intro­duc­tion, we encounter anoth­er pecu­liar aspect of the entrep­re­cari­at, a cog­ni­tive dis­so­nance in which sub­jects face the hard­ships of find­ing a job while at the same time being expect­ed to address the biggest prob­lems we face today, like pover­ty and war.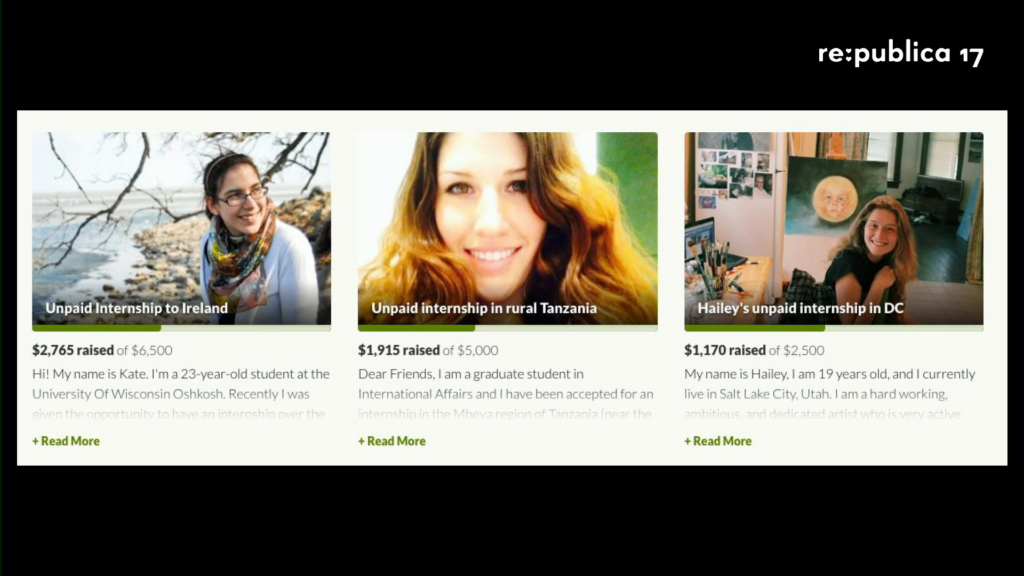 The blend­ing of a forced entre­pre­neur­ial atti­tude with spe­cif­ic instances of pre­car­i­ty is par­tic­u­lar­ly evi­dent in the con­text of per­son­al crowd­fund­ing. Browsing GoFundMe, we encounter hun­dreds of young grad­u­ates that can­not afford unpaid intern­ships, which often rep­re­sent a nec­es­sary step to land a job. So they smile at the cam­era and pas­sion­ate­ly describe their inter­ests and aca­d­e­m­ic achieve­ments while detail­ing their spe­cif­ic finan­cial needs. They cheer­ful­ly adver­tise their per­son­al bur­den.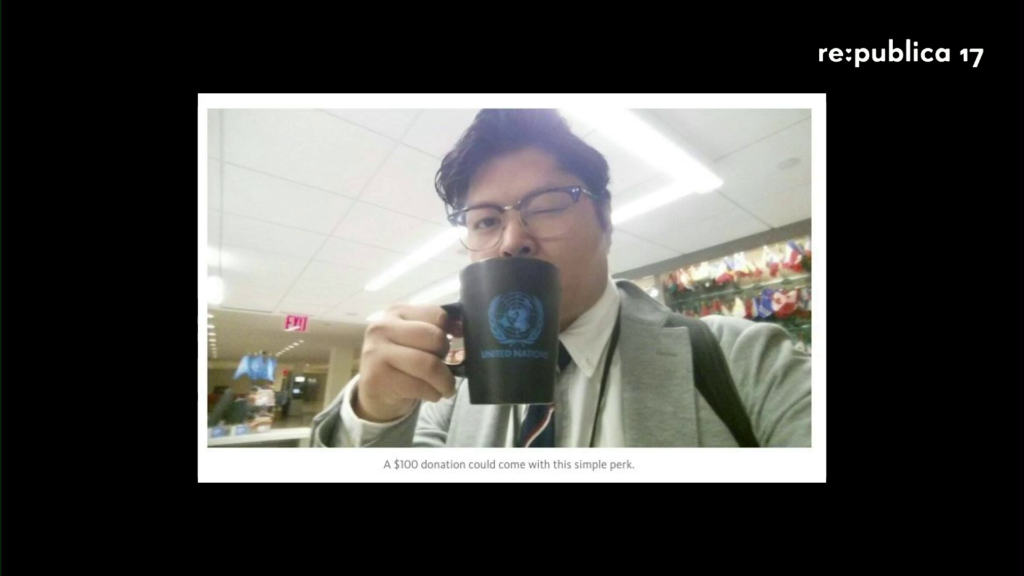 Clement Nocos is one of them. A polit­i­cal sci­ence grad­u­ate from Canada who got accept­ed for a pres­ti­gious unpaid intern­ship at the United Nations, a ​"one-time-only oppor­tu­ni­ty" as he calls it. Not only did Nocos pro­duce a some­how iron­ic four-minute-long video to adver­tise his cam­paign, he also con­ceived a series of ​"perks" to be offered to par­tic­u­lar­ly gen­er­ous donors.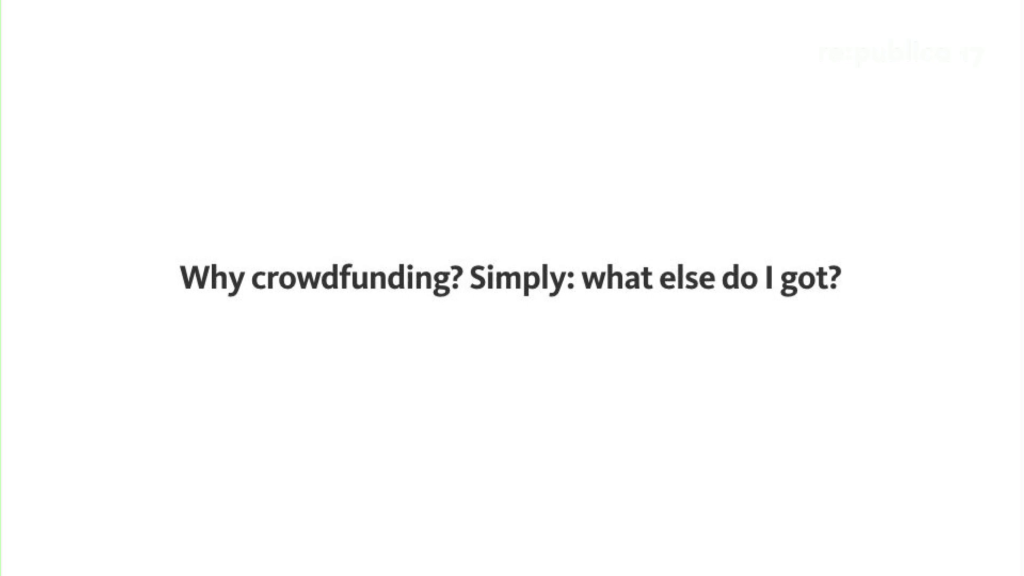 In a long post on medi​um​.com, Nocos explained in detail the rea­sons and the results of his cam­paign. The above head­er is a good sum­ma­ry. Eventually, Nocos was able to raise less than $2,000 out of the $6,000 he asked for.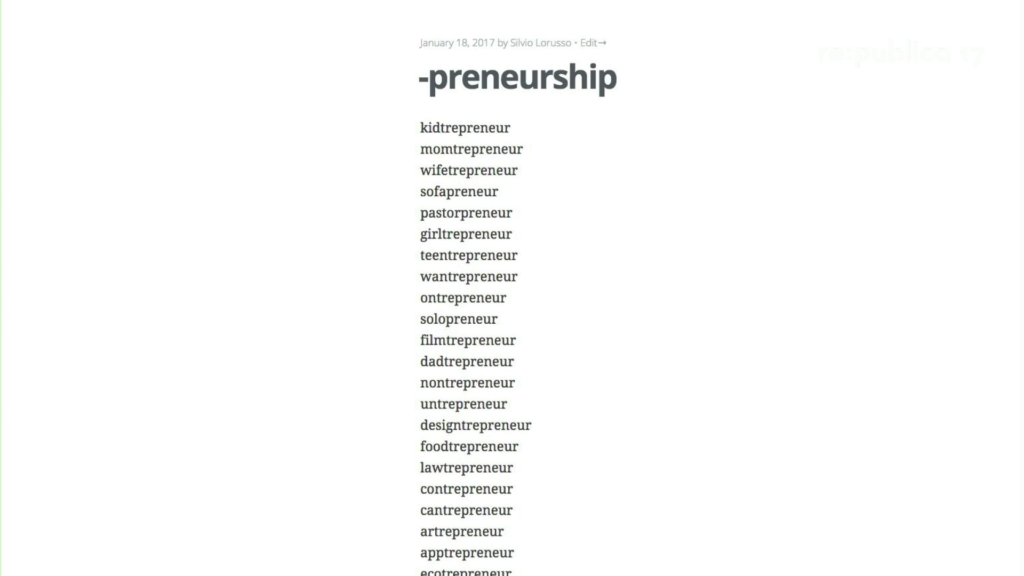 The Internet is full of port­man­teau words that work in com­bi­na­tion with the word ​"entre­pre­neur." Recently I start­ed to col­lect them, and I cre­at­ed a list includ­ing inter­est­ing neol­o­gisms like ​"sofapre­neur," ​"dadtrepre­neur," or even ​"wantre­pre­neur."
Given my pre­oc­cu­pa­tion with com­pul­so­ry entre­pre­neur­ial endeav­ors result­ing from dif­fer­ent types of pre­car­i­ous con­di­tions, I decid­ed to come up with yet anoth­er blend­word. A sadtrepre­neur is a per­son that unwill­ing­ly behaves as an entre­pre­neur and there­fore is not so hap­py about it.
Crowdfunding plat­forms like GoFundMe, YouCaring, and Generosity, are full of sadtrepre­neurs. Here, the amount of peo­ple ask­ing mon­ey for unex­pect­ed med­ical expens­es is strik­ing. It isn't too much of a sur­prise, then, the fact that more mon­ey was raised on GoFundMe than on Kickstarter and that almost 70% of the US crowd­fund­ing dona­tions were offered to a per­son in need.
While some users fill their pro­file only with a short blurb, some oth­ers include professionally-shot videos or inti­mate pic­tures of their lives, some­times depict­ing med­ical treat­ment.
For her cam­paign, Kati McFarland chose YouCaring. Kati is a young Arkansan suf­fer­ing from Ehlers-Danlos Syndrome who pub­lished pic­tures of her­self while hos­pi­tal­ized togeth­er with finan­cial sum­maries of her med­ical expens­es.
The three dimen­sions of the pre­car­i­ous described by polit­i­cal the­o­rist Isabell Lorey coex­ist in these med­ical cam­paigns. First, the ineluctable pre­car­i­ous­ness of life, char­ac­ter­ized by the unpre­dictabil­i­ty of acci­dents and ill­ness.
Second, ​"pre­car­i­ty," which is both a dis­cur­sive frame to social­ly address pre­car­i­ous­ness and a means of cre­at­ing hier­ar­chies of need that in the case of crowd­fund­ing are medi­at­ed by dif­fer­ent scales of vis­i­bil­i­ty.
Finally, gov­ern­men­tal pre­cariza­tion, the gov­ern­ing and self-governing through inse­cu­ri­ty, which includes the ero­sion of wel­fare state forms of pro­tec­tion like uni­ver­sal health care and thus implies the desta­bi­liza­tion of the ones that require them.
The suc­cess of these per­son­al crowd­fund­ing cam­paigns is strict­ly relat­ed to the user's abil­i­ty to oper­ate as a media com­pa­ny, act­ing simul­ta­ne­ous­ly as a copy­writer, a pho­tog­ra­ph­er, a social media man­ag­er, and an accoun­tant.
Often, the plat­forms them­selves offer tuto­ri­als and tips to improve the qual­i­ty of a cam­paign, some­times includ­ing extreme­ly gener­ic sug­ges­tions such as avoid­ing blur­ry pic­tures. A title needs to be catchy in order to stand out from the pletho­ra of run­ning cam­paigns. In this sce­nario, the access to an infor­mal means of pro­tec­tion against emer­gen­cies turns into a race where online media lit­er­a­cy is a valu­able com­pet­i­tive advan­tage.
Think of your can­cer as the ori­gin sto­ry a tech start­up tells about itself on the About sec­tion of its web­site.
Luke O'Neil, Go Viral or Die Trying, Esquire, 2017
In a recent inves­ti­ga­tion for Esquire, jour­nal­ist Luke O'Neil draws a direct par­al­lel between med­ical crowd­fund­ing and the ecosys­tem of tech entre­pre­neur­ship. Here, O'Neil sar­cas­ti­cal­ly asso­ciates the pre­sen­ta­tion of GoFundMe users' med­ical his­to­ry to the stereo­typ­i­cal nar­ra­tive of tech star­tups, implic­it­ly reveal­ing a sim­i­lar­i­ty between an appeal to char­i­ta­ble spir­its and a pitch to a ven­ture cap­i­tal firm.
While read­ing O'Neil's piece, I was remind­ed of a cam­paign which effec­tive­ly com­bined per­son­al neces­si­ty, the amass­ing of rela­tion­al cap­i­tal giv­en by viral­i­ty, and the strate­gic use of media lit­er­a­cy. In 2015, the boy who imper­son­at­ed the Success Kid meme, now 8 years old, took advan­tage of his online pop­u­lar­i­ty to fund the trans­plant of his father's kid­ney. Significantly, on The Verge the news was pub­lished under the cat­e­go­ry of enter­tain­ment.
I'd like to bor­row for a moment the start­up lin­go to dis­cuss some of the attempts to ​"dis­rupt" pre­cariza­tion and the dilem­mas relat­ed to this effort.
Precarity sig­ni­fies both the mul­ti­pli­ca­tion of pre­car­i­ous, unsta­ble, inse­cure forms of liv­ing and, simul­ta­ne­ous­ly, new forms of polit­i­cal strug­gle and sol­i­dar­i­ty that reach beyond the tra­di­tion­al mod­els of the polit­i­cal par­ty or trade union.
Rosalind Gill and Andy Pratt, In the social fac­to­ry? Immaterial labour, pre­car­i­ous­ness and cul­tur­al work, 2008
While pre­car­i­ty is gen­er­al­ly under­stood as a mix­ture of diverse forms of insta­bil­i­ty and inse­cu­ri­ty, Rosalind Gill and Andy Pratt sug­gest that the term can also refer to orig­i­nal modes of polit­i­cal strug­gle.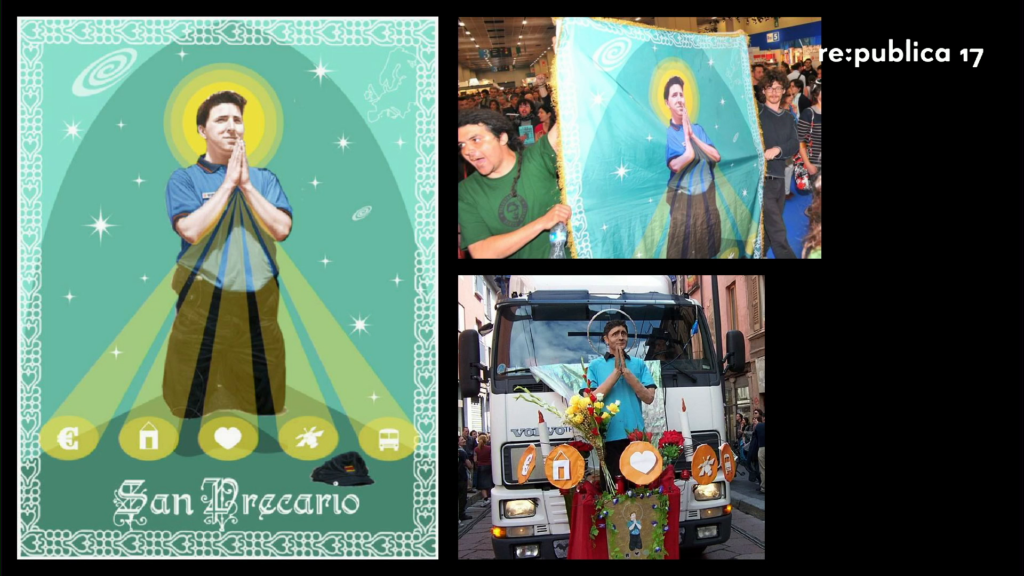 This is the case of San Precario, an icon that made its first appear­ance in 2004 and became an ante lit­ter­am meme against the exac­er­ba­tion of labor pre­car­i­ty. San Precario exploit­ed and sub­vert­ed the deep Catholic roots of Italy, pro­duc­ing a mass of devo­tees and its own heretic litur­gy.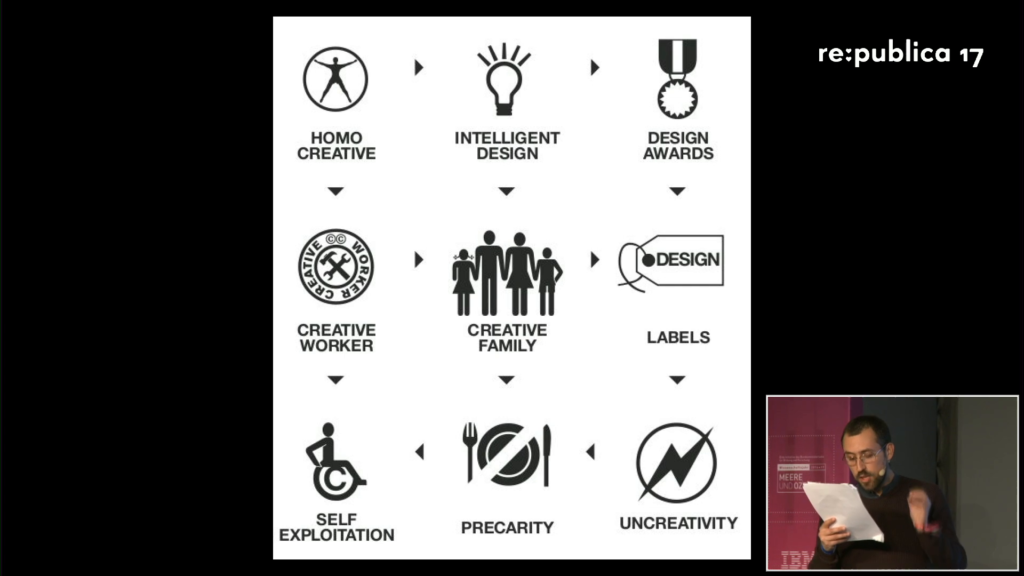 A cou­ple of years lat­er, the MyCreativity Network, a group formed around a series of events that took place in the Netherlands, pro­posed a real­i­ty check of Richard Florida's ide­al­is­tic image of the cre­ative class. Instead of focus­ing on notions like empow­er­ment and auton­o­my, the group dis­cussed self-exploitation, inse­cu­ri­ty, and the emer­gence of a cre­ative under­class.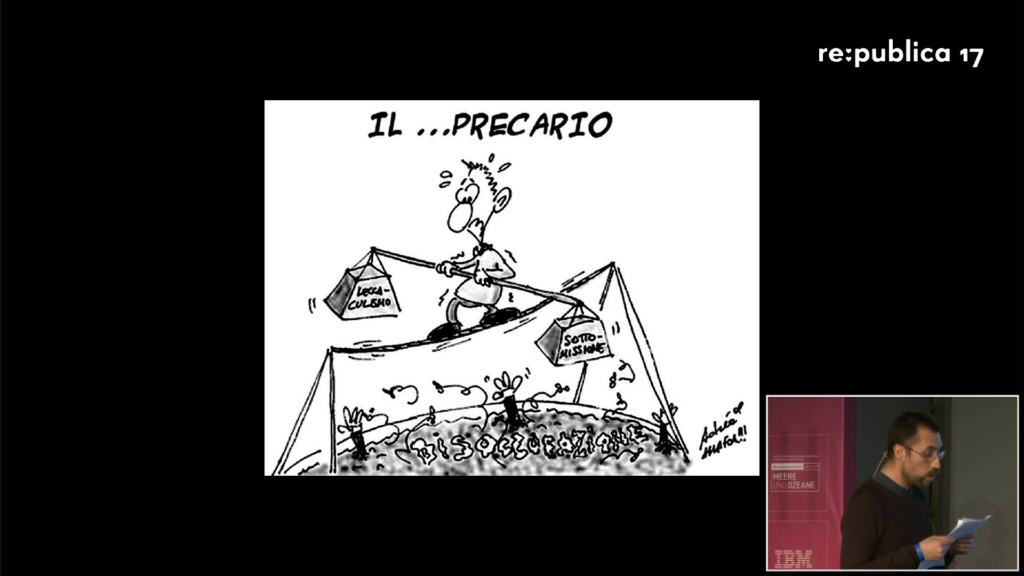 Nowadays, more than a decade after these efforts, the preva­lent image of the pre­car­i­ous sub­ject in the Italian media land­scape is an unflat­ter­ing one. The above com­ic strip alle­gor­i­cal­ly illus­trates it. Being pre­car­i­ous means walk­ing on a tightrope placed above the quick­sands of unem­ploy­ment, hav­ing to find a bal­ance between sub­ju­ga­tion and def­er­ence.
Given the per­va­sive entre­pre­neur­ial pres­sure to think strate­gi­cal­ly of one's own per­son­al brand, build­ing social cohe­sion around the acknowl­edg­ment of shared forms of pre­car­i­ty is not an easy task. In oth­er words, not many peo­ple would com­fort­ably iden­ti­fy as pre­car­i­ous on LinkedIn or even Facebook.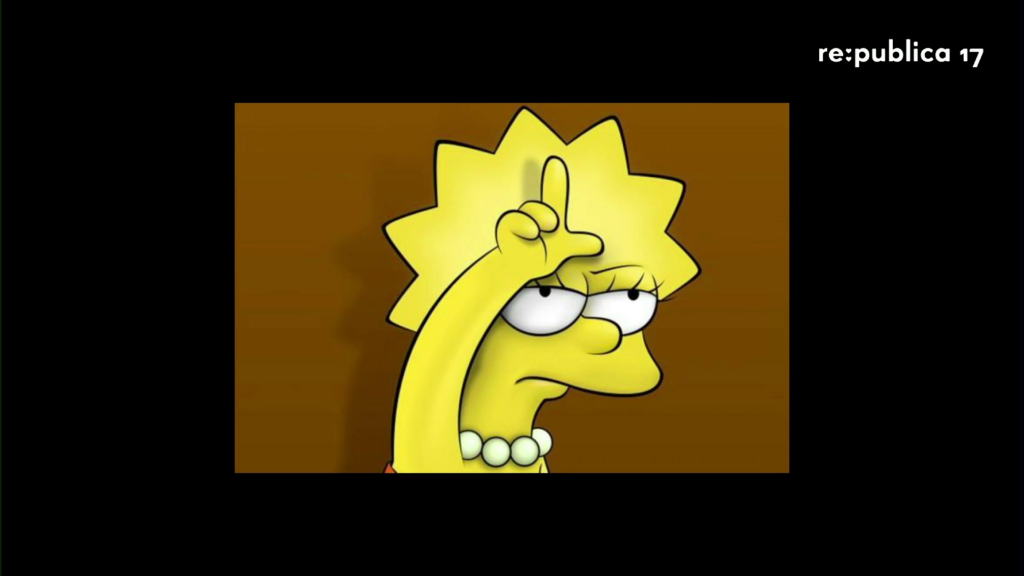 Bringing pre­car­i­ty to the table is often under­stood as whin­ing, and as we are taught, whin­ing is for losers. These losers are gen­er­al­ly the so-called mil­len­ni­als, also cat­e­go­rized as lazy and enti­tled. Millennials should real­ly take a leaf from the book of actu­al entre­pre­neurs, who nev­er com­plain and get things done. To sum­ma­rize, the state of things caus­es peo­ple not to come out as pre­car­i­ous, but to be out­ed as one.
Is there a pos­si­bil­i­ty to com­bine com­pul­so­ry cre­ative entre­pre­neuri­al­ism with gen­uine expres­sion of pre­car­i­ty? In oth­er words, is it pos­si­ble to do PR through pre­car­i­ty and against pre­cariza­tion?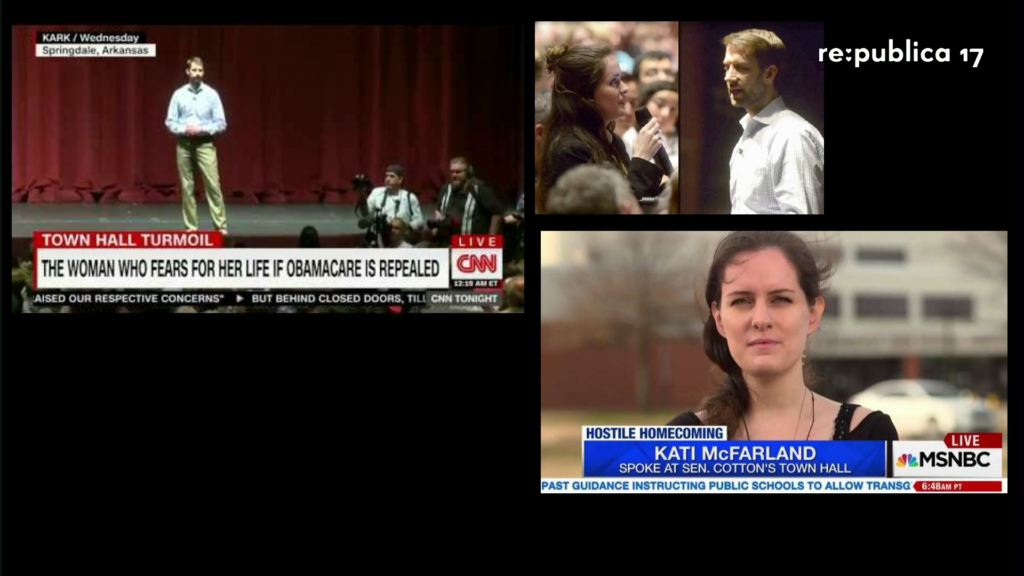 To answer this ques­tion, I'd like to go back to the the crowd­fund­ing sto­ries I men­tioned. Last February, Kati McFarland attend­ed a pub­lic meet­ing with a sen­a­tor who advo­cat­ed the repeal of the Affordable Care Act. She took the floor and explained that with­out such mea­sures, her life would be at risk. Of course, the media atten­tion that McFarland got thanks to her inter­ven­tion had a pos­i­tive effect on the dona­tions to her cam­paign. But at the same time, her sto­ry became some­how sym­bol­ic of all the patients endan­gered by ill-advised pol­i­cy mak­ing.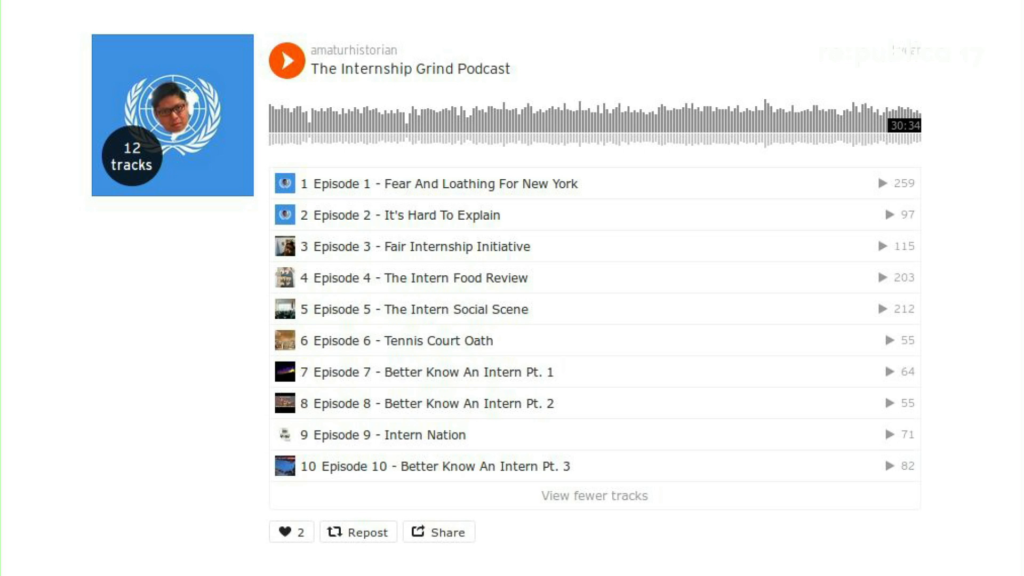 Needing to dif­fer­en­ti­ate him­self from the oth­er grad­u­ates cam­paign­ing on crowd­fund­ing plat­forms, Clement Nocos again, decid­ed to cre­ate a pod­cast. Initially focused on the grinds of his per­son­al jour­ney as an intern in New York City, the pod­cast soon turned into an instru­ment of advo­ca­cy against unpaid intern­ships.
In one of the lat­est episodes, Nocos inter­viewed Nathalie Berger and David Leo Hyde, a duo that orga­nized an extreme­ly effec­tive action (prob­a­bly many of you know this) to call atten­tion to the issue of unpaid intern­ships. Given the steep cost of liv­ing in a city like Geneva, Leo would car­ry out his work as an unpaid intern at the United Nations while liv­ing in a tent.
Here we see Hyde, who is cur­rent­ly shoot­ing a doc­u­men­tary on unpaid intern­ships togeth­er with Berger, speak­ing about the action in the con­text of a TEDx, a con­fer­ence for­mat born in Silicon Valley and char­ac­ter­ized by highly-recognizable aes­thet­ics and a very prof­itable busi­ness mod­el.
The cas­es I dis­cussed denote a high degree of ambi­gu­i­ty emerg­ing when entre­pre­neuri­al­ism meets pre­car­i­ty. Far from being unique­ly the result of one's own pas­sion, entrepreneurially-performed ​"cre­ative" under­tak­ings are increas­ing­ly becom­ing an oblig­a­tion. More and more peo­ple reluc­tanct­ly join the ranks of the entrep­re­cari­at, a nov­el kind of cre­ative under­class, whose very medi­um is con­sti­tut­ed by its mem­bers' per­son­al neces­si­ties. Thank you.
---
Audience 1: Could you say a bit more specifically why is this entreprecariat emerging right now. Like, why didn't it emerge twenty years ago? Do you think the main driver was the Internet, or are there other factors?
Silvio Lorusso: Thank you for this question. I mean, it's not easy to somehow define a clear sort of linear history of this entrepreneurial pressure. But already in the 70s, Michel Foucault was speaking about the entrepreneur of the self.
And I think that because of the crisis, and as well the kind of big value that now has in terms of media presence like entrepreneurship on big platforms like The New York Times— So we're always somehow presented with the work of genius entrepreneurs. So this became a very clear role model. And I think a lot of difference made the fact that these entrepreneurs are not anymore the gray sort of entrepreneur just managing capital, but they are also the ones bringing creative disruption. And again we find a link between creativity and entrepreneurship that somehow emerges then in a grassroots level as a sort of enforcement.
Audience 2: I missed the first five minutes, so maybe you mentioned this already so I'll try to give the question anyway. What do you think of the popularity of solutions like Uber and all of the sharing economy companies that empower people to become entrepreneurs on their own terms with something they already own—which might be a car, an aparment for Airbnb—and so to say subsidize something that is not producing any value if it stays there—like a car or an apartment. And that's the easy way this company will allow you to become an entrepreneur. But you're not, because you're doing something that would be an employee position in other times. So, where do you see this going in the future? These sharing economy companies, what is their role in this, if there is one?
Lorusso: Well, I'm not very experienced with the case of Uber. But I have several friends who work in—I live in Rockford—and work for Deliveroo. And what I see there is the fact that this concept of the entreprecariat, like the strict combination, happens also at the legal level. Because they are actually self-employed.
So it's not just a matter of propaganda, but there is something happening also in the legal way as one person represents itself. And I think that is the most dangerous aspect going on right now. Like, normalizing self-employment, even if there is clearly a subordinate relationship with a platform. So I would say I'm wary of both the narrative and the kind of legal substratum that is defining those new practices.
Audience 3: Is there still hope? I mean, so many people dream to become fulfilled. Is there still a free market? Or is it us applying for the money of old men to fulfill their dreams in the Internet?
Lorusso: Okay. I will maybe keep it to the first part of the question. Because of course I was aware of presenting a sort of grim landscape. But I would like to bring attention to the cases I showed, like with crowdfunding. I think those little individual attempts to bring a more structural condition, within let's say the drama of having to ask money for your medical situation, is something very [heroic?]. And I think those cases show that… I mean, there's not so much of a possibility of withdrawal, but we need to sort of embrace the kind of ambiguity of being within this kind of setting but still bringing up not only our own demands but a more structural one. So that is where I see the hope. It's not like fighting the system from within, but I think those stories are somehow inspiring, to use another term borrowed from Silicon Valley, like misuse of it. Thank you for the question.
Further Reference
Collected writings on The Entreprecariat at Institute of Network Cultures
---
Help Support Open Transcripts
If you found this useful or interesting, please consider supporting the project monthly at Patreon or once via Cash App, or even just sharing the link. Thanks.