Christian Sandvig: Next up we have on Panagiotis ​"Takis" Metaxas. I don't know how I did there with my Greek. He is a pro­fes­sor of com­put­er sci­ence at Wellesley, and a vis­it­ing schol­ar at the Center for Research on Computation and Society. And his area of research is about mis­in­for­ma­tion prop­a­ga­tion and elec­toral pre­dic­tions. So, I actu­al­ly was read­ing about him and I saw that he said that he loves social media in the Wellesley newslet­ter. He says he loves using social media, but Facebook is unin­ter­est­ing chitter-chatter. So only Twitter.
Panagiotis Metaxas: Only Twitter for me, yeah.
Sandvig: Alright.
Metaxas: And as a mat­ter of fact, I give a lot of— I don't want to sound like an adver­tise­ment for Twitter. But Twitter's play­ing the role of my col­lec­tion of edi­tors. Instead of going around like crazy try­ing to be informed about the impor­tant things, I have select­ed care­ful­ly the peo­ple that I want to be informed from, and I fol­low their tweets. So if you think you have some­thing to tell me, you send me an email and you'll tell me.
So, I did some­thing crazy so let's see how it works. Given the inter­est of the morn­ing dis­cus­sion, I tried to change my talk so that it feeds into the form of where the dis­cus­sion is going. I was going to tell you a lot about how Web spam­mers and pro­pa­gan­dists have a lot of thing in com­mon. And I would have told you a lit­tle bit about how the fear of pro­pa­gan­da can help you detect pro­pa­gan­da as well.
But I'll skip and I will tell to you a few things about the first Twitter bomb that with my col­league we found a cou­ple years ago. And there it was a case in which some­body was attack­ing the can­di­date Martha Coakley in the last Massachusetts elec­tions. And I'm acknowl­edg­ing Eni Mustafaraj who's sit­ting back there. We found out that actu­al­ly it was easy to detect this kind of attack.
Jason Hancock, Secrets of the American Future Fund

This is where they where try­ing to send their peo­ple. And the mes­sage was signed by the American Future Fund. We had no idea who was behind these attacks. Turns out it was the same may­oral run Republicans who were also behind the attack on Kerry. So pret­ty inter­est­ing sto­ry when we found. And as Fil said, it would be nice if we had found it a lit­tle ear­li­er, not like maybe weeks lat­er, after the elec­tions were done. But of course if you want your attack to be effec­tive, you'd bet­ter launch it just before the elec­tions. Elections are awful­ly impor­tant and you can not let them down. That led us into the cur­rent project that I'll tell you about.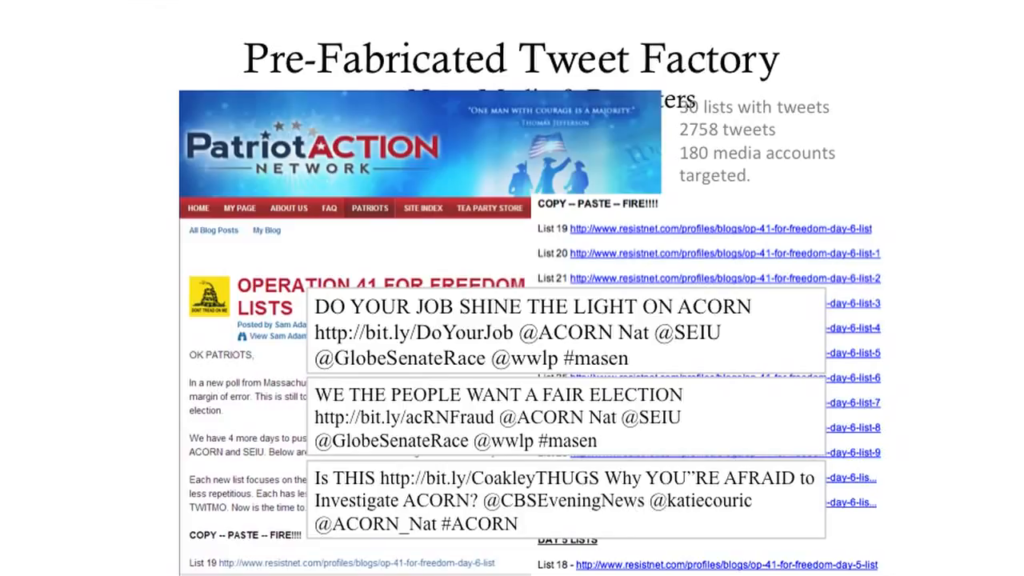 The oth­er thing that we found also was anoth­er pre­fab­ri­cat­ed tweet fac­to­ry. So if you want­ed to sup­port your cause by attack­ing par­tic­u­lar reporters, you would go to this site, you would find a col­lec­tion of tweets and then all you would have to do would be to copy and paste, copy and paste, fire. And instead of try­ing to tell the gen­er­al pub­lic about that, you were going to tell about par­tic­u­lar news reporters, news orga­ni­za­tions, about your mes­sage, and you would ride in the Massachusetts sen­a­to­r­i­al race as a way of get­ting the mes­sage out.
So, I will close this paren­the­sis because I want to tell you a lit­tle more about what we're doing now. The dis­cus­sion of this ses­sion has to do a lot with try­ing to cre­ate tools for indi­vid­u­als. And here is some­thing that I know that peo­ple from Ushahidi are doing, so I had a lit­tle dis­cus­sion with Patrick before about that.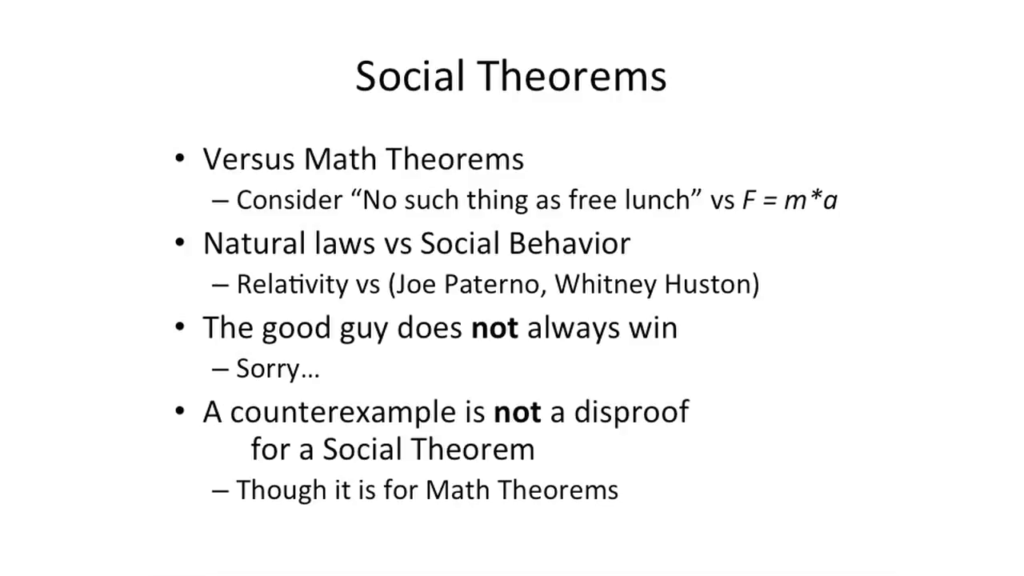 What do I care about? Have you ever heard of social the­o­rems. I hope not. Because I just thought of this term as a way of mak­ing a point. What's the point? We treat our knowl­edge, what we…you know, try to believe as fact; we treat them as the­o­rems the same way that we are look­ing to math­e­mat­i­cal the­o­rems to make sense of the world around us. But the prob­lem is they are not the same.
There is a big dif­fer­ence between the real the­o­rems and the social the­o­rems. You know, social the­o­rems are things like ​"There is no such thing as a free lunch." Which you might con­sid­er to be true except you know, if you are a grad­u­ate stu­dent in a uni­ver­si­ty and you will find lots of free lunch after every talk, right? But in gen­er­al, it is rough­ly the case. Just not always. And com­pare it with F = m*a, which is some­thing that no mat­ter what, it will work, as long as you are in this universe.
We con­fuse nat­ur­al laws with social behav­ior. So, we would love soci­ety to behave the same way as nature, but it does­n't. For exam­ple, nature will not care if you did anoth­er exper­i­ment before, and it will not change its behav­ior the sec­ond time you do an exper­i­ment. Society will do that. And that's a prob­lem when you try to find exact­ly the same behav­ior time and again. Here I have the Joe Paterno and Whitney Houston deaths. The first one was a fum­ble. The sec­ond one you know, the news orga­ni­za­tions were very care­ful not to repeat it so they were kind of slow­er as they were going.
Another bad thing that my moth­er used to tell me all the time, it's the good guy does not always win. I'm sor­ry. But this does­n't mean that you do not have to try every time to get the good things out.
Finally, just because you found a coun­terex­am­ple in a social the­o­rem, it does not mean that the social the­o­rem is wrong. Just because some of the things that soci­ety behaves like do not always work does not mean that we know noth­ing about soci­ety. We still know some­thing about soci­ety. And we saw some of this ear­li­er, for exam­ple Brendan Nyhan talked a lit­tle bit about best prac­tices, cred­i­ble sources, how to make more sense about all of these things.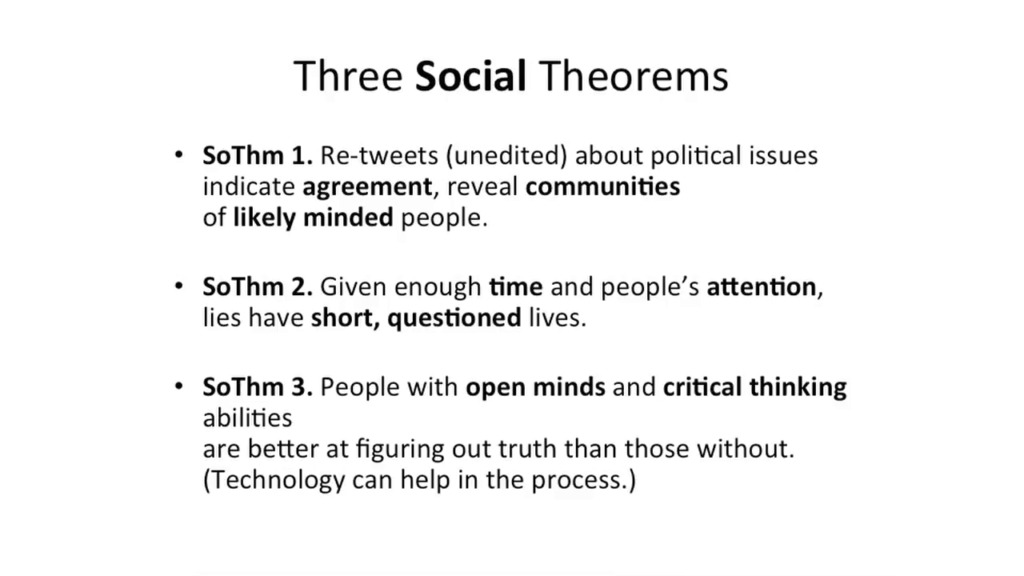 So, what are social the­o­rems that I want to tell you about, are things that we have dis­cov­ered in the last five years—some of them—and what we hope is to put them into a per­son­al tool that will help you make more sense as you're receiv­ing infor­ma­tion. We'll deliv­er your infor­ma­tion with a lit­tle bit of trust val­ue, and we'll tell you whether you should be trust­ing this piece of infor­ma­tion as it's com­ing to you, and why. So, I'll give you three of them today and I'll give you some evi­dence about that.
So, the first one is that unedit­ed retweets about polit­i­cal issues indi­cat­ed agree­ment and reveal com­mu­ni­ties in like-minded peo­ple. It does not mean that every retweet means that kind of thing, but when you have polit­i­cal dis­cus­sion, retweets—verbatim retweets—actually mean that ​"I total­ly agree with this guy." Always?, not always, and I'll show you an exam­ple. But most of the time. That's the first social theorem.
The sec­ond one is that— It's a very opti­mistic one. Given enough time and enough peo­ple's atten­tion, lies have short and ques­tioned lives. That's pret­ty opti­mistic. It does­n't mean that every time lies will die. No, it does­n't. If you look in world reli­gions you will see some lies that have prop­a­gat­ed for­ev­er. But there are oth­er cas­es in which in this world we live in actu­al­ly they can be detected.
And the last—which is not real­ly a the­o­rem but you know, what the heck—is that peo­ple with open minds and crit­i­cal think­ing abil­i­ties are bet­ter at fig­ur­ing out truth than those with­out. Sounds like a duh but you know, with the dis­cus­sion we've had in the morn­ing it seems like we tend to believe that's oh, maybe there is noth­ing we can do. But it is not like that.
Conover, M. D.; Ratkiewicz, J.; et al. Political Polarization on Twitter, Center for Complex Networks and Systems Research,

2011

.
Graph from Panagiotis Takis Metaxas and Eni Mustafaraj, From Obscurity to Prominence in Minutes: Political Speech and Real-Time Search,

2010
So some evi­dence. The first comes from the data we got when we gath­ered the Massachusetts sen­a­to­r­i­al elec­tions. This is the retweet­ing pat­tern of a group of peo­ple that retweet­ed the most. This is about 1,000 peo­ple that retweet­ed about 14,000 times in sev­en days. You can see a way that they were divid­ed, and actu­al­ly they were divid­ed auto­mat­i­cal­ly by an algo­rithm: if you retweet a lot, you get to be clus­tered togeth­er, oth­er­wise you're far away. The big group, by the way, is not a unified—if you look clos­er they're indi­vid­ual retweets. There are three dif­fer­ent groups there, some of them engage more with the oth­er group; the oth­ers are not engag­ing at all. The peo­ple from Indiana, Fil, Mike, and Bruno there have found a very sim­i­lar pic­ture for the elec­tions in late 2010.
The sec­ond [the­o­rem] about giv­ing enough peo­ple's atten­tion. Here is some results of a paper that checked to see how much misinformation—rumors—about a poten­tial tsuna­mi and earth­quakes prob­lem in Chile in 2006, I think it was, prop­a­gat­ed and how far they prop­a­gat­ed. The bot­tom part are the false rumors that were proven false even­tu­al­ly. The top part are the con­firmed truths. These ones were ques­tioned much more often, as you can see, and here is the num­ber of dif­fer­ent ques­tions. It's not like the truths were not ques­tioned, just not as much by and large.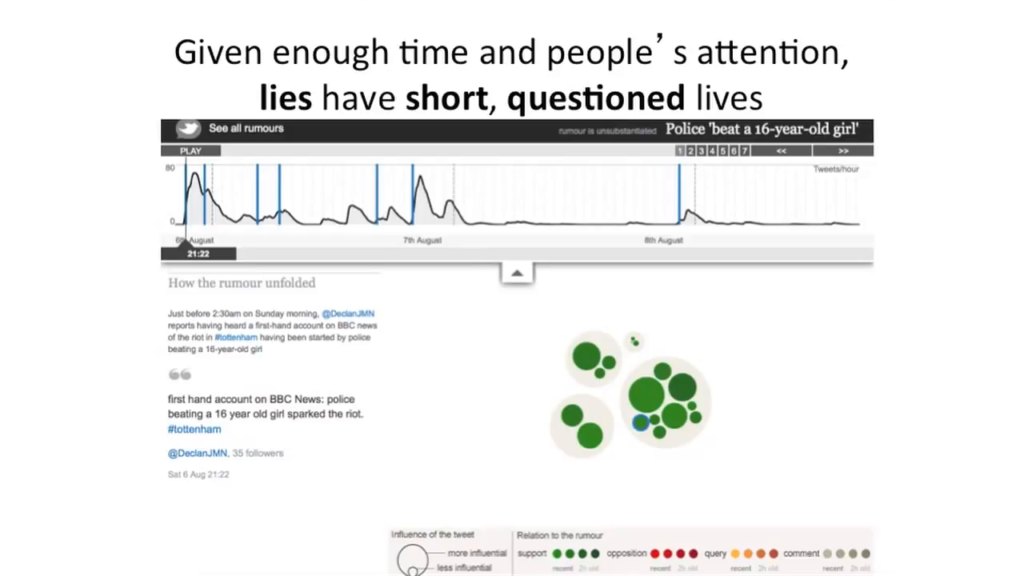 Another very inter­est­ing exam­ple are the London riots rumors that prop­a­gat­ed. The guys at The Guardian have an amaz­ing tool—you should vis­it and play with it. The pics there show some attempts at prop­a­gat­ing false infor­ma­tion even­tu­al­ly died. They tried to revive but they did not live for long.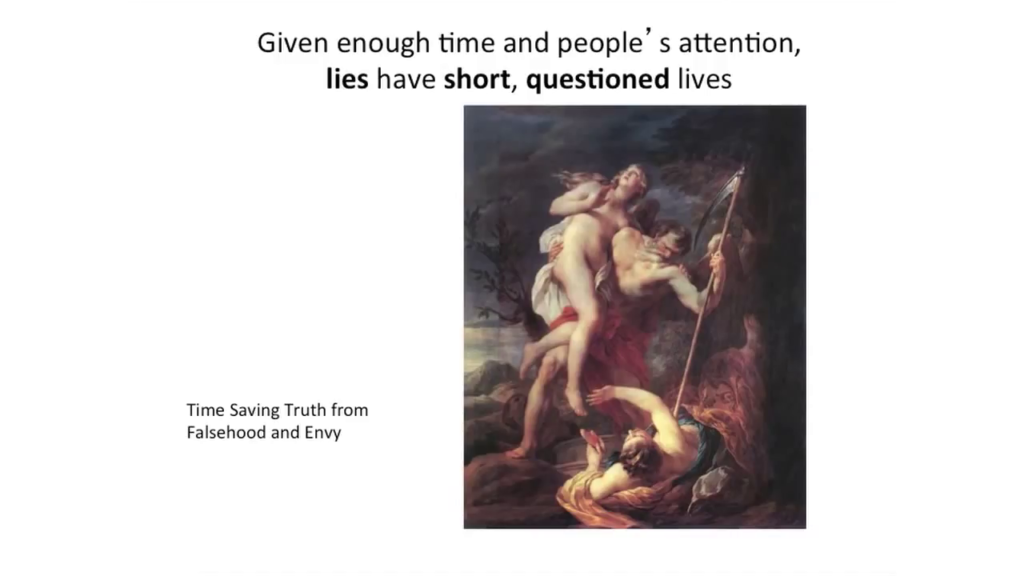 Wisdom from the ages. Here is ​"Time Saving Truth from Falsehood and Envy." So we're going along the same ways.
I need to stop, I know, so a lit­tle thing about open minds. The third part, the crit­i­cal think­ing. It's not that every­body will actu­al­ly be beat­en by every piece of infor­ma­tion. How does it go? You can­not fool all the peo­ple all the time, right? That's some­thing that hap­pens. You can­not expect you will have a tool that you will just click and will give you the answer. What you real­ly want is to be able to have tech­nol­o­gy that will give that infor­ma­tion, but you will need to fig­ure out the answer using your own brain. So edu­ca­tion is darn impor­tant there.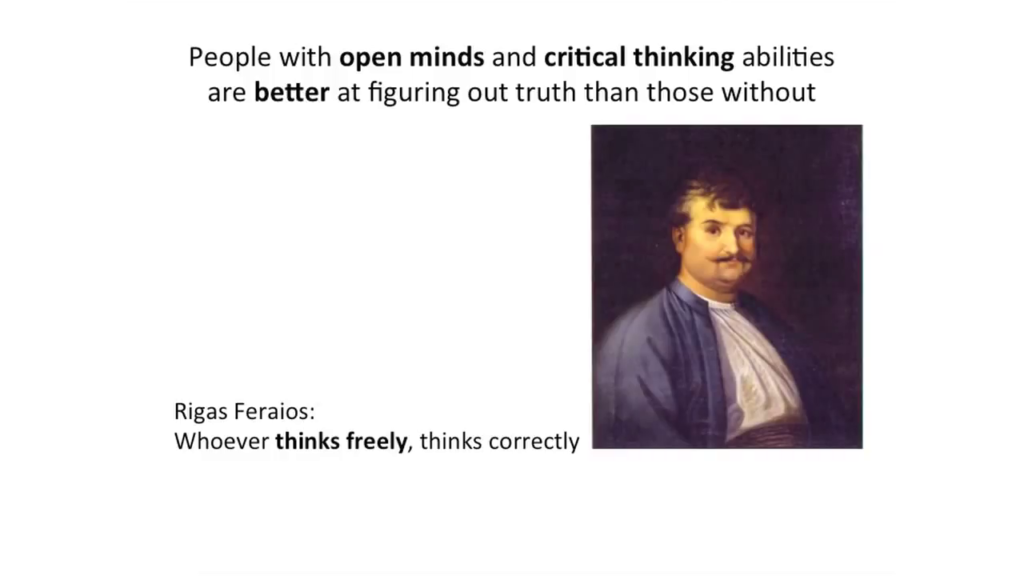 Here is Rigas Feraios, I men­tioned in the morn­ing. And notice that he said who­ev­er thinks freely. You want to be free in your think­ing, but you want to be able to think as well. Thank you.