Albrecht Dürer is maybe one of my touch­stones for ever hav­ing con­ver­sa­tions about this. This is an image from his col­lec­tion of engrav­ings based on the Book of Revelations. They were released in 1498, and they were a body of work that brought his name to greater promi­nence in Western Europe.
1498 is a real­ly can­ny moment to pub­lish an edi­tion of the Book of Revelations. Not only is the turn of any cen­tu­ry a real­ly great moment to start spec­u­lat­ing about the world's end, but it was also a peri­od in time when there's a lot of stuff in flux. You have a real­ly strange geopo­lit­i­cal thing hap­pen­ing about a decade out from the Reformation. There's a lot of known unknowns, and you have a cul­ture and a soci­ety that is pret­ty keen to have some­thing that they can believe in, and appar­ent­ly quite keen to believe in the idea of the Four Horsemen being nigh. So that was 1498.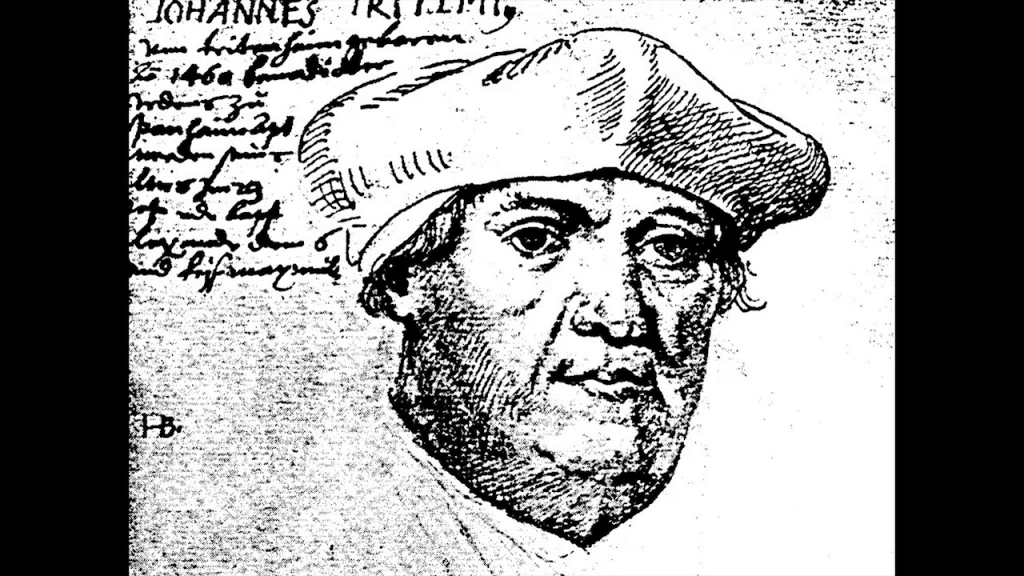 1499, inter­est­ing year, is when this guy Johannes Trithemius, the Benedictine monk sends a let­ter to a col­league of his, a Carmelite monk in Ghent named Bostius. And he's talk­ing about a text that he's been work­ing on, a project to inter­face and send secret mes­sages across great dis­tances through com­mu­ni­cat­ing with the spir­it world and with angels. The monk who was sup­posed to receive this let­ter had died before the let­ter had arrived. It was inter­cept­ed by a dif­fer­ent per­son who con­clud­ed from the let­ter that Trithemius was engag­ing with demon­ic spir­its and involved in dark mag­ic. His rep­u­ta­tion was quite tar­nished after that and he end­ed up not pub­lish­ing that work until after his death; or, it was­n't put into mass print.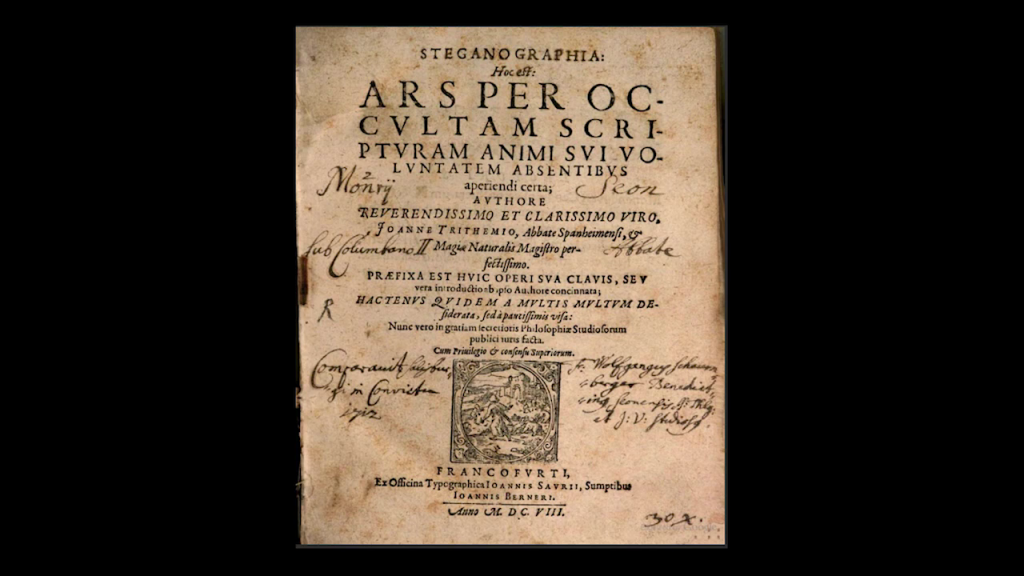 The book itself was called Steganographia, and it's a book about cryp­tog­ra­phy. It's one of the ear­li­est books of the Western canon of cryp­tog­ra­phy as we know it now. It's a book about cryp­tog­ra­phy and mag­ic. It's a three-volume text. The third one seem­ing­ly is exclu­sive­ly about astrol­o­gy and cab­bal­is­tic inter­fac­ing with spir­its, but if you spend enough time with it you real­ize is actu­al­ly an enci­phered text and in about 1998 some­body actu­al­ly broke the code.
The iron­ic thing is in order to be able to jus­ti­fy cre­at­ing a body of work like Steganographia, to do the kind of work in cryp­tog­ra­phy that Trithemius was able to do, he had to do a lot of work to jus­ti­fy his own prac­tices and did a lot of work him­self in demonolo­gy. He had writ­ten many texts defin­ing dif­fer­ent spec­trums of what demons did and did­n't do, had an unfin­ished out­line for a text that was an ency­clo­pe­dia of demons. Between the 14th and 17th cen­tu­ry you have a lot of inter­est­ing work in demon stud­ies. The Church is always sort of besieged by these crea­tures, and demonolo­gy's a way in which can kind of main­tain a monop­oly on mir­a­cles. They get to decide what is in fact a divine inter­ven­tion and an act of God, and what is out­side of the realm of a one true God and there­fore an act of unspeak­able evil and going to lead to eter­nal damna­tion. Institutions of pow­er are real­ly good at iden­ti­fy­ing and con­vinc­ing them­selves that they are con­stant­ly under siege from exis­ten­tial threats, even if that exis­ten­tial is mere­ly some­thing that they do not understand.
There's a real­ly inter­est­ing thing in some of Trithemius' work where he talks about how curios­i­ty is a form of lust for knowl­edge which is not nec­es­sary, which I kind of love. Monks must've real­ly hat­ed triv­ia night.
So I'm at a con­fer­ence called FutureEverything and I'm talk­ing to you about a 15th cen­tu­ry monk. I'm try­ing to fig­ure out how to explain why I'm doing that to you, and this is going to seem like a bit of a veer, but I think there's some­thing inter­est­ing about a dis­ci­pline that his­tor­i­cal­ly is tied to polit­i­cal intrigue, to secre­cy, being linked into this debate over what is good mag­ic or true divine mag­ic, and what is the work of demons. And I think there is some­thing inter­est­ing to be said about the moment we are in right now and how states them­selves kind of iden­ti­fy and invent exis­ten­tial threats to jus­ti­fy their own behav­ior. In this case I'm specif­i­cal­ly think­ing a lot about the way that states talk about ter­ror­ism, par­tic­u­lar­ly online cyber-terror, and simul­ta­ne­ous­ly jus­ti­fy their own rhetoric for a total glob­al­ized mass-surveillance network.
I real­ly love graph­ics like these. I real­ly love these weird clip art-ty dia­grams that show you how the state believes that they know every­thing, because they real­ly remind me of Medieval maps. They kind of betray so much of their own per­spec­tive that is obvi­ous­ly lack­ing some­thing. But you need that. You need to have that lev­el of con­vic­tion in your own cer­tain­ty and a sense of a total­iz­ing world­view to jus­ti­fy a world­view that looks like that: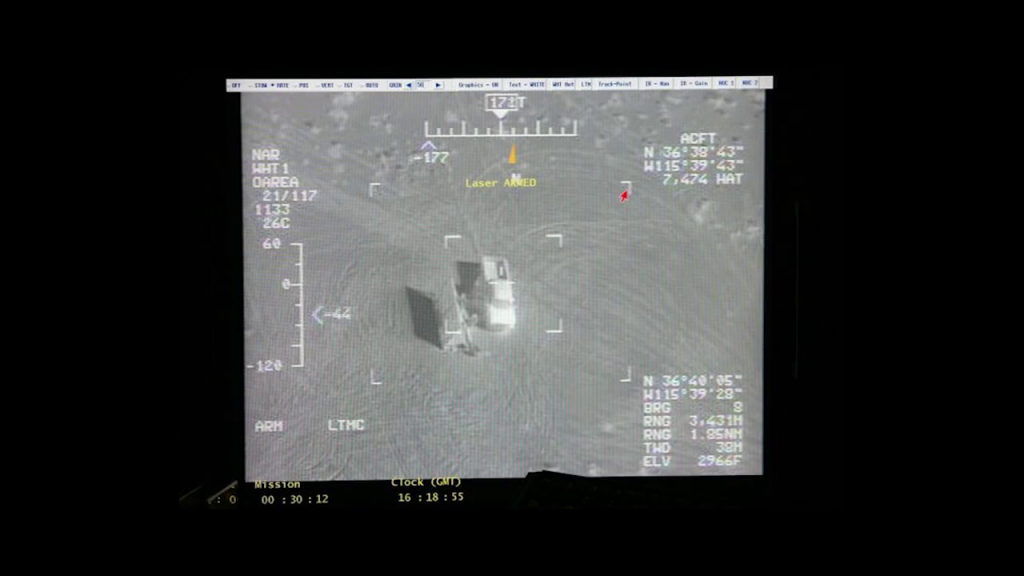 As true with states we could also argue goes with stacks. This is most­ly a con­ver­sa­tion about states. But ulti­mate­ly I think we're still kind of deal­ing with the ques­tion of who gets to have a monop­oly on mir­a­cles. Who gets to back­door and who gets sent to prison for four years for find­ing the back­door? In gen­er­al the options that are pre­sent­ed for how to respond to this kind of state are basi­cal­ly you can either try and walk away, which good luck liv­ing in the world if you want to get off of the grid and how long you can do that. Let me know. Well, I guess you can't, because you're not online. The oth­er option would be to resist and engage in some forms of sab­o­tage or attack, which also: have fun in prison when you do that. Or your third option is live with it, work with it, just try and fig­ure out how to exist with­in that system.
And I'm not sure I'm par­tic­u­lar­ly fond of any of those options for myself. And I'm not sure that I have a good answer for how to fight, but per­haps if how to sur­vive, this tends to be my default form of magic:
I think there is some­thing valu­able about reclaim­ing the lan­guage of mag­ic. (Oh, I real­ly hoped that you guys would appre­ci­ate that joke. I'm so sad.) I think there's some­thing real­ly trou­bling about the way in which mag­ic can be invoked by insti­tu­tions of pow­er to obfus­cate or deny respon­si­bil­i­ty for their own actions. But I would not say that that means we should aban­don it entire­ly. In fact I think all the more rea­son to reclaim it. Frankly, I don't real­ly want to build a future where there's no mag­ic. That sounds quite boring.
I'm going to just wrap up quick­ly with a bit of a detour which is just an exam­ple of a joke that maybe is based on try­ing to show how sub­sti­tut­ing one faith for anoth­er illus­trates the fal­lac­i­es of them. One of the things that the Christians real­ly real­ly hat­ed was when pagans would say Jesus was­n't actu­al­ly the son of God or per­form­ing divine mir­a­cles he was just doing mag­ic, which I kind of love because it's like, ​"It's not your super­nat­ur­al belief that was hap­pen­ing, it was our super­nat­ur­al belief. Get with it."
So about a year and a half ago I found this mag­a­zine in a book store, and I was pret­ty excit­ed about it. The article…at no point does any­one say, ​"Why is astrol­o­gy use­ful for try­ing to under­stand this prob­lem?" I mean, I guess it would­n't, it's an astrol­o­gy mag­a­zine. They don't real­ly have to con­vince any­body. And there's a cer­tain kind of con­vic­tion that goes into writ­ing a text like this. You have to decide when the NSA's birth­day is if you're going to build an astrol­o­gy chart for it. Which is debat­able, right? You could say that's when it was insti­tut­ed into pol­i­cy, or you could say when it's the first moment that the United States engaged in extra-judicial sur­veil­lance. It's questionable.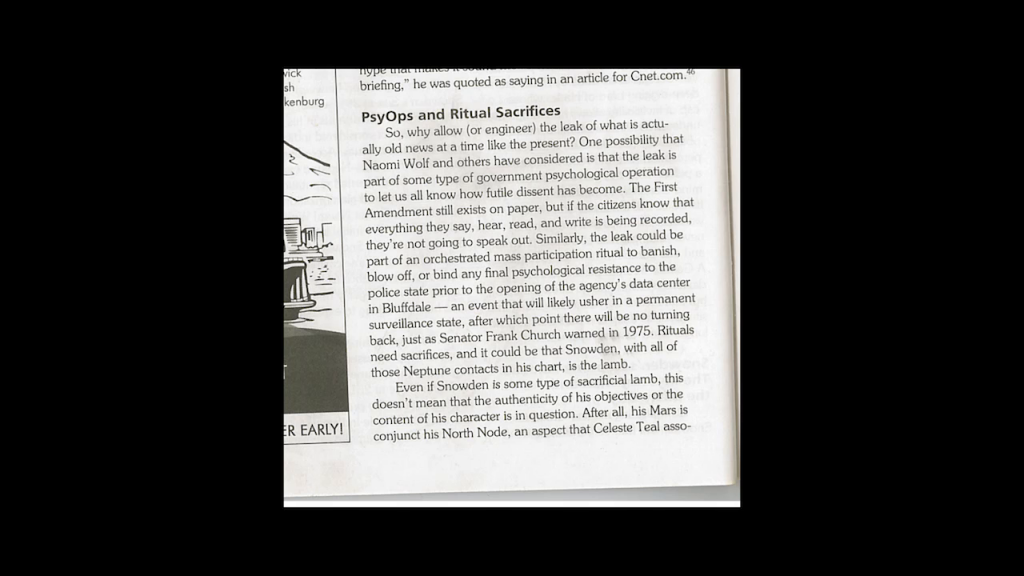 There's a lot of moments in it that I'm not sure what kind of jour­nal­ism we want to call this. But there was a part of me when read­ing this was like, you know, why not? Nothing that we cur­rent­ly have to artic­u­late these insti­tu­tions seem to to work, and none of it seems to open up the sys­tem any fur­ther, so why not look at the stars? Or why not just demon­strate the short­com­ings of their own sys­tems by try­ing to encap­su­late them in anoth­er one?
So I made these gold seals. They're about 10″ in diam­e­ter and they're astrol­o­gy charts for all of the Five Eyes agen­cies. Five was use­ful because then you can make a pen­ta­gram. But also it's nice to rep­re­sent each one, and they're sort of sym­bols of a cer­tain kind of infor­ma­tion fail­ure and of the fail­ure of any total­iz­ing faith. It's kind of as ridicu­lous to believe that you can jus­ti­fy killing a per­son based on phone meta­da­ta as it is to believe that you could make any strong deci­sion based on the move­ment of plan­ets. They're these cap­ti­vat­ing objects that you're kind of drawn to and fas­ci­nat­ed by but also can't real­ly tell you all that much.
They're not even par­tic­u­lar­ly great charts. I did­n't go to a pro­fes­sion­al astrologer to gen­er­ate these, and if you read the automatically-generated pro­files for any of these gov­ern­ment agen­cies they're kind of ridicu­lous and could be about pos­si­bly any­thing. Which is sort of how you could read a lot of what comes out of mass data col­lec­tion. It kind of tends toward a sort of medi­oc­rity that might not actu­al­ly tell you any­thing useful.
So those were a bunch of jokes. That's a very long joke. And I don't real­ly know… That is not going to stop this sys­tem. It does­n't nec­es­sar­i­ly rad­i­cal­ly trans­form it. And I think that art often pro­vides a spir­i­tu­al answer to a polit­i­cal ques­tion, and I kind of under­stand where that is maybe not enough. That is what I know how to do. If I knew how to solve polit­i­cal prob­lems, I would­n't be speak­ing at this conference.
And I guess I'm going to end with this image most­ly because it just cheers me up quite a bit, and is maybe a dif­fer­ent kind of weird mag­ic and/or mir­a­cle, or about kind of learn­ing to live with that which we do not under, which is of Saint Jerome and the lion, anoth­er Albrecht Dürer engraving.
I guess that's all I've got. Thank you.