Kia ora. Thank you. Hi. My name is Simon Bendall. Some of you around here may rec­og­nize me from my work around a few cul­tur­al insti­tu­tions in Wellington. But I'm here today in my capac­i­ty as a pri­vate cit­i­zen to tell you about my DIY dig­i­ti­za­tion project. This after­noon, I'll give you a quick run­down on the what, where, and how, and intro­duce some themes that I'll try and to attend to in the pan­el dis­cus­sion on music archiv­ing tomorrow.
Rip It Up was a free month­ly music mag­a­zine start­ed in 1977 by Murray Cammick and Alistair Dougal. It appeared at a time when the pop cul­tur­al land­scape in New Zealand could apt­ly be described as a waste­land. It was per­fect­ly timed for the impact of punk rock, and was there to cap­ture the resul­tant explo­sion in the local New Zealand music scene, which gave birth to a num­ber of icon­ic bands and inde­pen­dent record labels, as well as cov­er­ing what was hap­pen­ing over­seas. I've been a fan since pick­ing up my first copy and hot-footing it out of the record store at the age of twelve, still not believ­ing I'd not get hauled back for steal­ing it.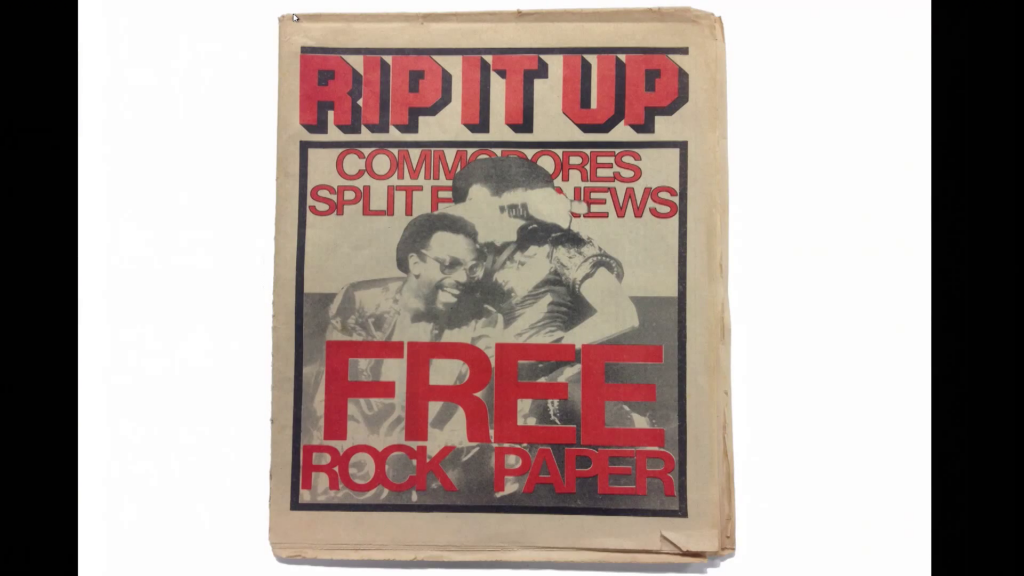 So, why am I doing this? Rip it Up is such a rich resource, espe­cial­ly in the ear­ly years. Nothing else was real­ly doc­u­ment­ing pop cul­ture, let alone the nascent alter­na­tive cul­ture that was start­ing to boil up. The pre­vail­ing atti­tude in the main­stream media of the day seemed to be that pop music was kid's stuff. It would bare­ly rate a men­tion in news­pa­pers, and any tele­vi­sion pres­ence aside from [?] pic­tures, which played at night, was played in the after­noon or ear­ly evening. Pop music was for kids. Adults did­n't lis­ten to pop music, and if they did they gen­er­al­ly did­n't want to be chal­lenged by any­thing weird or dif­fer­ent, and did­n't want to read about it.
Rip It Up was an oasis in the desert and a vital life­line for music news from around the world, as well as from around New Zealand. This was a time when copies of UK mag­a­zine NME, for exam­ple, would arrive by sea three months lat­er. Rip It Up allowed a feel­ing of con­nect­ed­ness with the wider world, a feel­ing of pos­si­bil­i­ty, and also the chance to wit­ness the birth of things made local­ly that would actu­al­ly impact around the world.
I've long since since want­ed to see Rip It Up as a dig­i­tal enti­ty, but was faced with a dilem­ma that this was nev­er going to rank high­ly in a nation­al insti­tu­tion's pri­or­i­ty dig­i­ti­za­tion list. The slide is slight­ly facetious.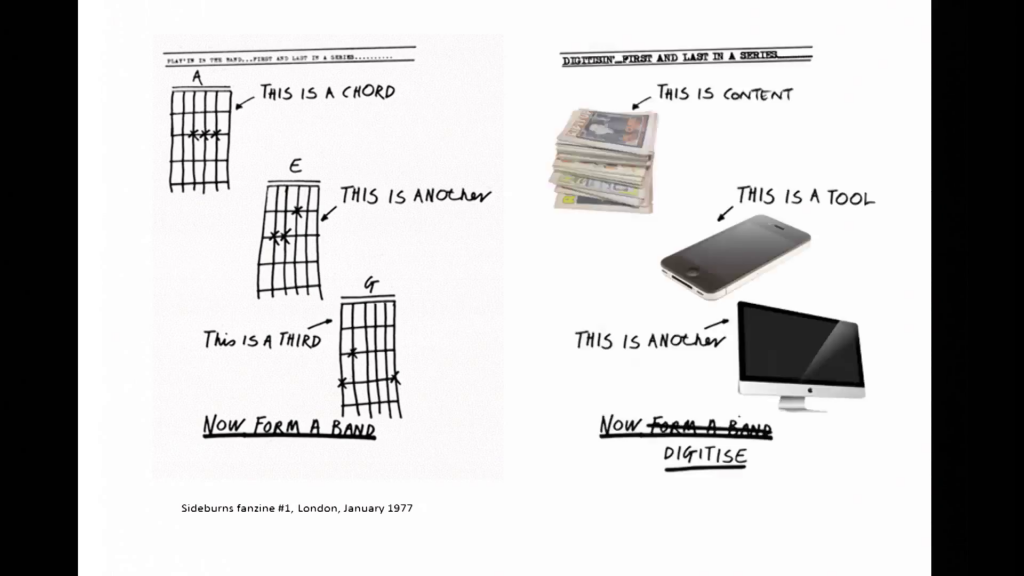 But I was faced with two pos­si­bil­i­ties. I could either wait for it, or do it myself. So, tak­ing inspi­ra­tion from this punk rock ral­ly­ing call which came out in Sideburns fanzine in 1977 which laid bare the sim­plic­i­ty of start­ing a band, I did it myself.
So, don't get me wrong. This is no fan­cy all-singing, all-dancing dig­i­ti­za­tion. I do this in my spare time. I use my phone cam­era. Some images are blur­ry and hard to read. It's nowhere near as good as I'd like it to be. There's no OCR, no easy way to search. But it's there, and it's available.
The copy­right question
So the big ques­tion, of course, is this one. I avoid even ask­ing this one, which you folks don't get the lux­u­ry of doing. [applause] You're sup­posed to stand up and yell ​"Judas." So, this drove my plat­form of choice, which hap­pened to be Tumblr. I was unpre­pared to risk the wroth of any­one who got upset with what I was doing, but total­ly pre­pared to tear it all down in an instant if things did get rough. Tumblr would­n't be my plat­form of choice in an ide­al world, but it would be some­where where I could keep things-low key enough, just to see what would hap­pen. It's kind of off radar for adult, lawyer‑y types, I hope. And it cer­tain­ly would­n't be the only Tumblr out there with con­tent of dubi­ous origin.
This of course was all part of my grand social media strat­e­gy, which I man­aged to sim­pli­fy some­what. So, with a Tumblr account set up, I set up a com­ple­men­tary Twitter account which would post when­ev­er I uploaded a new page. I tar­get­ed a few peo­ple who I thought would be sym­pa­thet­ic, and a bunch of peo­ple with sim­i­lar inter­ests that I knew who would be into music, and peo­ple I already fol­lowed. As I did­n't know what the reac­tion would be, the plan was to keep it low key and see what hap­pened organically.
So he's a few stats. There are cur­rent­ly 49 fol­low­ers on Tumblr. So you know, we're not break­ing any records or any­thing. We've got 89 on Twitter. And the cur­rent­ly most-viewed page this month is the cov­er from September 1980 fea­tur­ing Magazines's Howard Devoto. Analytics-wise there's been over 1,300 ses­sions since begin­ning in March. And the best thing for me is that 33% of return­ing vis­i­tor traf­fic. People are find­ing this inter­est­ing. Some peo­ple are. The two big peaks in May and September cor­re­spond to when I was lucky enough to get the project men­tioned a cou­ple of times by Russell Brown in his Public Address blog.
So, so far so good. But what about the meta­da­ta? Tumblr's not the great­est plat­form, but it does allow some flex­i­bil­i­ty to help dis­cov­ery with tag­ging. I write a brief sum­ma­ry or each page that I put up—the let­ters are usu­al­ly the most fun—and take as much as pos­si­ble, though not every­thing. Issue date and page num­ber are tagged for each page, and I pay par­tic­u­lar atten­tion to tak­ing writ­ers, and to try and main­tain links between bands and across time.
This at least allows some dif­fer­ent ways into the con­tent. So, for exam­ple in the three URLs here you can find every­thing writ­ten by Duncan Campbell, any gig reviews from Auckland venue the Windsor Castle, or if you're inter­est­ed in Andrew Fagan's pre-Mockers career, any­thing about local band The Ambitious Vegetables, who also made an appear­ance this morn­ing in the ​"Up the Punks" presentation.
So that's about it, real­ly. I'd let you ask ques­tions, but you're not allowed to ask ques­tions in the light­ning round. So I've got some for you. Given that this mate­r­i­al is out there in the wild, will you as a cul­tur­al her­itage insti­tu­tion engage with it? Should this be in Digital New Zealand, for exam­ple? Should you link to it from abstract on INNZ to enhance the user expe­ri­ence? Will this be includ­ed in the New Zealand domain web har­vest? Will it go into the NDHA?
Now, I know the answer to these is most like­ly to be no, but these are the issues that you're going to need to be think­ing about and deal­ing with. This is a thing. It exists out there, And if I as a middle-aged sub­ur­ban dwelling man am doing this, there's plen­ty more peo­ple out there with par­tic­u­lar inter­ests doing the same thing. How are you going to engage? Thank you very much.
Legal cor­re­spon­dence to the address­es on the screen, thank you.