So, my name is Eirik Fatland. Or ​"Fat-land;" I know it's fun in English. I have a Norwegian pass­port. I have a Master's degree in new media. And I have a job in finan­cial ser­vices. I'm thirty-seven years old, and for twen­ty of those thirty-seven years I've spent very large chunks of my time—my spare time and some of the time when I should have been work­ing or studying—playing games of make-believe togeth­er with oth­er adults. I am a larper.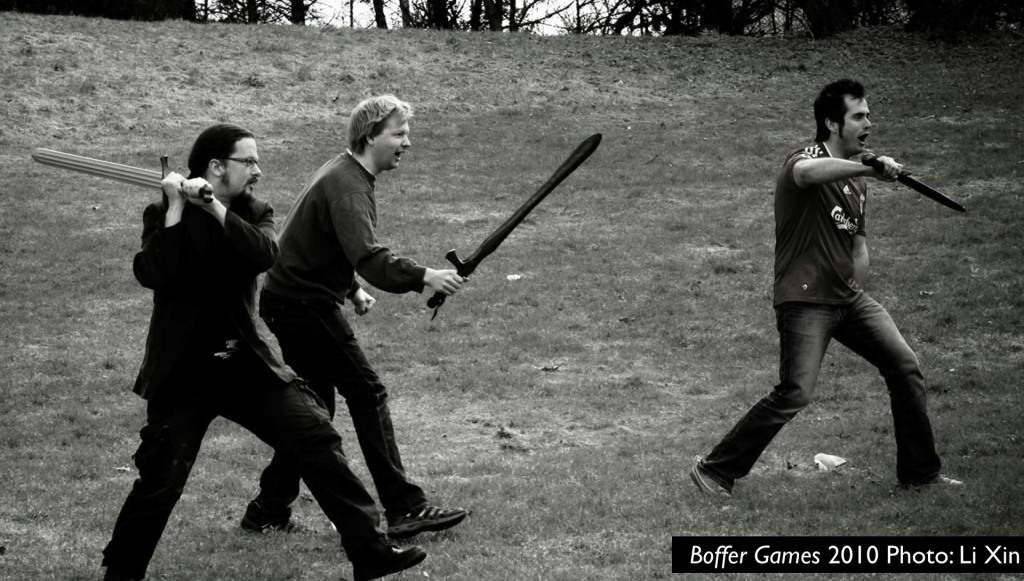 Yes, I have hit my friends repeat­ed­ly with rub­ber swords.
I've also per­formed strange rit­u­als in dark forests.
I have been dumped by women who were nev­er my girlfriend.
I've also hooked up with guys, despite nei­ther of us being gay. I have been a char­ac­ter in an Ibsen play and a char­ac­ter in a Monty Python com­e­dy. I've lived for a week in the year 1942, anoth­er week in the year 14 AD. And alto­geth­er, I've par­tic­i­pat­ed in a few hun­dred larps, and I don't know how many hours I've spent on this hobby.
And as if play­ing larps does not take enough time, I have been and con­tin­ue to be a larp design­er. One that sets the stage for oth­ers to play. I've invit­ed play­ers to be grungy resis­tance fight­ers at a musi­cal larp.
To be trau­ma­tized refugees at an asy­lum recep­tion center.
Ordinary peo­ple wak­ing up as pris­on­ers, forced to face impos­si­ble moral choic­es by a dis­em­bod­ied voice.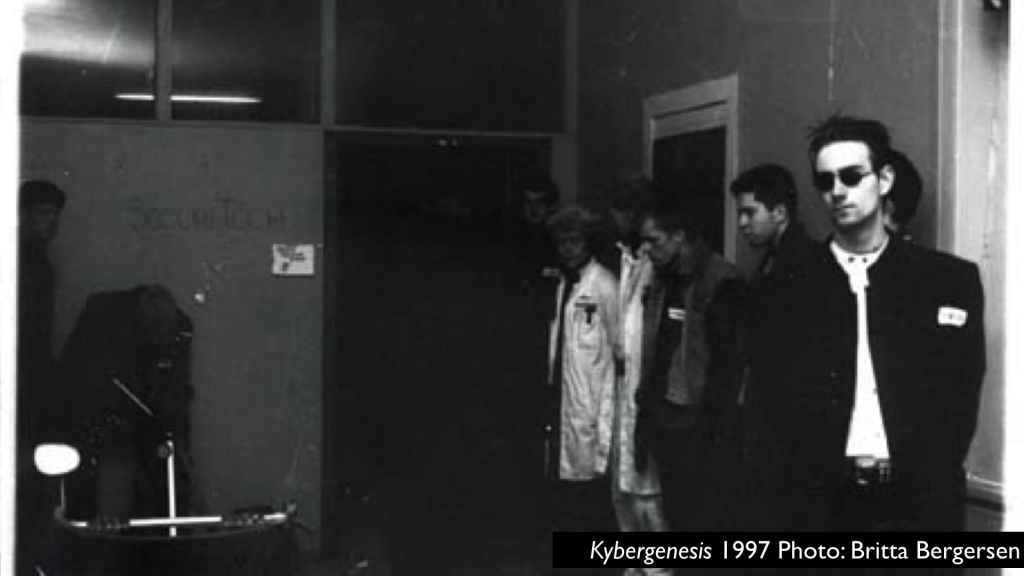 And at the ten­der age of twenty-one, I was the main guy respon­si­ble for lock­ing one hun­dred and twen­ty young peo­ple up in a men­tal asy­lum. It was no longer a men­tal asy­lum. We used it to pre­tend that we lived in the year 1984 as depict­ed by George Orwell, for five days.
Now, soci­ety has on mul­ti­ple occa­sions let me know that this isn't real­ly entire­ly accept­able. You should have seen the media atten­tion after the 1984 game. But friends, rel­a­tives, cowork­ers, teach­ers and so on, keep imply­ing, just hinting—sometimes being outright—that if I had done some­thing else… If I'd worked hard­er towards being able to buy a BMW and a larg­er house, or to feed a grow­ing fam­i­ly, or vol­un­teer to help the poor and the des­ti­tute, or sell my tal­ents as a writer or as an artist… Or maybe kick a ball around on a grassy field, that would all be good, accept­able, decent ways to spend your time. But that the pas­sions I direct towards role­play­ing, though they are tol­er­at­ed (we live in a tol­er­ant soci­ety), they're also kind of weird and irrelevant.
So, while it has been get­ting bet­ter in recent years, I obvi­ous­ly have felt the need to ask the ques­tion myself: Does larp mat­ter? And to tell you the truth, I'm kind of ambiva­lent. On sun­ny days, I see in live role­play­ing the poten­tial for trans­for­ma­tion of the role-player into a more ful­ly real­ized human being. And of art towards more demo­c­ra­t­ic forms capa­ble of depict­ing the human con­di­tion with a degree of inti­ma­cy and real­ism that is unthink­able in a spec­ta­tor art. But on rainy days I think it might be just an inces­tu­ous, self-indulgent and [egre­gious?] waste of time.
But I'm con­vinced that larp design mat­ters more than larp­ing itself, and to more peo­ple than the peo­ple who design and play larps. And I'm here to talk about why I think that's the case.
Now, let's look at what larp design­ers do. This is a still from PanoptiCorp, a larp played twice, 2003 and 2013. It's set in a fic­tive adver­tis­ing agency. And the entire writ­ten mate­r­i­al for this larp con­sists of a dic­tio­nary, thir­ty words and their expla­na­tions. And the words are the office jar­gon of this agency. They use terms like ​"NexSec," which kin­da means cool, but if it a cool that's not NexSec, that's ​"mundy," and mundy's bad. They used words like ​"HotNot," which is a vote that is held dai­ly to deter­mine your ​"CorpCred," which in turn deter­mines whether you have a job or not.
Now, by adopt­ing those thir­ty words, play­ers learn enough of the mind­set and the ways of work­ing and office rou­tines and so on of PanoptiCorp that they're able to sim­u­late a dark, cyn­i­cal adver­tis­ing agency with some humor and an alarm­ing degree of immersion.
The Danish larp Totem, 2007, used a series of dra­ma tech­niques, sev­er­al work­shops in advance, that turned a group of young Scandinavians into two rigid­ly hier­ar­chi­cal and high­ly com­plex trib­al soci­eties. For exam­ple, they report­ed­ly (I was not there) used the rule that it is incon­ceiv­able to talk about some­one who isn't here with us right now. And based upon a set of these sim­ple rules and work­shop and body lan­guage and so on, these high­ly com­plex and sub­tle soci­eties emerged.
AmerikA. Well, this is AmerikA in Oslo, Norway, the year 2000. Works also with a group of ordi­nary young Norwegians; no actors, no spe­cial tal­ent. Worked with them over three week­ends to define their char­ac­ters, through dra­ma exer­cis­es and so on, and then placed them in the midst of this huge pile of garbage. Which was actu­al­ly very clev­er­ly scenographed. You could walk around there, hide inside there, and so on. There were plen­ty of things to dis­cov­er. And by doing so, they were able to bring not just to life a soci­ety of the thir­ty, forty, peo­ple who had been through those work­shops. Those thir­ty, forty peo­ple are able to drag in one hun­dred more peo­ple into this soci­ety, liv­ing in this area. And as you can see, this pic­ture is tak­en from above. There were thou­sands of peo­ple who watched this in real time; stood there glued, look­ing down on the world out there.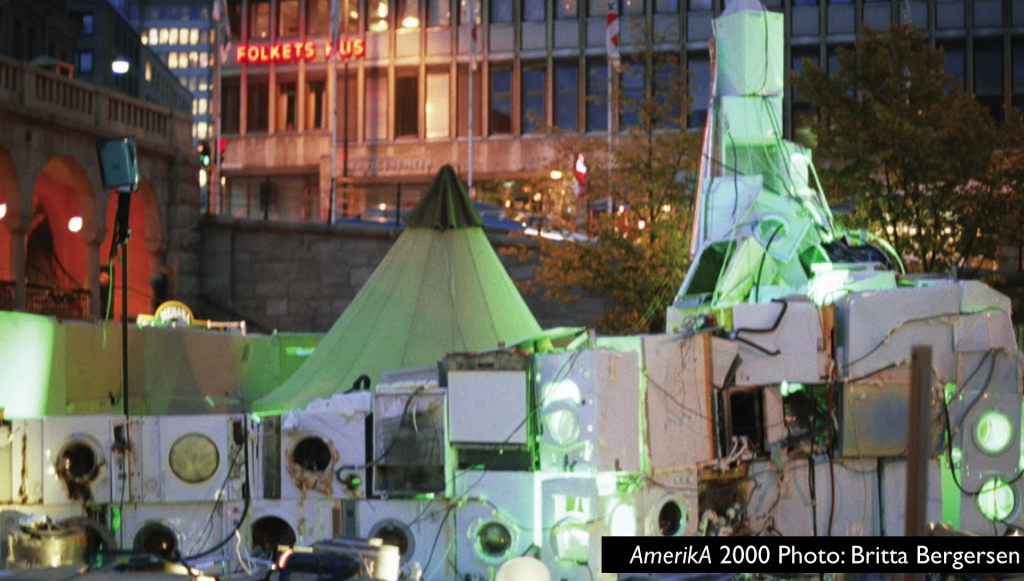 Now, we larp design­ers, we do our thing by invit­ing play­ers to act as if. As if they're knights. As if there is a drag­on. Or as if they are a group of immi­grants cel­e­brat­ing Easter. There are many kinds of larp. And larp of course is not unique in ask­ing us to present as if. Children do it all the time. Adults do it, too. If I tell you a sto­ry where some­body says…like, the sto­ry ends with some­body say­ing, ​"Fuck off!" Then, you don't actu­al­ly act as if I just told you to fuck off, do you. Because you know that I'm act­ing as if I was a guy say­ing ​"fuck off." And you are act­ing as if I didn't.
Now, this is not just a mat­ter of games and sto­ries, of metaphor. As Markus Montola explores in his PhD the­sis, which every­one should read even though it's very dif­fi­cult, a great deal of human soci­ety is built in dif­fer­ent ways on what I would say is peo­ple act­ing ​"as if." As if the bread that you con­sume is the body of Christ. As if the police­man who just arrest­ed you is an embod­i­ment of the state and not just a per­son like you. As if a sound, ​"stone," is relat­ed to an object, phys­i­cal stone. And as if this here piece of paper [holds up a bill of paper mon­ey] is the equiv­a­lent of a cow.
Now, when we design larps, we're play­ing basi­cal­ly with the build­ing blocks of cul­ture. Not just of fic­tion­al cul­tures, real cul­ture as well. But ask­ing peo­ple to act as if is not enough to make a larp. As larp writ­ers, we need you to act as if, togeth­er. Because if I act as if I am a mer­chant from the fic­tion­al city of Libidibi and I meet you, and I greet you like this, [bows while hold­ing nose and hold­ing oth­er arm across chest] then you have no idea whether what I did was actu­al­ly a sym­bol­ic com­pli­ment to your eye col­or or a great insult towards the grave of your mother.
So, to enable role­play­ing I need to iden­ti­fy the rules and the sym­bols that actu­al­ly mat­ter. And I need to reduce these to their min­i­mum com­po­nents, their min­i­mum require­ments. Not a whole lan­guage, but the thir­ty words that mat­ter. Not a whole soci­ety, but the body lan­guage and the rit­u­als that cre­ate a behav­ior that is most dif­fer­ent from our own. And then I need to com­mu­ni­cate those require­ments, so it's not just the one guy from Libidibi who knows what this means, but also some oth­er peo­ple who can inter­pret it, and then there is dra­ma, there is action, there is soci­ety, and we have larp.
And I can­not micro­man­age the play­ers. That's a big advan­tage of being a larp design­er as opposed to a the­ater direc­tor, a writer, what­ev­er. They're going to do their own thing no mat­ter what. I need to ensure that the tools that I give to play­ers (the body lan­guage, the char­ac­ters, the ideas, the lan­guage, and so on), that they work togeth­er. They fit togeth­er. And then they allow those play­ers to impro­vise some­thing that also fits togeth­er and becomes increas­ing­ly beau­ti­ful, or increas­ing­ly fun­ny, or increas­ing­ly profound.
So the bot­tom line is this. That what we do as larp design­ers is to describe and com­mu­ni­cate the min­i­mum require­ments need­ed to direct human cre­ativ­i­ty towards a shared pur­pose. And direct­ing human cre­ativ­i­ty towards a shared pur­pose is not a small thing. It is the pri­ma­ry chal­lenge of any project, any com­mu­ni­ty of small busi­ness­es and of cor­po­ra­tions, fam­i­lies and clans, dynas­ties, cities, nation states, and civ­i­liza­tions. The res­o­lu­tions to all of the big ques­tions of our time, whether it's get­ting rid of dog poo on the side­walk, or solv­ing the cli­mate change cri­sis, all of these are basi­cal­ly prob­lems of direct­ing human cre­ativ­i­ty towards a shared purpose.
While that's not a small thing, it is a very very chal­leng­ing thing. Now, let me first tell you about some­thing that isn't very chal­leng­ing. And that's to direct humans towards a shared pur­pose. Not cre­ativ­i­ty but just human beings, their bod­ies, and their abil­i­ty to con­trol those bodies.
We know very well how to do this. We threat­en them. We pun­ish them. We hit them. We tell them what will hap­pen. We fill them with a bit fear. We might tell them grand lies for them to believe in and so on. But even­tu­al­ly they inter­nal­ize that fear. They replace your voice with a voice inside their head, telling them to go here read this do that.
But direct­ing human cre­ativ­i­ty is much hard­er. Because cre­ativ­i­ty describes our abil­i­ty to gen­er­ate and exe­cute ideas. Creativity is com­plex problem-solving. And cre­ativ­i­ty does not thrive on fear. All author­i­ties on cre­ativ­i­ty agree on this, that it requires fear­less­ness. It thrives on play­ful­ness. And cre­ativ­i­ty also does not thrive on soli­tude, despite the myth of the sole genius. Neither Einstein nor Picasso would have been worth very much if they did not have a com­mon lan­guage with oth­er physi­cists, oth­er artists; if there were no peo­ple who chal­lenged them, lis­tened to them, con­tin­ued their work.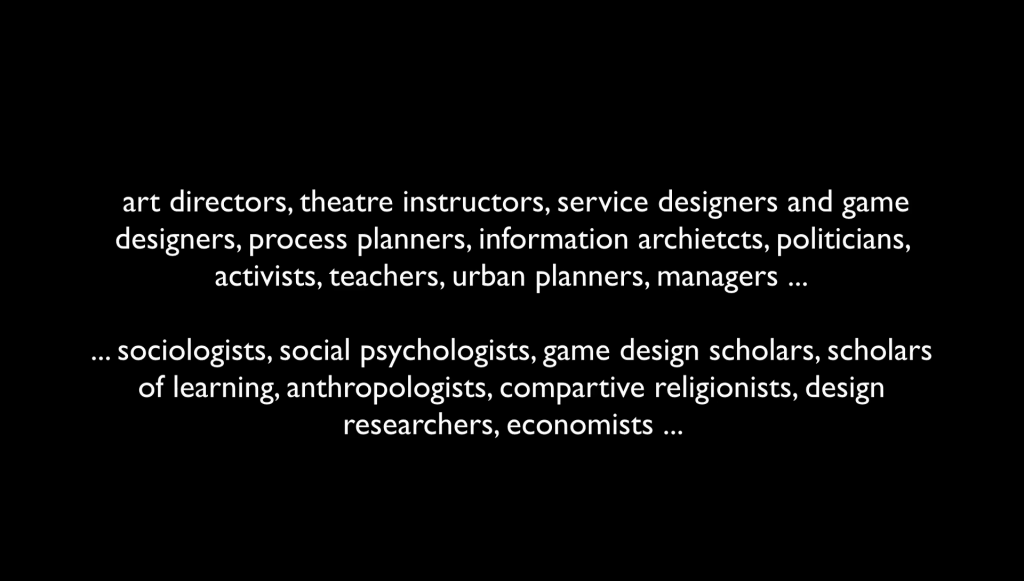 And so this is where we find larp and larp design. Now, obvi­ous­ly we're not alone in work­ing with issues of direct­ing cre­ativ­i­ty towards a shared pur­pose. There are many oth­ers. There are art direc­tors, the­atre instruc­tors, ser­vice design­ers, game design­ers, process plan­ners, infor­ma­tion archi­tects, politi­cians, activists, teach­ers, urban plan­ners, man­agers of so many dif­fer­ent kinds of stripes. Project man­agers, mid-level man­agers, etc., etc. Scrum mas­ters, six sig­ma black belts, and so on.
And then there are also plen­ty of peo­ple who are research­ing this. Social psy­chol­o­gists, game design­ers schol­ars, and so on and so on. There are lots of peo­ple who are wor­ried about direct­ing human cre­ativ­i­ty towards shared pur­pos­es, not just us.
So, what makes us spe­cial? Why are we unique? I think we have two basic advan­tages over all these oth­er fields. The first advan­tage is that we pro­to­type, and we pro­to­type rapid­ly. Now, in the Nordic larp tra­di­tion, we have sim­u­lat­ed the insti­tu­tion­al struc­tures of slave-owning soci­eties, adver­tis­ing com­pa­nies, IT com­pa­nies, real and fic­ti­tious mil­i­taries. We have lived in soci­eties with four gen­ders and no gen­ders. We have recre­at­ed dai­ly life in the years 1349, and 1942, 10,000 BC. We have expe­ri­enced the inner dynam­ics of hun­dreds of soci­eties, thou­sands of families.
Larp might be based in games of make-believe, but by enact­ing those beliefs with our whole bod­ies, we make tem­po­rary real­i­ties. And nobody else does this. There's no oth­er branch of knowl­edge or prac­tice that can build a reli­gion, test it out for five days. How it feels to be a believ­er, how belief affects action… And then use that expe­ri­ence to build anoth­er reli­gion next year. I mean, the idea is incon­ceiv­able, right? But we do this all the time. The speed by which we can put imag­i­nary social and cre­ative con­structs to the test enables us to learn much more quick­ly than any oth­er discipline.
And sec­ond­ly, we are mul­ti­dis­ci­pli­nary. I'm speak­ing here on the evening before the begin­ning of the sev­en­teenth Knutepunkt con­fer­ence, which since 1997 has been keep­ing con­ver­sa­tion going on larp design, larp­ing, larp the­o­ry, and so on. And where we've been basi­cal­ly using what­ev­er we can come upon, exper­i­men­tal larps and var­i­ous branch­es of knowl­edge, in order to improve the prac­tice of larp design. And you know what? All of these pro­fes­sions are in this room now.
We may be mul­ti­dis­ci­pli­nary as a result of our pas­sions for larp. When we need to make a liv­ing, we are drawn to adjoin­ing fields, but the kinds of pro­fes­sions that actu­al­ly pay you in real pieces of paper. But we are also mul­ti­dis­ci­pli­nary because we have to be, because larp can depict the total­i­ty of human life, and so must draw on the total­i­ty of human knowledge.
Does larp design mat­ter? The tool­box of larp design con­tains ideas and sym­bols and rules and prac­tices. These tools in turn allow us to build groups and com­pa­nies and cul­tures and insti­tu­tions. The tools come from any and all branch­es of art and sci­ence. The tools keep get­ting test­ed and refined. Some tools we have thrown away. Many oth­ers we have made sharp­er. And we still dis­cov­er new tools. And so the tool­box keeps evolv­ing, and we're get­ting bet­ter at under­stand­ing those tools, and are teach­ing those tools to others.
We're not real­ly there yet, to be hon­est. It's only two years ago that we start­ed fig­ur­ing out how to teach larp design, and then start­ed real­iz­ing how much we still need­ed to fig­ure out. Because you need to know a thing to teach it, right? But I think we're get­ting there. And as our tool­box evolves, I believe we will find, and that we are already find­ing, that we can put the same tools to use to design real sym­bols, rules, roles, and prac­tices. And hence new kinds of cul­ture, orga­ni­za­tions, and movements.
As such, larp design rep­re­sents a new kind of lead­er­ship. Not the lead­er­ship of hier­ar­chy or intim­i­da­tion. Not the kind of lead­er­ship that's eas­i­ly trans­plant­ed into our schools and com­pa­nies. But the lead­er­ship that works by inspi­ra­tion and by invi­ta­tion. Building bet­ter play­grounds rather than push­ing kids around. A kind of lead­er­ship that will found insti­tu­tions, insti­gate move­ments, and that may come to empow­er us with the rules and roles and sym­bols we can use to bring forth the best in our­selves, and to work towards real­iz­ing our high­est aspi­ra­tions. And this, I think, is why larp design mat­ters. Thank you.
Further Reference