Anna Skelton: Hi every­one. Thanks for join­ing me. As he said, this is Deepfakes, Deep Trouble: Analyzing the Potential Impact of Deepfakes on Market Manipulation. My name is Anna Skelton and I am hap­py as heck to have y'all here with me today.
So, start with a lit­tle bit about me. I stud­ied glob­al secu­ri­ty and intel­li­gence stud­ies in a lit­tle school in the mid­dle of the desert for nerds. I was picked up by GoDaddy ini­tial­ly. I help decide their trav­el secu­ri­ty pro­gram. And it was there that I was sent to my first DEF CON, which I went to as a com­plete and total infos­ec new­bie. I met my men­tor Mike, who gen­tly guid­ed me towards infos­ec said maybe it was­n't as scary as I thought it would be. I was picked up by a large finan­cial insti­tu­tion into an infos­ec gen­er­al­ist role, have since tran­si­tioned into strate­gic cyber threat intel­li­gence, which I absolute­ly adore. In my free time, I like hang­ing out in my F‑150 pick­up that I've con­vert­ed into a camper named Harvey, or snug­gling up with my Siamese kit­ty cat Eleanor.
So, before we get start­ed, I want­ed to give a lit­tle bit of infor­ma­tion on how I'm going to be deliv­er­ing this talk. so, I believe that the bar­ri­er to entry for new top­ics in infos­ec should be low­er. I know that some of you in this room prob­a­bly def­i­nite­ly know more about this than I do, but some of you may not know any­thing at all. So when I explain things I'm going to do so first in a very tech­ni­cal way, and then I'm gonna go over it again in a lay­man's way. In my expe­ri­ence, even if you're real­ly com­fort­able with the mate­r­i­al, hear­ing it explained in a dif­fer­ent way can help shift and mature your perspective.
So you'll find that this talk is very lin­ear in the way it's laid out. We'll start with deep­fakes, what are they? We'll move into mar­ket manip­u­la­tion and a lit­tle bit of an expla­na­tion of the mar­kets. We'll look at past exam­ples of neg­a­tive cyber influ­ence on the stock mar­kets. We'll talk a lit­tle bit about my own mis­ad­ven­tures and adven­tures in deep­fake cre­ation, then we'll talk about future pos­si­bil­i­ties and wrap up by explor­ing some solutions.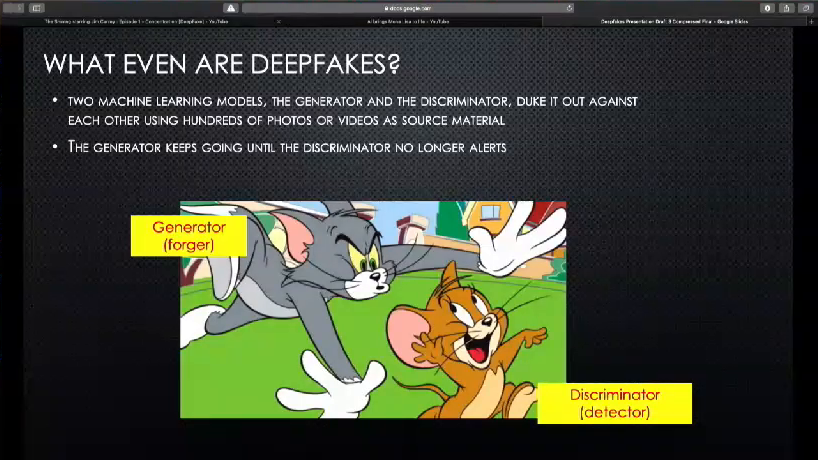 So let's get start­ed. Deepfakes! It's quite the buzz­word right now. So the tra­di­tion­al deep­fakes mod­el uses Generative Adversarial Networks to exploit human ten­den­cies. Basically two machine learn­ing mod­els, the gen­er­a­tor and the dis­crim­i­na­tor, will go head to head. The gen­er­a­tor will devel­op the videos, and the dis­crim­i­na­tor will point out and iden­ti­fy the forg­eries. And they'll just keep going and going and going, until the dis­crim­i­na­tor can no longer detect the forgery. So we're gonna pop on over to YouTube here for a quick exam­ple of that.
So, I've nev­er seen The Shining, and I prob­a­bly will nev­er see The Shining. But if you had told me that Jim Carrey was in The Shining and then showed me that video I would've been like yeah, okay. Like I can see it, sure.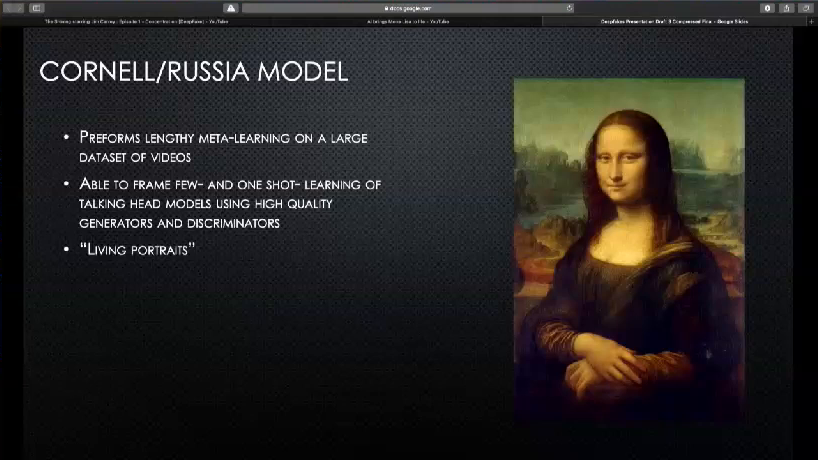 So there's anoth­er mod­el that's kind of being devel­oped that uses a few-shot capa­bil­i­ty. Essentially it's com­ing out of a research team that's a part­ner­ship between Cornell and Russia. It per­forms lengthy meta-learning on a large data set of videos and then is able to frame few- and one-shot learn­ing of talk­ing head mod­els using high-quality gen­er­a­tors and dis­crim­i­na­tors. So in lay per­son­'s terms, it just watch­es a bunch of videos of just peo­ple talk­ing, and then uses a few images of the actu­al tar­get to then cre­ate a liv­ing portrait.
Now, I bring this up because it shows that deep­fakes, even as a con­cept, con­tin­ue to grow and devel­op, right. So we're not see­ing that just what we know now as deep­fakes is where it stops. This is going to con­tin­ue to devel­op as time goes by. Now we'll pop back over to YouTube for anoth­er exam­ple of that.
So that shows you how just one image of a paint­ing done lit­er­al­ly hun­dreds of years ago can be put into this for­mat and then come out with liv­ing por­traits that look like you know, she's talking.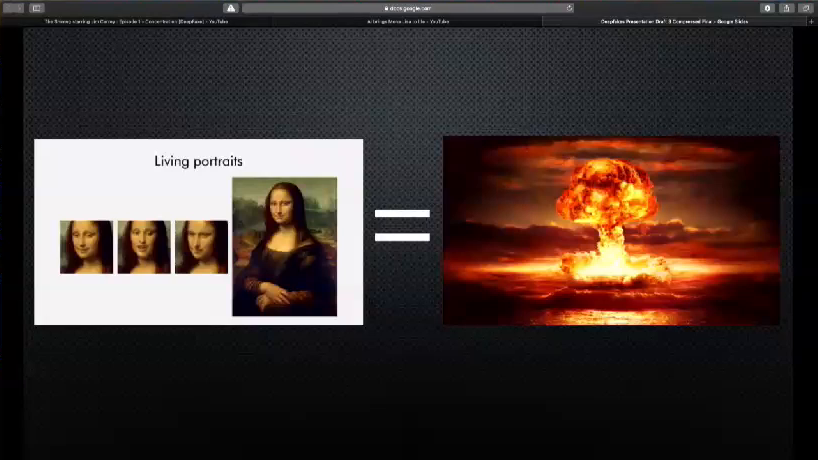 And Washington's start­ing to take notice of the deep­fake threat, right. So Marco Rubio recent­ly said that deep­fakes were as dan­ger­ous as the threat of nuclear war, right. So we're talk­ing about some pret­ty seri­ous stuff here.
As far as the laws go, the legal­i­ty of deep­fakes, it's kind of across the board. So, in Virginia they recent­ly passed leg­is­la­tion out­law­ing deep­fakes as part of leg­is­la­tion com­bat­ing revenge porn. In Texas there's a law that goes into place on September 1st that out­laws deep­fakes as used in elec­tions. But, if we just keep approach­ing this threat from a state-by-state leg­isla­tive per­spec­tive, it's going to be com­plete­ly inad­e­quate to cov­er the aggres­sive deep­fake threat. There are two pieces of leg­is­la­tion about deep­fakes in the House of Representatives right now, but nei­ther of them are gain­ing that much trac­tion. And even if they do, we all know how long and ardu­ous the fed­er­al leg­is­la­tion process can be, espe­cial­ly with a divid­ed Congress.
So let's take a minute now to intro­duce the mar­ket. So, with­in the mar­ket you have three dif­fer­ent com­po­nents. You have the cur­ren­cy mar­kets, the equi­ty markets—which is like the stock mar­ket, and bond mar­kets, which are backed by the Treasury.
So, it would be hard for deep­fakes to impact cur­ren­cy mar­kets because they so intri­cate­ly deal with the rela­tion­ships between two dif­fer­ent nation*states. So for the pur­pose of the talk, we're just gonna go ahead and take cur­ren­cy mar­kets out of it.
Within the equi­ty mar­kets you have the Dow Jones, which is very banking-heavy. You have the NASDAQ, which is very tech-heavy. And you have the S&P 500 which is kind of a mix of every­thing. It's worth not­ing here that there is a trad­ing curb rule, which is basi­cal­ly a fail-safe in place. If enough sus­pi­cious activ­i­ty hap­pens, it will auto­mat­i­cal­ly halt trad­ing. That's impor­tant; we'll back to that.
So mar­ket manip­u­la­tion is nar­row­ly defined as arti­fi­cial­ly affect­ing the sup­ply or demand for a secu­ri­ty. So essen­tial­ly this is manip­u­lat­ing for exam­ple a stock price using mis­lead­ing infor­ma­tion about a com­pa­ny, or an indi­vid­ual, or real­ly any­thing at all. We can assume that some lev­el of mar­ket manip­u­la­tion hap­pens every day, but deep­fakes exac­er­bate the scale and risk of dam­age to the mar­ket because the mar­ket is so volatile. Today we'll be look­ing at this from both a micro and a macro lev­el. So, at a micro lev­el we'll be look­ing at just impact­ing indi­vid­ual stock prices. And at a macro lev­el we'll be look­ing at the poten­tial for deep­fakes to cause a seri­ous and sig­nif­i­cant domi­no effect that caus­es sophis­ti­cat­ed damage.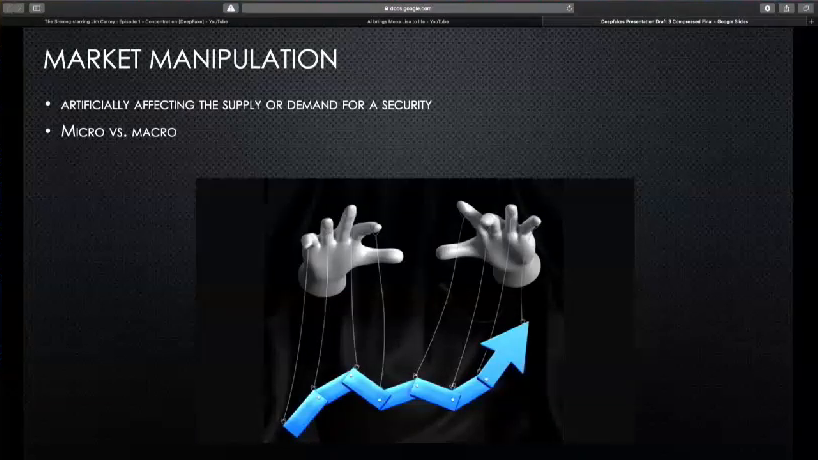 I'd also like to point out this like vague­ly unset­tling pho­to that comes up when you Google Image ​"mar­ket manip­u­la­tion." Every time I look at it it just makes me kind of uncomfortable.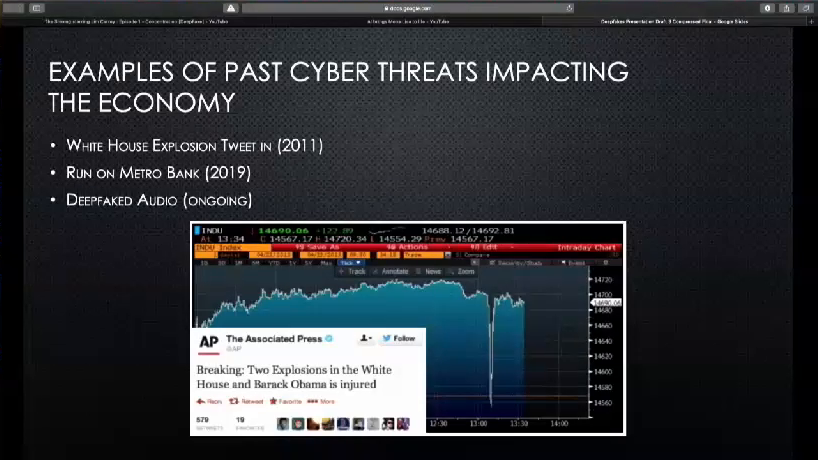 So, tak­ing a quick look at past exam­ples of cyber threats impact­ing the econ­o­my, you might remem­ber in 2011 when the Associated Press' Twitter account was hijacked and a tweet was pub­lished say­ing that there had been an explo­sion in the White House and the President was injured. Immediately, the Dow Jones plum­met­ed, and the S&P 500 report­ed­ly lost $136.5 bil­lion in mar­ket cap­i­tal­iza­tion, which is the val­ue cal­cu­lat­ed by the num­ber of shares divid­ed by the price of those shares. As you can see, it quick­ly it bounced right back up. But in this case a lot of the dam­age was caused by com­put­er­ized trad­ing algo­rithms that mon­i­tor social media and news sites and then adjust stock prices based on pre­de­ter­mined rules.
You may remem­ber in April this year when there was a huge run on the Metro Bank in the UK after a WhatsApp rumor said that the Metro Bank was no longer liq­uid, and peo­ple were run­ning into the streets, lit­er­al­ly, stand­ing in line for hours wait­ing to pull out all of their mon­ey from this bank. It was all com­plete­ly a rumor but this one turned phys­i­cal. A lot of peo­ple who were leav­ing the bank were robbed, of lit­er­al­ly every­thing they had.
And even right now there's deep­faked audio in which attack­ers are using the voic­es of exec­u­tives of large finan­cial insti­tu­tions to basi­cal­ly bul­ly lower-level employ­ees into trans­fer­ring mon­ey around into not-so-savory accounts. Already it's been report­ed that this has tak­en three mil­lion dol­lars, and that was just at the end of June. And that's just what has been report­ed, so you have to imag­ine that real­is­ti­cal­ly, that num­ber's a lot higher.
So, I'm going to take a sec­ond here to talk can­did­ly with you guys about my own adven­tures and mis­ad­ven­tures in deep­fake cre­ation. So, when I start­ed this project, I assumed the bar­ri­er to entry was like, here? [crouch­ing down and indi­cat­ing near the floor] Like, so low that lit­er­al­ly like any Joe could like walk up to a com­put­er and be like, ​"I made a deep­fake!" right. And I was wrong. Now that I've gone through this process, I would say it's prob­a­bly some­where more around like here, right? [indi­cat­ing near waist lev­el] So, it still is an acces­si­ble tech­nol­o­gy, espe­cial­ly if you have the time, the patience, and even just like an inkling of tech­ni­cal expe­ri­ence. I still think it's a very viable threat vector.
So with­in my own research I uncov­ered two schools of thought. There's DeepFaceLab, which is an active Github repos­i­to­ry, and FakeApp, which was tak­en offline in ear­ly 2019 but is still avail­able. Interestingly, both of these have Windows depen­den­cies, and they both rely on Nvidia graph­ics cards. So I learned that if you're using VMware, the VM can­not access the graph­ics card of the com­put­er you're using. Which was inter­est­ing. So you need to have a sys­tem that first of all is run­ning Windows OS, and then if you don't already have an Nvidia graph­ics card, you'd have to use an exter­nal graph­ics card. That was actu­al­ly real­ly sur­pris­ing to me.
I also ran into a cou­ple of fun legal issues when I was cre­at­ing my deep­fakes. Got yelled at by a cor­po­rate lawyer. And he said, ​"You can only make a deep­fake of yourself."
And I said, ​"Lame."
Like what, I could like lit­er­al­ly be like, I could make a video say­ing like I real­ly don't like parme­san cheese. And then I could stand up and be like, ​"I did­n't say that. I would nev­er say that." So…kept press­ing, and even­tu­al­ly con­vinced him to let me try to find some­body who works for the same finan­cial insti­tu­tion I do who was will­ing to give like, writ­ten legalese per­mis­sion that I could make a deep­fake out of them. Some of you may rec­og­nize this guy on the screen here. This is David Mortman. He runs the CFP for BSides Las Vegas. He's been around for­ev­er. Super cool guy. And super will­ing to let me make a deep­fake of him. So that worked out real­ly well.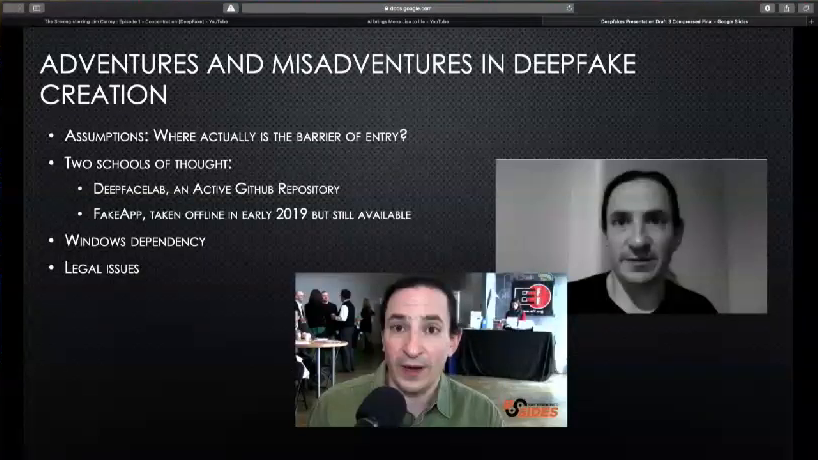 So, as you can see here these are my… David's no Kim Kardashian, right. But it was a very easy Google search to go in and find two videos to extract from that fea­ture him from the head and shoul­ders up with noth­ing in front of the face. And actu­al­ly this one down here would be con­sid­ered sub­par because it does have the micro­phone but look, I was just tak­ing what I could get, alright.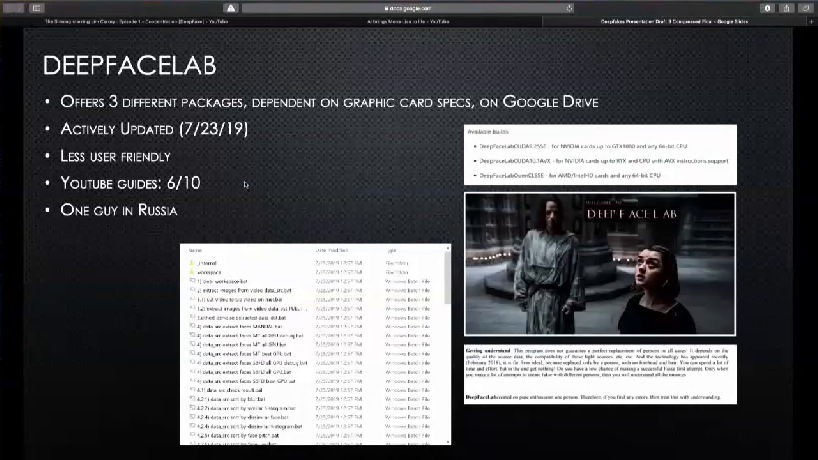 So div­ing a lit­tle bit deep­er into the two dif­fer­ent schools of thought. DeepFaceLab, like I men­tioned, active Github repo. It offers three dif­fer­ent pack­ages which are depen­dent on your graph­ic card specs, and they're avail­able for down­load on Google Drive. It's active­ly updat­ed; last one was just in July of this year. And it's a lot less user-friendly, right. So, as you can see from this very blur­ry screen­shot here you're essen­tial­ly run­ning your own com­mands on the video. So it's a much more man­u­al process. And that I think rais­es the bar­ri­er of entry con­sid­er­ably. The YouTube guides…subpar, right. Apparently, the guy who runs DeepFaceLab is just one guy in Russia? And his English is like nonex­is­tent. So he epi­cal­ly Google trans­lat­ed his entire readme. Which as you can imag­ine is…exceptional. Probably one of my favorite parts of this process. For instance, you can see down here kind of, ​"DeepFaceLab cre­at­ed on pure enthu­si­asm one per­son. Therefore, if you find any errors, treat with under­stand­ing." Like…I love this guy already.
But as you can imag­ine, his YouTube video that he made to guide every­body through the process does­n't have any audio. So you can imag­ine if you're com­ing into this as some­body who's not used fol­low­ing along with tech­ni­cal videos that are mov­ing real­ly fast, it would make it dif­fi­cult. There are some of course where some­body has made audio for it but I was over­all not very impressed.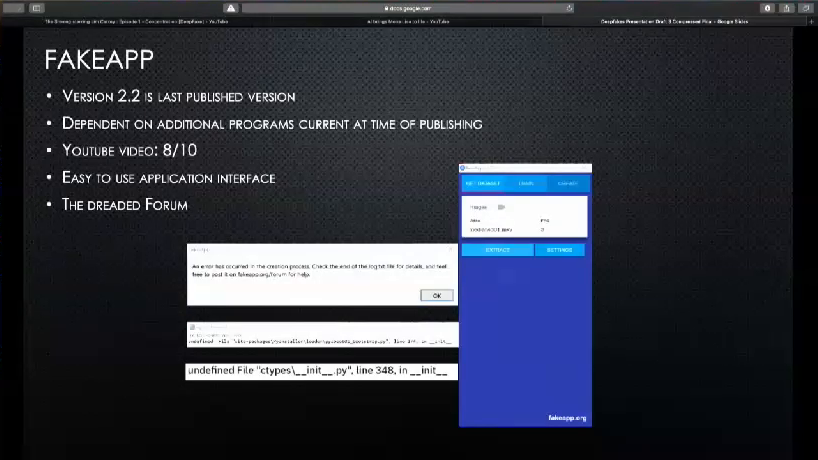 And then, there's FakeApp. So, FakeApp was tak­en down in February this year. It was orig­i­nal­ly host­ed on fakeapp​.org, which has also since been tak­en down. Last pub­lished ver­sion is ver­sion 2.2. The major­i­ty of the issues I ran into with FakeApp are around this point right here. It has con­sid­er­able depen­den­cies that are very spe­cif­ic. So like I said, last pub­lished ver­sion February of this year. All the depen­den­cies it has require the exact soft­ware that was up to date in February, of this year. So for instance, CUDA. It likes it, it needs it. CUDA's now on ver­sion like 10.1.3 or some­thing like that, and FakeApp requires CUDA ver­sion 9.7.1, with a spe­cif­ic patch set. It's real­ly annoy­ing. Also Windows Visual Studio 2015. Exclusively.
So you can see… [laughs] Which is weird, right? Because you have to have a Windows license to get like old­er ver­sions of Visual Studio. So, that's where I ran into the major­i­ty of my issues. However YouTube videos…impressive. It's just a guy, slow­ly walk­ing you through every­thing step by step. Very easy to fol­low. And some of his videos rack up like 400- to 500,000 views, and they're still get­ting views today, which means that I'm not the only one out here try­ing to get into FakeApp.
The appli­ca­tion inter­face is extreme­ly easy to use, espe­cial­ly when com­pared with DeepFaceLab's, right. So, you can see over here you essen­tial­ly just direct it to where you want it to pull the video from, and then you click…​"extract." And then you go over to the video you want it to train from, and then you click…​"train." And then you get over to this tab where you cre­ate it, and you click…​"cre­ate." So it's a lot more user-friendly, and even the appli­ca­tion inter­face is so much more friend­ly than man­u­al­ly run­ning the com­mands yourself.
However, there's anoth­er issue with FakeApp. And that is…the forum. Okay, so appar­ent­ly, I need to…figure out how to low­er my voice to say that like more intim­i­dat­ing­ly, like the forum. Something more like that. So appar­ent­ly when fakeapp​.org was still online, it had a page which was a forum where you could go and ask any and all of the ques­tions that you ran into when you were using this. And I guess it was prob­a­bly super help­ful. So now, any time that you run into an error on FakeApp, it sends you this very polite mes­sage: ​"Check the end of the log file for details and feel free to post it on fakeapp​.org/​f​o​rum for help." And you're like no, I can't.
So these are the two errors that I ran into approx­i­mate­ly fifty times each, just try­ing to get through the extrac­tion por­tion. Interestingly there are Reddit posts on both of these errors, but it's lit­er­al­ly like one guy being like, ​"Hey. I have this error." And then anoth­er guy comes in and is like, ​"Dude! Me too." And you're just like come on guys, like where'd you fig­ure it out? And then you remem­ber that they prob­a­bly used the forum.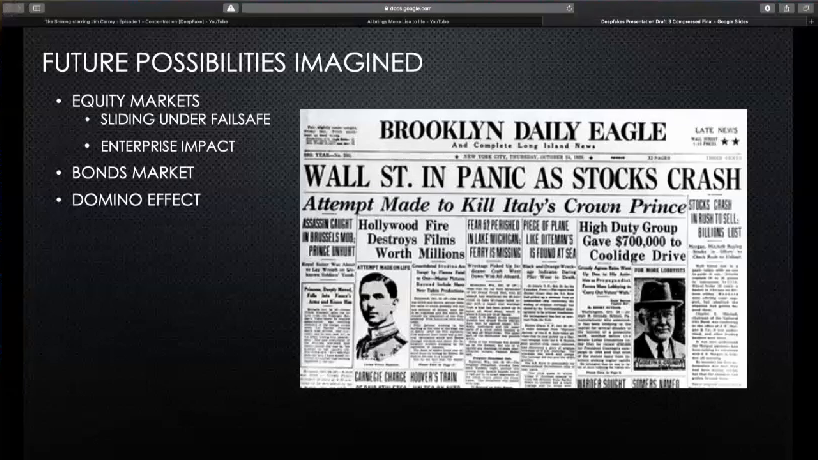 So over­all, FakeApp wor­ries me way more than DeepFaceLab. So, it's way more acces­si­ble, and what I'm con­cerned about is anoth­er FakeApp essen­tial­ly com­ing out that makes it acces­si­ble again, right. So it's not online any­more, you have to go look for it. But what­ev­er comes out next is prob­a­bly going to be even more acces­si­ble and more easy to use.
So let's take a sec­ond to talk about if you were able to cre­ate a real­ly high-quality, sophis­ti­cat­ed deep­fake video. What could you do? So, ear­li­er I men­tioned the trad­ing curb rule. It's not enact­ed often, but it is enact­ed. So the last time it went into place was in China in 2016, when Chinese stocks fell 7% with­in twenty-seven min­utes of opening.
So, in order to get around the trad­ing curb rule, you'd either need to be sneaky enough to just slide right in under it, or you would need to cre­ate enough impact and enough dam­age that it just did­n't mat­ter at all—even if it was trig­gered, it would­n't mat­ter anymore.
So, to slide under the fail­safe, you could per­haps make a deep­fake video with a super neg­a­tive sen­ti­ment about a finan­cial insti­tu­tion and then pass it around even just on Twitter, even just among Twitter bots. When the trad­ing algo­rithms con­nect­ed to the Twitter API to pull the data to adjust prices based on pre­de­ter­mined rules, it would seem that neg­a­tive deep­fake sen­ti­ment and poten­tial­ly impact the price of that stock. So that's a way that you could do it where you're slidin' in right under that bench­mark rule, hope­ful­ly not rais­ing too many red flags right off the bat.
If you want­ed to cause a lot more dam­age, though, you could take a slight­ly dif­fer­ent route. So, let's start with the Dow Jones since it's very banking-heavy. So, say you release a deep­fake video of a CEO of a large cor­po­ra­tion. It's high-quality, and he says, ​"Yo. My firm is no longer liq­uid." We saw in the case of—probably not like that, though. We saw in the case of Metro Bank that this imme­di­ate­ly takes effect and even just liq­uid­i­ty issues on their own are enough to cause peo­ple run­ning into the street, pulling out their assets, and caus­ing last­ing enter­prise impact to that finan­cial institution.
That's just if it does­n't take hold in the stock mar­ket. But let's say it does. So, next you could— So you've already affect­ed the Dow Jones. The next thing you could do would be to release anoth­er video, maybe even using the same CEO blam­ing a spe­cif­ic tech com­pa­ny for the dam­age caused by the first video. Now you're affect­ing not only the Dow Jones but also the NASDAQ and the stocks that reside there. As you can see, it would not be hard for this to quick­ly spi­ral out of con­trol and the trad­ing fail­safe rule would­n't even be able to stop it.
So, let's talk about if you want­ed to affect the bonds mar­ket. So this would be a longer shot sit­u­a­tion because the bonds mar­ket is backed by the Treasury. You'd need to call into ques­tion the abil­i­ty of the United States to pay off its debts, right. So this would be per­haps a deep­fake video of the Chairman of the Fed, or of a high-ranking mem­ber of Congress. And what you're look­ing to do here is essen­tial­ly pull down the the belief of oth­er nations—and even our own nation—that we can pay off our debts. And this might not sound too out of place, espe­cial­ly when you con­sid­er that the 2019 bud­get rene­go­ti­a­tions for 2020 are com­ing up this fall and they're already rais­ing a sig­nif­i­cant num­ber of red flags. Especially with the extend­ed gov­ern­ment shut­down that hap­pened last time we did bud­get rene­go­ti­a­tions? it does­n't seem out of place to think that some dam­age could seri­ous­ly be caused with a high-quality, sophis­ti­cat­ed deep­fake video.
So let's talk about solu­tions. So by nature, right, deep­fakes tech­nol­o­gy exists to nev­er be detect­ed, right. You want it to be… It exists to make itself good enough—as does many oth­er AI concepts—that it can't stand apart from real­i­ty. So in that way, you real­ly need a short-latency solu­tion. But let's start by dis­cussing the longer-latency solu­tions just because those are actu­al­ly a lit­tle bit more built out.
So the University of Rochester has recent­ly released a study say­ing that they can use integri­ty scores to essen­tial­ly grade the videos that you see. So it would be a brows­er attach­ment and it would col­or code the video based on how much of real­i­ty it real­ly reflect­ed. There's a start up called Amber Authentication which is using cryp­to­graph­ic hash­es to dis­cern deep­fake videos. There's a very vague start­up called New Knowledge that for the low low price of $500,000 dol­lars says that it will pro­tect your com­pa­ny from the spread of mis­in­for­ma­tion. But that's as spe­cif­ic as it goes and I'm con­vinced they're not real­ly sure how they're going to do it, either. And of course we could not get through a talk about deep­fakes with­out talk­ing about blockchain. There are sev­er­al dif­fer­ent com­pa­nies. Fatcom is one of them which is using blockchain to dis­cern between deep­faked and real videos, with var­ied lev­els of success.
But like I said, these all need videos to be online for a longer peri­od of time in order to actu­al­ly be effec­tive. And the mar­ket's so volatile that we need some­thing that is a short-term solu­tion that can imme­di­ate­ly come into place to stop that dam­age before it hap­pens. So, as far as I've found the best option we have right now is just to mon­i­tor for the devel­op­ment and release of acces­si­ble deep­fake soft­ware, on both above- and below-ground mar­kets. Looking for the next FakeApp. Looking for the next thing that's going to allow any­body with the time and the patience to just sit down at their com­put­er and cre­ate a dam­ag­ing video.
Ultimately, in order to reach these solu­tions, it's gonna need a lot of dif­fer­ent aspects. Human review, col­lab­o­ra­tive research, col­lab­o­ra­tive shar­ing plat­forms, a whole slew of things just to be able to start approach­ing the threat. But, I think we can do it, and hon­est­ly we real­ly don't have a choice.
So, through­out this project I was def­i­nite­ly too blessed to be stressed. And I was stressed any­way. John Seymour, who intro­duced me, was my BSides LV Proving Ground men­tor. He's awe­some. David Mortman of course let me use his face, which I appre­ci­ate. And all of these oth­er folks were just super super help­ful as well. At the bot­tom here is my Twitter han­dle. It's the best way to reach me for ques­tions, com­ments, qualms, or gen­er­al exis­ten­tial tid­bits, any all these things. And that's my talk for today, so thank you all for join­ing me. Questions?
---
Audience 1: [inaudi­ble]
Anna Skelton: No, I haven't. So, one of the big issues with that type of solu­tion is vol­ume issues. So if you can imag­ine you know, try­ing to apply that to every video that exists or get the right meta­da­ta to actu­al­ly reflect that and apply it to all the dif­fer­ent videos that exist, that's where I see that poten­tial­ly run­ning into com­pli­ca­tions. I haven't done any research on that but that's def­i­nite­ly some­thing to look into for the future.
Anybody else?
Audience 2: [inaudi­ble]
Skelton: So, that's a real­ly good ques­tion. On that top­ic, I am a glass half emp­ty per­son. I gen­uine­ly believe that deep­fakes will con­tin­ue to evolve faster than our detec­tion mech­a­nisms can evolve to keep up with them. Yeah.
In the back.
Audience 3: [inaudi­ble]
Skelton: I have not looked into that. I don't know what goes into mak­ing any sort of chat­bot. That's def­i­nite­ly food for thought.
Audience 3: [inaudi­ble]
Skelton: So, I was not suc­cess­ful in mak­ing my deep­fake. I did run out of time. I def­i­nite­ly should've start­ed ear­li­er. And I def­i­nite­ly did not have the right tech­nol­o­gy going into it. Like I said the Windows depen­den­cies and the Nvidia graph­ics card depen­den­cies are weird­ly like, big road­blocks. But I spent prob­a­bly six­ty to eighty hours work­ing on it. A large part of that was just weird trou­bleshoot­ing and mak­ing sure I had the right tech­nol­o­gy. If you walked in with a Windows com­put­er with an Nvidia graph­ics card you could cut off six­ty of those hours.
In the red shirt.
Audience 4: [inaudi­ble]
Skelton: That's a good ques­tion. I would assume to some extent yes. But like I said with that guy's ques­tion, at that point it's a vol­ume issue as well. And anoth­er point to bring up here's even if you can detect that a video is fake, if it's already been seen, does it even matter?
Yes, you in the glasses.
Audience 5: [inaudi­ble]
Skelton: Well, I think we know with FaceApp being sent direct­ly to Russia, and this one guy out of Russia mak­ing DeepFaceLab, that they prob­a­bly have their own deep­fake soft­ware… That's actu­al­ly a real­ly good ques­tion. So, when I orig­i­nal­ly start­ed this project I had to decide if I want­ed to look at it from the per­spec­tive of the nation-state, or from the per­spec­tive of per­haps a low­er tech­ni­cal capa­bil­i­ty hack­tivist group. And I ulti­mate­ly decid­ed to go at it from the low­er capa­bil­i­ty hack­tivist group. I deal with nation-states in my line of work now and I have learned that you real­ly can nev­er exact­ly guess how capa­ble they are and they're prob­a­bly way more capa­ble than you think they are. So yeah, that's how I chose the scope to do a hack­tivist but yeah I'm sure they have their own technology.
You and then you. In order of seat row.
Audience 6: [inaudi­ble]
So, they're using… The tra­di­tion­al mod­el like I said is using the gen­er­a­tor and the discriminator—the tra­di­tion­al adver­sar­i­al mod­el. I don't know a lot about mod­ule encoders so I couldn't—
Audience 6: [inaudi­ble]
Skelton: What?
Audience 6: [inaudi­ble]
Skelton: Oh, auto encoder. I thought you were say­ing mod­ule encoders and I was like what is that?
Audience 6: [inaudi­ble]
Skelton: Right. Yeah. Yeah I think to some extent the tech­nol­o­gy is sim­i­lar. But I mean, I lit­er­al­ly came into this know­ing zero things about deep­fakes, and all I know is what I learned. So yeah, still learn­ing. Always.
Audience 7: [inaudi­ble]
Skelton: Yeah, absolute­ly. I mean, I think you know, that's just is that the next step? You know, do they com­mer­cial­ly release that to the pub­lic or is it like…you know, when they recent­ly released the BlueKeep POC and every­one's like ​"Don't do that," and they're like, ​"Oh it's only for peo­ple that sub­scribe." But yeah. I mean, I think it's just wait­ing to see if they're going to release that soft­ware. I absolute­ly believe it. I think we know that they have the capa­bil­i­ty to devel­op it. But yeah, if they'll make it com­mer­cial­ly avail­able is the ques­tion. Hopefully not.
Okay. I don't see any more hands, so I'm gonna go ahead and say thank you all for join­ing me today, and I hope you enjoyed it.