Okay, so enter 1983. I don't know what you were doing at this peri­od of time, but a lot of things hap­pened. The first mobile phones, com­pact discs, Michael Jackson, WarGames…a lot of things, depend­ing on your inter­est.
In my case [modem con­nec­tion sound starts play­ing] I think it was some­thing which was not glam­orous, not tan­gi­ble, not even vis­i­ble, some­thing hap­pened that kind of changed the way we were deal­ing with every­day life. And it's the shift that hap­pened from the NCP pro­to­col to the Internet Protocol suite. The net­work design was open enough to con­nect poten­tial­ly every com­put­er world­wide, and it became the most widely-used net­work, and we're still using it today. [modem sounds end]
I'm not inter­est­ed in the tech­ni­cal aspect of this inno­va­tion. What inter­ests me is how peo­ple at some time, at some point, made it vis­i­ble some­how. This cov­er of Time (You can see we like Time mag­a­zine.) is [express­es] a lot of the kind of ten­sion and the mixed feel­ings about the com­ing of tech­nol­o­gy in the house­hold. The face to face of these char­ac­ters, they don't know exact­ly how to com­mu­ni­cate. They don't know what to do with this new non-human agent that came into their life. And it looks a lit­tle bit like they are wait­ing for a sig­nal, some­thing that can help them to com­mu­ni­cate. It's a lit­tle bit the calm before the storm. And there is one detail which is quite strik­ing. It's the win­dow, which com­mon­ly is the open­ing to the world. The win­dow is black, and the real­i­ty is seen on screen.
At the same time, by coin­ci­dence, President Reagan launched a new era in space explo­ration with the devel­op­ment of the pro­gram called Strategy Defense Initiative. The idea was to make a satellite-regulated shield that could auto­mat­i­cal­ly dis­man­tle nuclear pro­jec­tiles. This was a very big shift in the way the United States were deal­ing with space explo­ration. And the pro­gram, very expen­sive, was dubbed ​"Star Wars" by its crit­ics.
https://​www​.youtube​.com/​w​a​t​c​h​?​v​=​s​M​f​m​V​z​H​Z​vkc
I'm not going to deal in this polit­i­cal agen­da, which was quite com­plex. What inter­ests me is the way they used visu­als, espe­cial­ly com­put­er graph­ics ani­ma­tion, to pro­vide legit­i­ma­cy to the project. Suddenly, this kind of imagery, which used to be used in films like Tron or was com­mon in video games, was used in for­eign pol­i­cy speech and sud­den­ly gave strong cred­i­bil­i­ty to this kind of imagery. Computer graph­ics imagery almost became objec­tive tools like pho­tographs used to be from the inven­tion of pho­tog­ra­phy.
This links to anoth­er kind of imagery which is quite inter­est­ing. All the ren­der­ings, the dia­grams, and the images that were pro­duced dur­ing this time and for this project had dimen­sion, artist con­cept, artist vision, artist ren­der­ing. Sometimes they were even signed. And it gave a seri­ous sci­en­tif­ic author­i­ty to the artists.
So that's a lit­tle bit how I came to go in this direc­tion. I was inter­est­ed in the way artists in this spe­cif­ic con­text trans­lat­ed this his­toric moment in their pro­duc­tions. I decid­ed to focus on two very seemingly-opposite artists. One is David Em on the left. He lives and works in Los Angeles. He began mak­ing sculp­ture, film, pho­tog­ra­phy, and print­mak­ing before becom­ing one of the pio­neers of dig­i­tal art. During the 70s and 80s, he worked at Xerox PARC and JPL (Jet Propulsion Laboratory), the place where the Star Wars pro­gram was elab­o­rat­ed.
On the right is Rammellzee, a visu­al artist, musi­cian, per­former, poet, born in New York in 1960. In the 80s, he was part of the first gen­er­a­tion of graf­fi­ti artists to get world­wide recog­ni­tion. They seem to belong to total­ly dif­fer­ent worlds, and the idea of this pre­sen­ta­tion is a lit­tle bit to see how they are not so dif­fer­ent.
Coming back to the work of David Em. He worked dur­ing the 70s at JPL, a branch of NASA which was spe­cial­ized in space explo­ration. By chance, he did­n't have to work for the Army, but he had access to the state of the art in com­put­er graph­ic soft­ware. He worked with mas­ters in com­put­er graph­ics like James Blinn, whose soft­ware helped him to devel­op his own style.
He also liked to make the link between his for­mer sculp­ture prac­tice and what he called the vir­tu­al world. He liked com­put­er graph­ics because it allowed allowed [him to stretch the can­vas, to open hybrid ter­ri­to­ries that are locat­ed out­side the tra­di­tion­al art net­works. He was very pop­u­lar among the pub­lic.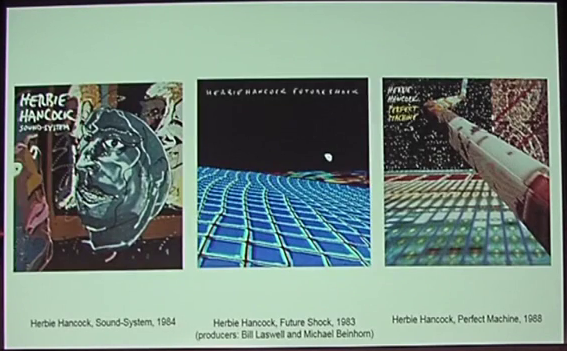 One of his most icon­ic images is called ​"Approach," and it referred to this very icon­ic image we saw back in the 60s, or that were pro­duced back in the 60s, show­ing this lit­tle Earth in the mid­dle of the uni­verse. This image polar­ized opin­ion, because it has a strange poet­ic feel­ing. It kind of shows the glob­al pen­e­tra­tion of tech­nol­o­gy. And it looks a lit­tle bit like a plan­et which is seen through the lens of a machinic vision.
If you've seen this pho­to­graph before, it might be on the cov­er of the album Future Shock. Herbie Hancock pro­duced this album, a series of three albums actu­al­ly. All of them have David Em art­works on the cov­er, and Future Shock was the most suc­cess­ful album. The image went viral. The title is bor­rowed from a book Alvin Toffler wrote in 1970 which was quite influ­en­tial. And most of the project is deal­ing with the idea or the con­cept of infor­ma­tion over­load that is part of the main hypoth­e­sis of Toffler in his book.
What is inter­est­ing in the big suc­cess of this col­lab­o­ra­tion between Bill Laswell and Herbie Hancock was the sin­gle ​"Rockit." I don't know if you remem­ber it, but back in 1983 you had this very strange video, and this very unusu­al noise, which is the noise of Grandmaster DST scratch­ing, appro­pri­at­ing the turntable and mak­ing sounds that were not very com­mon on a record at this peri­od. The video is also this very strange and creepy flat where these robots are kind of mak­ing stac­catos fol­low­ing the rhythm of the track. This was a very strong image that kind of also opened some new son­ic ter­ri­to­ries, I would say.
​"col­li­sion music" involves seem­ing­ly dis­parate ele­ments being thrown togeth­er in an attempt to cre­ate new sound.
John Doran, ​"Bill Laswell Interviewed: Bass. How Low Can You Go?"
Regarding the con­cept which was behind the project, Bill Laswell liked to talk about ​"col­li­sion music," the idea of bring­ing dif­fer­ent ele­ments togeth­er and open­ing some new sound or new ways to lis­ten to music. This con­cept of col­li­sion is real­ly at the core of the work of Rammellzee. So I'm going to go a lit­tle bit fur­ther describ­ing his uni­verse.
Rammellzee had a very big time in 1983. He did a col­lab­o­ra­tion with Jean-Michel Basquiat on a sin­gle called ​"Beat Bop," and this was a very suc­cess­ful record which is always one of the most sought-after rap records. He also played in a film called Wild Style, and anoth­er film about graf­fi­ti art that is called Style Wars. That was the moment where the hip-hop move­ment broke into the main­stream and the world was just dis­cov­er­ing youth cul­ture, which was using old tech­nolo­gies inher­it­ed from the indus­tri­al era, like high­ways and the train sys­tem, as a new means of com­mu­ni­ca­tion.
And that's when Wild Style and the uni­verse of Rammellzee and the uni­verse of David Em are com­ing togeth­er. David Em was very impressed by the graf­fi­ti he saw in the cities of Philadelphia and Los Angeles back in the 70s. He was real­ly impressed by the aes­thet­ic of this graf­fi­ti, but also by the free­dom that these youth got to make their art. He was so into it that he start­ed to pho­to­graph and col­lect dif­fer­ent inscrip­tions and made a doc­u­men­tary in 1978 called Graffiti Fever, which is about the emer­gence of the street art move­ment. It's one of the first graf­fi­ti doc­u­men­taries, and it kind of made a very strange con­nec­tion between the ear­ly exper­i­men­ta­tion in com­put­er art and this youth move­ment that was com­plete­ly ver­nac­u­lar some­how.
David Em, that I inter­viewed recent­ly, was men­tion­ing this moment say­ing that back in the mid-70s when he saw these inscrip­tions, it kind of pushed him to define his own style as a dig­i­tal artist. And this is an inter­est­ing con­nec­tion, I think.
Going back to the work of Rammellzee, he also saw a very spe­cial way to deal with graf­fi­ti. His trick was to kind of make some con­nec­tion and add some tech­ni­cal con­cept to his writ­ing. He con­sid­ered graf­fi­ti as virus­es. And what he liked to do was to con­nect his pro­duc­tion to mil­i­tary lan­guage. He was say­ing that the graf­fi­ti artists were in a kind of sym­bol­ic cam­paign against the stan­dard­iza­tion of the alpha­bet. He liked to cre­ate idio­syn­crat­ic lan­guages and was kind of mim­ic­k­ing the lan­guage of the Army. On the right, you can see these let­ters mor­ph­ing into rock­ets. All this kind of eso­teric the­o­ry, he called it ​"goth­ic futur­ism."
Sometimes one can find some strange exam­ples where his draw­ings are almost the same as the draw­ings made by the weapons man­u­fac­tur­ers at the time. So here on the right you can see the let­ter sig­ma mor­ph­ing into a rock­et, for exam­ple. And on the left it's an orig­i­nal ren­der­ing of the SDI made in the mid-80s. Somehow he was kind of hack­ing the mil­i­tary lan­guage and the lan­guage that was used for the ren­der­ing of the Star Wars prod­ucts or devel­op­ment.
He also used to work in 3D, some­how. Like mak­ing these sculp­tures from waste mate­r­i­al that he found in the streets. He called them ​"Letter Racers" and they were made from pieces of wood merged with dis­lo­cat­ed dolls, skate­board ele­ments, and oth­er toys. That was an inter­est­ing pre­cur­sor I think of the way we use 3D print­ing nowa­days. And these let­ter [rac­ers] for exam­ple are kind of all based on a let­ter, which is kind of dif­fi­cult to read, but he had def­i­nite­ly some­thing that was linked to the let­ters and the lan­guage.
Another thing that he liked to do was to stay anony­mous. He hard­ly ever appeared in pub­lic with­out a cos­tume or a mask. He kind of cre­at­ed a lot of avatars that were inex­tri­ca­ble from his work, and he liked to role play and dis­cuss the idea of iden­ti­ties. Somehow he pre­fig­ures the way we're deal­ing with avatars in social net­works. I would say that he is a fig­ure of the hack­er.
Technology has tak­en us by sur­prised, and the regions that it has opened up are glar­ing­ly emp­ty.
Siegfried Kracauer, Kreise und Tanz, 1925
I like this sen­tence from Kracauer that I think still works nowa­days. These exam­ples, David Em on his side, Rammellzee on the oth­er, what they brought us is a kind of vision that helps us to fore­see a lit­tle bit what tech­nol­o­gy could bring us. They are some­how the aliens of these new ter­ri­to­ries.
Regarding what we could say about this inher­i­tance, I think the idea of 3D print­ing and the way we are deal­ing with body enhance­ment, for exam­ple, are good exam­ples of what Rammellzee was doing in a very DIY way.
There are also artists that are deal­ing with the lan­guage, for exam­ple Constant Dullaart with his project DullTech, who is mim­ic­k­ing a lit­tle bit the world of the start­up, mak­ing what he calls dull tech­nolo­gies. And also we kind of find this divi­sion in the way Rammellzee was deal­ing with the DIY ethos.
I was think­ing also of Hito Steyerl, in a movie deal­ing with mass sur­veil­lance and the way the con­tem­po­rary visu­al regime is more and more mil­i­ta­rized.
There are also some exam­ples in music, and I want­ed to fin­ish with this quote that comes from Cybotron. Enter is one of the first tech­no albums.
Enter the new round
Enter the next phase
Enter the pro­gram
Technofy your mind
Cybotron, ​"Enter", 1983
Thank you.
---
Nicolas Nova: Thanks, Joël. We have quite some time for questions, so let's talk more about these things. One of the projects you mentioned, wa a series of projects, is by David Em. If I remember well, David Em used to work with companies like Xerox PARC, for instanced. To clarify the context, how would you define his work, thinking about what you showed, what's the role of this in Xerox PARC at the time?
Joël Vacheron: I don't know much about David Em because I discovered him working on this talk. But I've been very impressed [with] the way he was having his own way of dealing with digital art. There's a documentary that you can see on YouTube that explains his vision a bit, and it sounds so contemporary like, you have the impression that it's a post-Internet artist somehow. And I think at the time, he had a lot of freedom to experiment and go the way he wanted to go. But for that, he needed a strong vision and I think he got it.
Nova: Did he do that as a side-job, compared to what he was used to do there, or…?
Vacheron: I have the impression that he was pretty full-time, but I'm in discussion with him. That's the kind of question I might ask him.
Nova: What is also interesting with Rammellzee, the artist who did the masks and the machines out of discarded objects is that this looks very contemporary, as you said. And it seems like if you look at the word of some artists now, working with a critique against mass surveillance or cameras, there's a very interesting echo. But of course it's different because it was in the 80s. So what do you think made Rammellzee anticipate that? Was he interested or focused on thinking about some sort of sci-fi dystopian world, or was he interested in some sort of repurposing of existing technologies?
Vacheron: I think he was already a kind of maverick. And he had a lot of humor, and he must have had fun because he died in 2010. But I figure he had fun making these little game role-plays. And he was also part of this tradition that we could call Afrofuturism, which is… We know like Sun Ra back in the 50s, 60s, already starting from the sound of the Moog, the first Moog sound, like electric Moog, started to develop a rhetoric about space travel and all these things. So he kind of also had a heritage or tradition in which he could easily go.
Nova: One of the reasons why I was interested in this 1983 topic is that a lot of the examples that Joël has showed anticipate the world of today. But I'm curious what happens when you teach at the academy. You have students who were born after 1983. What happens when you show them these kinds of examples? Does that make sense for them, or is it surprising? What kind of debate does that lead to?
Vacheron: I think it's interesting because this example especially, regarding digital arts kind of lot it credit, somehow, back in the 90s and early 2000s. And it comes back. And I'm always surprised to see the students, the new generation even younger than…people born in 1983, really like this kind of approach. And I think what they like is the fact that it's strong vision, and people really believed in what they wanted to do and didn't care about any people who don't Like when they post something on Facebook. I don't know. I think for them it's a very encouraging sign that there's possibility to do things that last.
Nova: One of the messages here is that if you look at artists' work at that time, for instance, that anticipates trends in terms of culture and technologies. But that was 1983. Can you give us some examples of artists from today who not necessarily might be the next Rammellzee, but who might tell us something about the future of technologies?
Vacheron: I think the quote of Cybotron is quite interesting because this is officially the beginning of the techno movement, 1983. Juan Atkins is part of this first generation of techno producers, but he's still present. And if you listen to techno music, it has changed of course, but it's still the same somehow. And the same with rap music, which kind of broke out back in 1983 or early 80s. So I think there are things that last and we still hear them as original.
Nova: But are there new ones in visual arts, or in other types of arts nowadays that would be inspiring for you as a way to think about the future?
Vacheron: Yeah, Hito Steyerl, Constant Dullaart, and I would say Kim Laughton, for example, and artists that are so recently…who does a lot of things based in Shanghai that kind of provide a really interesting vision of how the world could [look] when most of the cultural example elements would be Asian or Chinese.
Nova: Thank you very much, Joël.
Vacheron: You're welcome.
---
Help Support Open Transcripts
If you found this useful or interesting, please consider supporting the project monthly at Patreon or once via Square Cash, or even just sharing the link. Thanks.