Rashad Robinson: So I'm sort of kin­da last here this ses­sion, and I'm sort of stand­ing in between every­one and drinks and food. So I want to inject a lit­tle cul­ture into this con­ver­sa­tion. And as we talk about the rea­sons that we make inter­ven­tions in this work, the rea­son why we advo­cate for truth in the media, and the rea­son why orga­ni­za­tions like mine do that work is for our com­mu­ni­ty, for the folks that we represent.
This is my niece and my nephew Camden and Elon. And we do the work because we want the world to look bet­ter for them five years, or ten years, or twen­ty years down the line. And the work that we do at Color of Change—I'm also going to actu­al­ly spend some time talk­ing about the work I did pri­or to Color of Change—is about the truth in how do we— Who gets to iden­ti­fy who we are? Who gets to talk about our voice? Who gets to define us as peo­ple in the media and deter­mine the names that we're called, the labels that are used to define us?
Two and a half years ago, Glenn Beck went on Fox News and called President Obama a racist with a deep-seated hatred for white peo­ple and white cul­ture. Color of Change at that point mobi­lized over the course of two and a half years over 285,000 of its mem­bers to get over 300 adver­tis­ers to remove its spon­sor­ship, mak­ing Glenn Beck no longer prof­itable to Fox News. And it was a vic­to­ry. It sent a mes­sage. But it was­n't nec­es­sar­i­ly a sys­temic change, right. So short­ly after Glenn Beck leave the air, Eric Bolling replaces him and starts talk­ing about why Obama is you know, drink­ing for­ties in Ireland.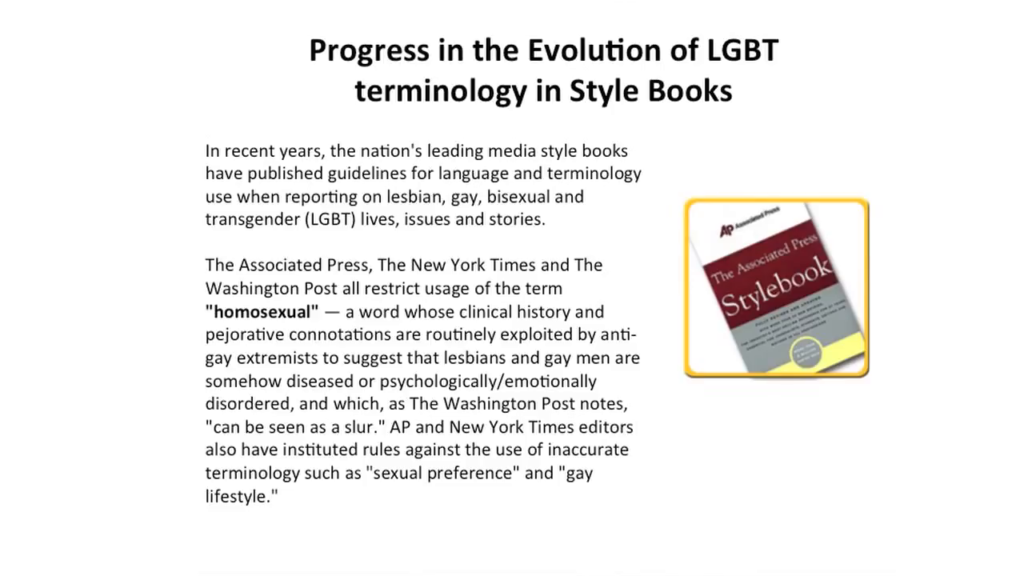 And so I'm going to talk about a lit­tle bit of work I did when I was the senior direc­tor of pro­grams at the Gay and Lesbian Alliance Against Defamation. I've been gone from GLAAD for about a year now. But we did a lot of work in terms of ter­mi­nol­o­gy, and work­ing specif­i­cal­ly with the Associated Press in how they define gay and les­bian peo­ple. The work start­ed before I got to GLAAD but it was sort of work that took place before GLAAD exist­ed, and then that's cur­rent­ly being done even today.
And it real­ly cen­ters around the word ​"homo­sex­u­al." In 1973, the American Psychological Association removed it from its list of dis­or­ders. It still car­ried a lot of pathol­o­gy to it. It was a clin­i­cal term, and it was con­sis­tent­ly used by folks who opposed free­dom for gay and les­bian peo­ple. It's been used over and over and over again by by oppo­nents to equal­i­ty for gay and les­bian peo­ple, or laws that were being advanced around the coun­try. The Washington Post, AP Style Guide, Reuters, and The New York Times all sort of list­ed homo­sex­u­al as a word that could be used.
And the work real­ly start­ed in the 80s, by get­ting The New York Times to just start using the word ​"gay." To just say start using the word ​"gay" along with using the word ​"homo­sex­u­al." You know, that was a vic­to­ry. Over time the com­mu­ni­ty start­ed advo­cat­ing and push­ing the Associated Press to start fig­ur­ing out how they were going to remove the word homo­sex­u­al from its style guide, list­ed as a pejo­ra­tive term. The AP, as they do with sort of a num­ber of terms, says that, ​"We don't make that deci­sion at the nation­al lev­el. We real­ly fol­low the trends that are hap­pen­ing all across the country."
And so that's when the com­mu­ni­ty was engaged. Community mem­bers all around the coun­try were engaged every time ​"homo­sex­u­al" appeared in a local AP sto­ry, in a state AP wire, that they would start get­ting phone calls to change that. And over the course of about four to five years, it got to a point where vir­tu­al­ly the word homo­sex­u­al, you did not see it in any paper sort of across the coun­try. Where I got to the point where the Associated Press had to make a deci­sion about what it was going to do next.
And so we had a meet­ing with the Associated Press to sort of look at what we were going to do next about were they going to keep the word ​"homo­sex­u­al" and just add ​"gay?" Whether they were going to say you prob­a­bly should­n't use the word but if you want to use it as a syn­onym it's okay. There was a lot of back and forth over the course of a year, a lot of research was brought in. And they even­tu­al­ly removed the word ​"homo­sex­u­al" and list­ed it as a pejorative.
The work did­n't end there. It actu­al­ly sort of inten­si­fied at that point. That's when we had to make phone calls every time we saw it come up. That's also when a lot of work was done by our oppo­nents to start mak­ing sure that any time they saw the word ​"gay" they would switch it to the word ​"homo­sex­u­al." So I have a fun­ny exam­ple here of a track run­ner named Thomas Gay.
This comes from the American Family Association's news wire. They take AP sto­ries and they change—every time the word ​"gay" appears and they change it to ​"homo­sex­u­al." And so thanks to some great staff at GLAAD and some fan­tas­tic gay blog­gers, we were able to catch this and get a num­ber of screen shots across the Internet. Not just of Thomas Gay but of the Boston Celtics NBA play­er Rudy Gay, who some of you may fol­low here, who's also been Rudy Homosexual as well. Probably much to the sur­prise of their fam­i­ly and friends and close asso­ciates. It kind of makes for real­ly inter­est­ing titles like ​"Homosexual Eases into 100 meter Final at Olympic Trials." Probably not what the American Family Association real­ly intend­ed, but real­ly shows sort of the pow­er of words and the pow­er that words have in sort of defin­ing a community.
We worked after that with Gallup in try­ing to get them to change how they were using the word ​"homo­sex­u­al" in their polling. And they said, ​"We need lon­gi­tu­di­nal integri­ty, so we don't want to change the ter­mi­nol­o­gy that we're using. We want to be able to com­pare how folks feel about the homo­sex­u­al com­mu­ni­ty in 2008 to how they feel about the homo­sex­u­al com­mu­ni­ty back in you know, 1986." And so we found some polling that they did in the 70s around, ​"If all things were equal would you vote for a Negro for pres­i­dent?" And they cer­tain­ly were not using that polling dur­ing that Hillary Clinton/Barack Obama pri­ma­ry. And they had made some changes around lon­gi­tu­di­nal integri­ty at that point to sort of suit cul­tur­al changes and the changes around how we deter­mine how com­mu­ni­ty has agency around who they are and [how] they're defined. What's actu­al­ly their truth in the media. And so those changes were made.
You know, this is about truth. It's about how folks are defined. It's also about— You know, I know that we're hav­ing these con­ver­sa­tions around is this a left or right con­ver­sa­tion. And so I will be com­plete­ly trans­par­ent. ​"Would you be okay with homo­sex­u­als teach­ing your chil­dren?" ver­sus ​"Would you be okay with gays and les­bians teach­ing your chil­dren?" is ten point. It's ten points. But it's also about how the com­mu­ni­ty wants to define how they see them­selves, how they should be represented.
And so when think about inter­ven­tions and as orga­ni­za­tions like Color of Change, or GLAAD, or orga­ni­za­tions that rep­re­sent community—everyday peo­ple that want to think about how their chil­dren are going to expe­ri­ence the world ten years or five years down the line, it real­ly is about how do we sort of define and engage media to not just look at sort of what we con­sid­er as basic facts, but sort of how do our lives, how is our dig­ni­ty, and how the labels that are used about us rep­re­sent who we are and who we should be in the press.