Liz Jackson: Hello. ​'Stick this right here. [hangs cane off front of podium]
That's me—short hair, smile, cane. Those are my words. Aren't cap­tions glo­ri­ous? Let's just stop for a sec­ond and admire them. Eh, they stopped.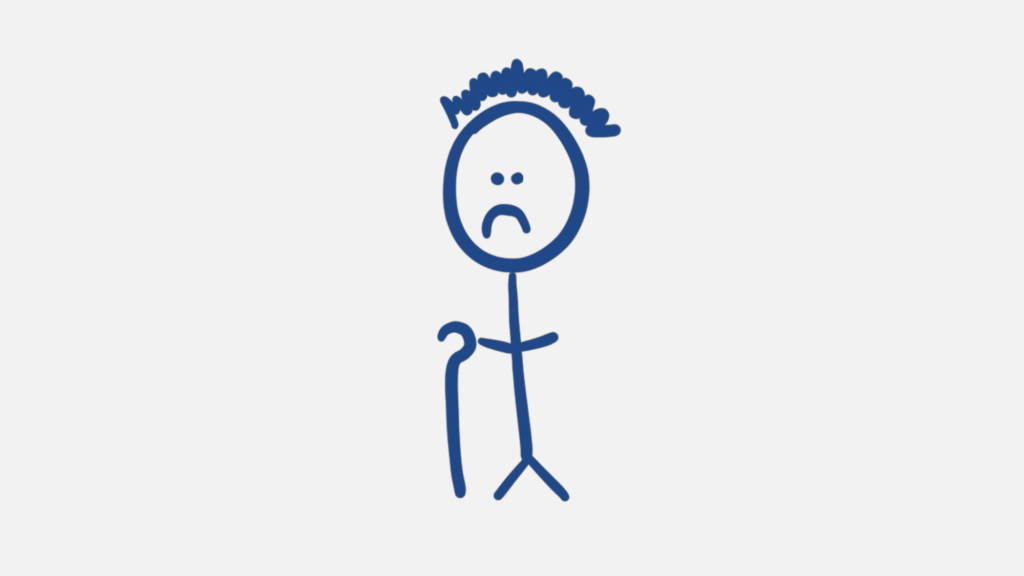 Anyway I remem­ber like a year ago I got this email from IDEO. They said they want­ed me to come in, they want­ed to talk. When I got there they said they had this tech­nol­o­gy that they had cre­at­ed that was intend­ed to get dis­abled peo­ple hired. And so I said, ​"What dis­abled peo­ple did you hire to cre­ate this tech­nol­o­gy that's intend­ed to get dis­abled peo­ple hired?"
They said none.
Hadn't even occurred to them that they were per­pet­u­at­ing the prob­lem that they had set out to fix.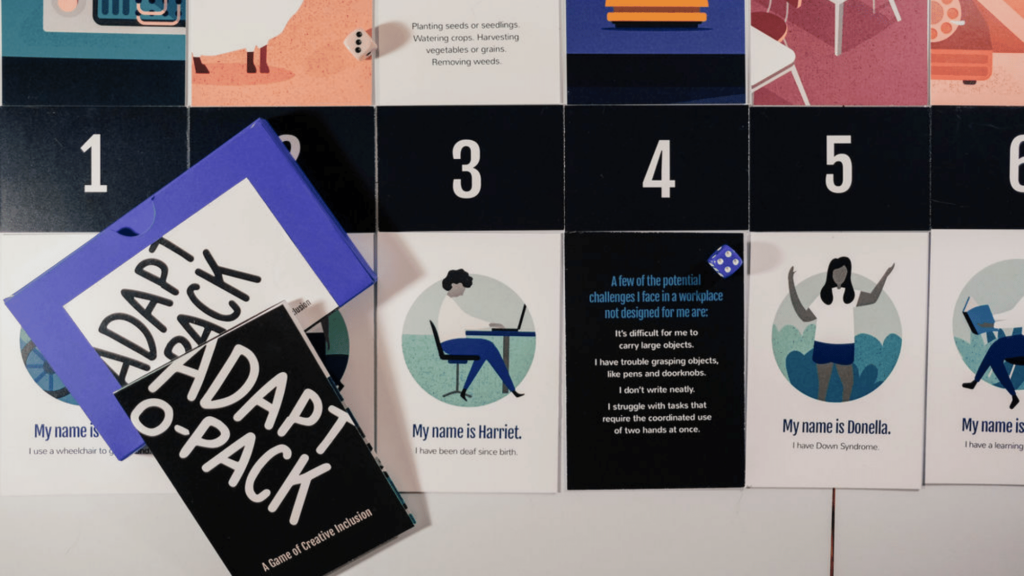 Not long after, they came out with a card game called Adapt-O-Pack. For brands who I sort of pre­sume are inter­est­ed in dis­abil­i­ty. They claimed the goal was to break down bias through play, but to me it looks more like a game for brands who are inter­est­ed in dis­abil­i­ty but don't real­ly want to talk to dis­abled peo­ple. So it seems to me like we're the bias that they're try­ing to remove.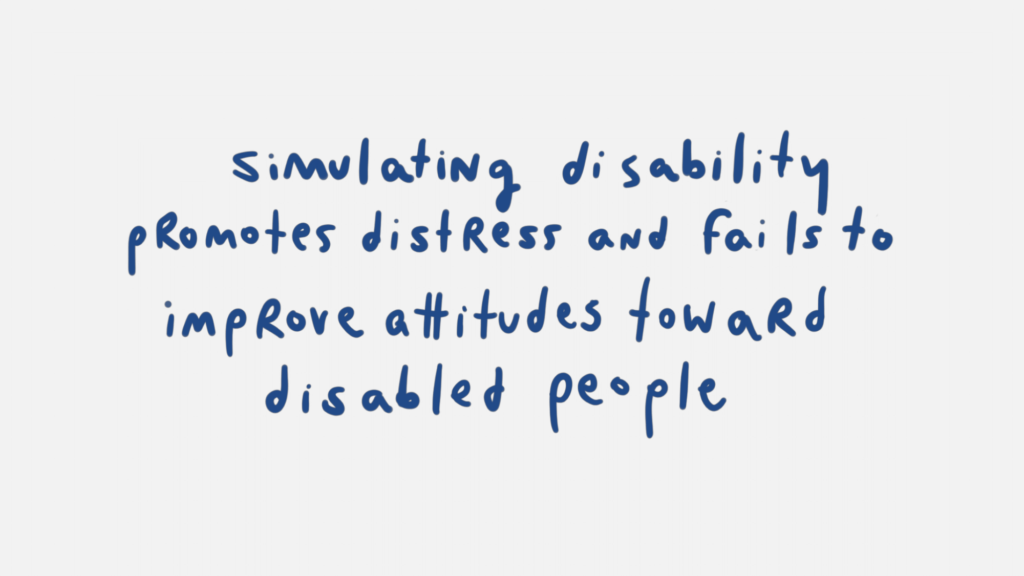 So why am I telling you this? Because I think we need to start think­ing crit­i­cal­ly about things that we per­ceive as whole­some. Empathy has become a big busi­ness, and we ought to be able to exam­ine it. Everyone's always try­ing to diag­nose dis­abled peo­ple. But I'm gonna have a lit­tle bit of fun, and I'm actu­al­ly gonna diag­nose all of you.
All of you are patho­log­i­cal altru­ists. It's like Oprah says—and I think she's the most patho­log­i­cal of all the altru­ists. Right? Your a patho­log­i­cal altru­ist, you're a patho­log­i­cal altruist…everyone here, myself includ­ed, is a patho­log­i­cal altruist.
So what is a patho­log­i­cal altru­ist? Well it's a per­son whose well-meaning efforts actu­al­ly wors­en the very sit­u­a­tion they had intend­ed to help. So, some­one who stays in an abu­sive rela­tion­ship for the kids is a patho­log­i­cal altru­ist. Animal hoard­ers are patho­log­i­cal altru­ists. The per­son who might actu­al­ly kill you with kind­ness is a patho­log­i­cal altruist.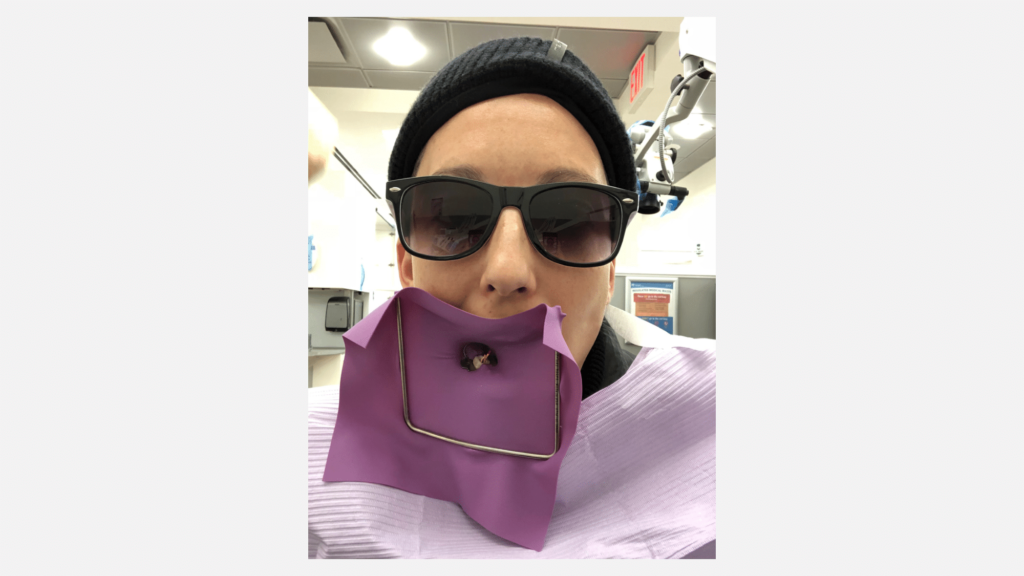 I'm here today to apply the phe­nom­e­non of patho­log­i­cal altru­ism to main­stream dis­abil­i­ty nar­ra­tives. I went to the den­tist. I mean it, I went to the den­tist a few weeks ago. And lit­er­al­ly as he was putting this den­tal dam—I'll change the picture.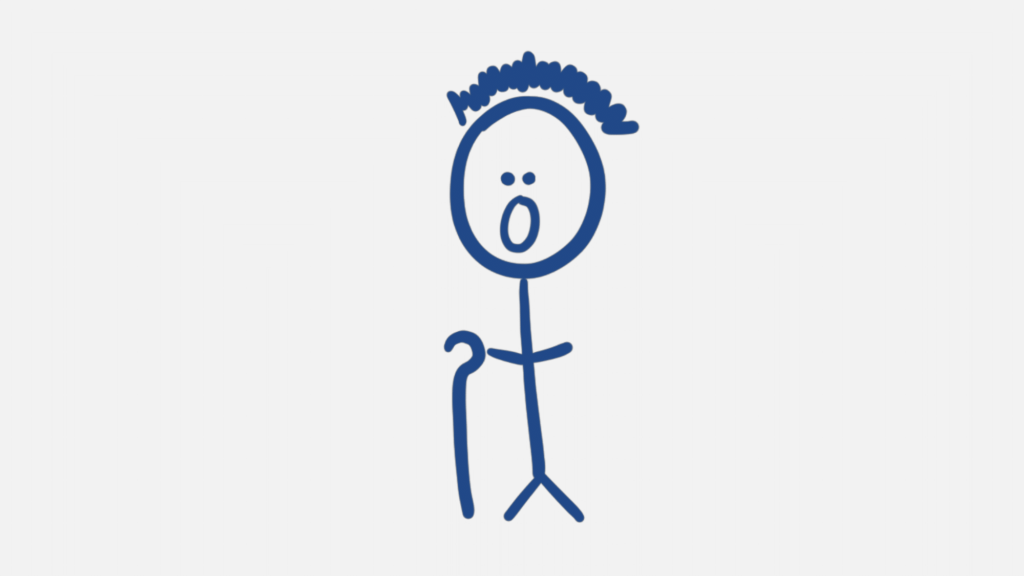 As he was putting the den­tal dam over my face, he asked me, he said, ​"What have you been up to?"
And I told him, [cov­er­ing mouth with hand to muf­fle her voice] ​"I've been writ­ing about my strug­gles with empa­thy." I'd been writ­ing about strug­gles with empathy.
And he said, ​"Really! I strug­gle with it, too."
I don't think you do.
And he posed this ques­tion to me, he said, ​"If a blind woman is cross­ing the street, do you offer to help and risk offend­ing, or do you stay away and risk that she might hurt herself?"
And lit­er­al­ly my mouth is propped open. I am numb as hell. And, I have a den­tal dam over my face. So I can't ask the one ques­tion that I want­ed to ask.
I get home that night, and I can't hold it in any longer and so I shoot him an email and I say to him, ​"In this hypo­thet­i­cal that you posed, how did you know the woman was blind?"
And he wrote me back and he said to me, ​"You know, she was using one of those sticks."
And it struck me that the very thing that told me that she was fine, she did­n't need any help, was the sig­nal to him that she did.
The world has taught us that a dis­able— I prob­a­bly should've put a slide here, but you can just kind of imag­ine me with my mouth agape. The world has taught us that a dis­abled body is noth­ing more than a body in need of inter­ven­tion. And this is what design­ers do, right. We…we fix things. We design inter­ven­tions. We ded­i­cate our careers to it. We are here today because of our com­mit­ment to this process. We are seek­ers who devel­op our skills with rig­or. Because we often­times want to be the best—there's a cer­tain glo­ry in being a designer.
And so, I see the nat­ur­al pro­gres­sion. Of course we're gonna want to take and apply our highly-attuned skills to some­thing that we think needs fix­ing. But there's anoth­er side to it, too. I was recent­ly talk­ing to an admin­is­tra­tor at a top design school. And she was say­ing to me that she dreads the start of every semes­ter because she knows that there's going to be a line of stu­dents out­side of her office, want­i­ng to fix her cane. But the thing is, is that she likes her cane. Actually it's a walk­er. Sorry, that's my cane.
So these stu­dents want to fix her walk­er. She likes her walk­er, she does­n't think there's any­thing wrong with her walk­er and what these stu­dents don't real­ize is that they are telling her that there is some­thing wrong with her walk­er and there­fore there is some­thing wrong with her. And I sup­pose that is how this feels, is that we—disabled people—have become a project or a top­ic. Design does­n't see dis­abil­i­ty as a dis­ci­pline or a craft. There is no rig­or. We are noth­ing more than your port­fo­lio enhancer or your brand enhancer. We are a sym­bol of your altru­ism. And that, among so many rea­sons, is why the very sys­tems that have been put in place to sup­port us end up doing more harm than good.
Let's think about this in terms of design think­ing, which I'm sure you all know is an approach to design that gained steam in the 1960s. It was cre­at­ed, in essence, by white men who had no equals, right. They were at the top of their pro­fes­sions. They were fill­ing mil­lions of homes around the world with prod­ucts, and they were aligned with the great­est insti­tu­tions in the world. And what they start­ed real­iz­ing was that design was­n't reach­ing every­body and so they cre­at­ed this sys­tem built on empa­thy to begin fill­ing in those gaps.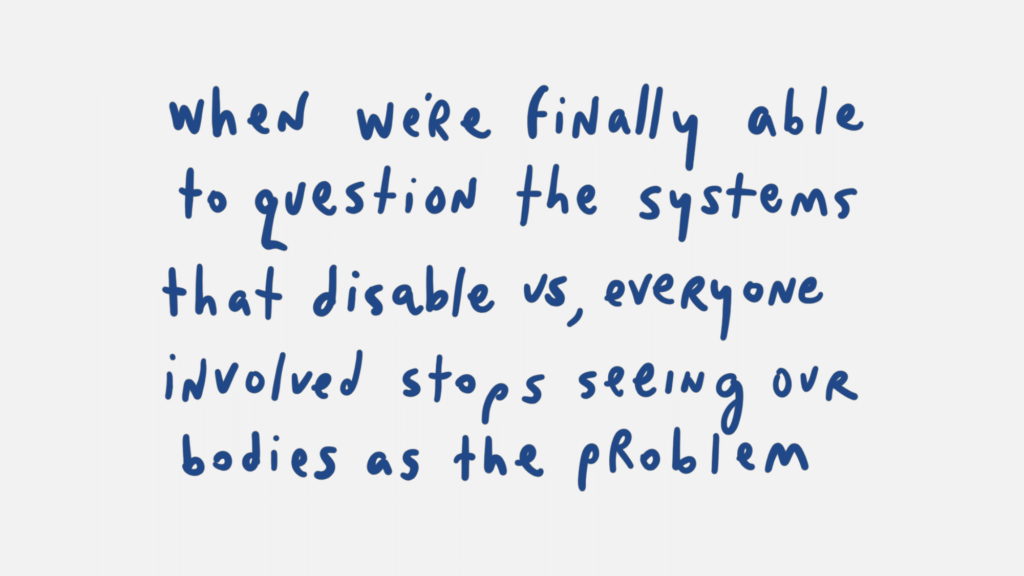 And while much good has come of it, it has inad­ver­tent­ly fueled the nar­ra­tive that dis­abled peo­ple are recip­i­ents rather than dri­vers of design. This is why I pro­pose a new approach to design think­ing that I call ​"design ques­tion­ing" because I believe that we we're final­ly able to ques­tion the sys­tems that dis­able us, every­body involved stops see­ing our bod­ies as the problem.
So design think­ing, right, it starts by build­ing empa­thy, right. So a design­er goes in and through obser­va­tions and inter­views, they learn about the user. But to a dis­abled per­son it can lit­tle feel a lit­tle bit less like empa­thy and a lit­tle bit more like design­ers are com­ing in and they're glean­ing our ideas and our life hacks and then they're sell­ing them back to us as things that are inspi­ra­tional­ly done for us with­out ever giv­ing us credit.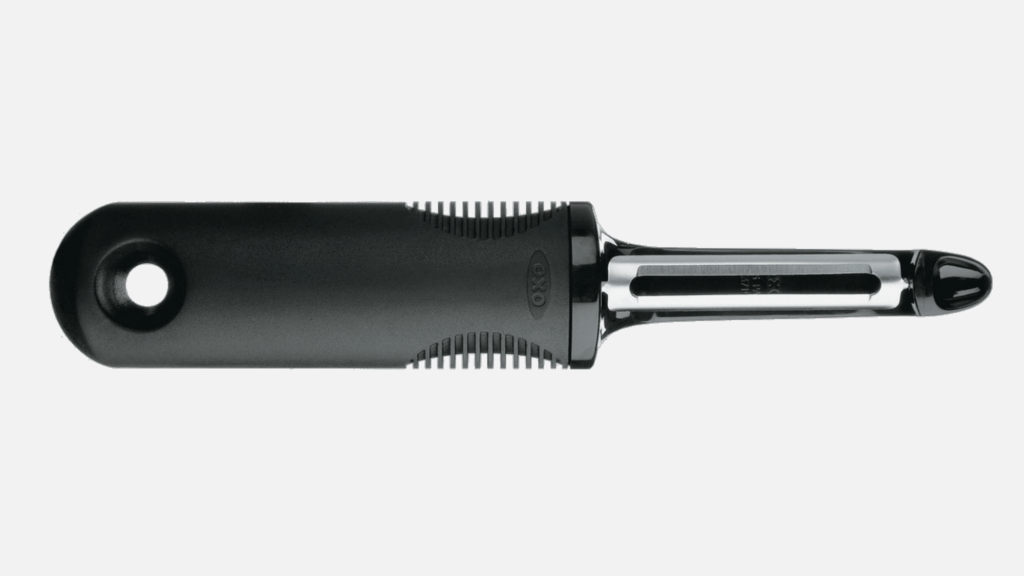 It makes me think about the sto­ry of OXO kitchen prod­ucts. Does any­body here know the sto­ry of OXO? So, if you go on the web site, you'll see a sto­ry. And the basic premise is Sam Farber saw that his wife, who had arthri­tis, was hav­ing a hard time peel­ing a car­rot so he decid­ed he was going to make a bet­ter peel­er for her to use.
Well, it struck me as inter­est­ing because I just always thought there was some­thing a lit­tle bit off about that sto­ry. And I one day decid­ed to call up Betsey Farber and say, ​"Betsey, you know, can you tell me about OXO from your perspective?"
And the very first thing she said to me was, ​"I'm going to go down in his­to­ry as being Sam's low­ly, crip­pled wife and it was actu­al­ly my idea in the first place."
But back to design ques­tion­ing. So, Step 2 of the design think­ing process is defin­ing the prob­lem. But because dis­abled peo­ple are rarely able to lead, it often becomes us that's defined as the prob­lem rather than the prob­lem being defined as the prob­lem, so it becomes about what we can or can't do rather than how some­thing does or does­n't work for us, right.
So you have our insights gleaned. We're defined as the prob­lem. And then design­ers enter this iter­a­tive process of ideation, pro­to­typ­ing, and test­ing, which I say leads to the unac­knowl­edged sixth step of design think­ing, or as I call it, ​"design thank­ing" because we're expect­ed to be grate­ful for that which has been done for us.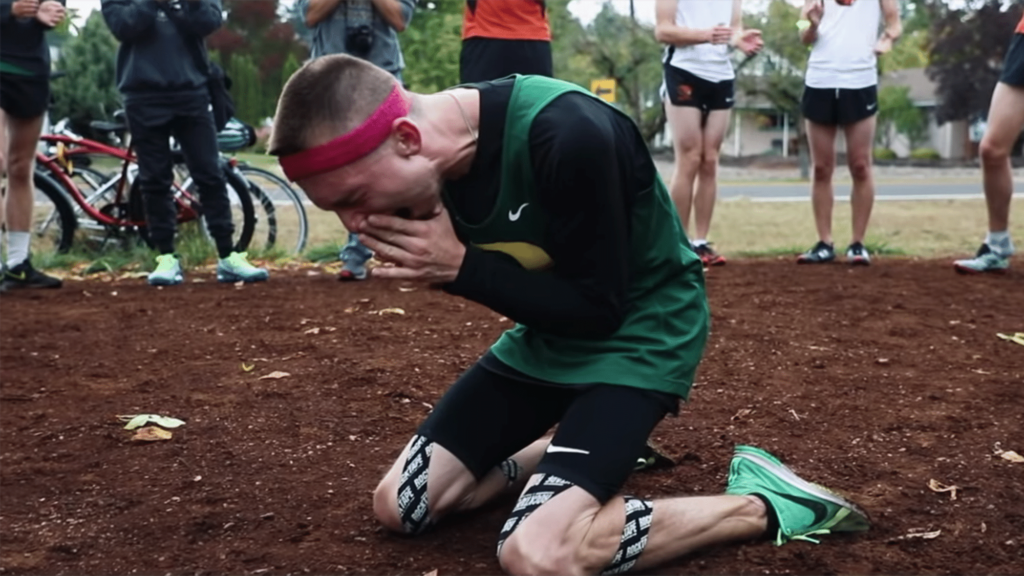 For exam­ple, have any of you seen the recent Nike ad, the one where they signed their first-ever dis­abled athlete—it came out a few months ago. It's inter­est­ing. So, it's not even four sec­onds into the ad when Nike tells us that Justin Gallegos suf­fers from cere­bral pal­sy. This is on World Cerebral Palsy Day.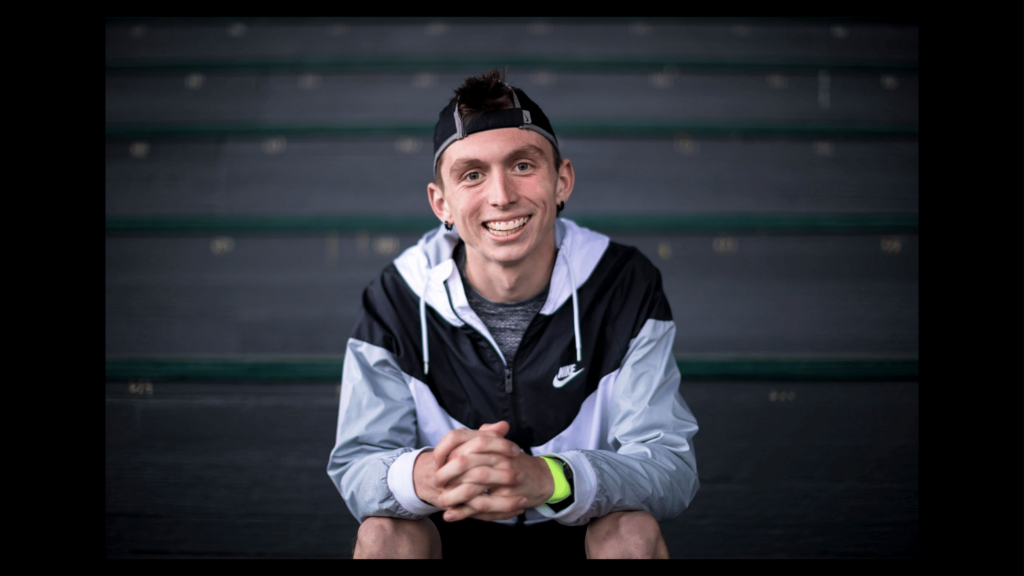 Does this look like some­body who is suf­fer­ing to you?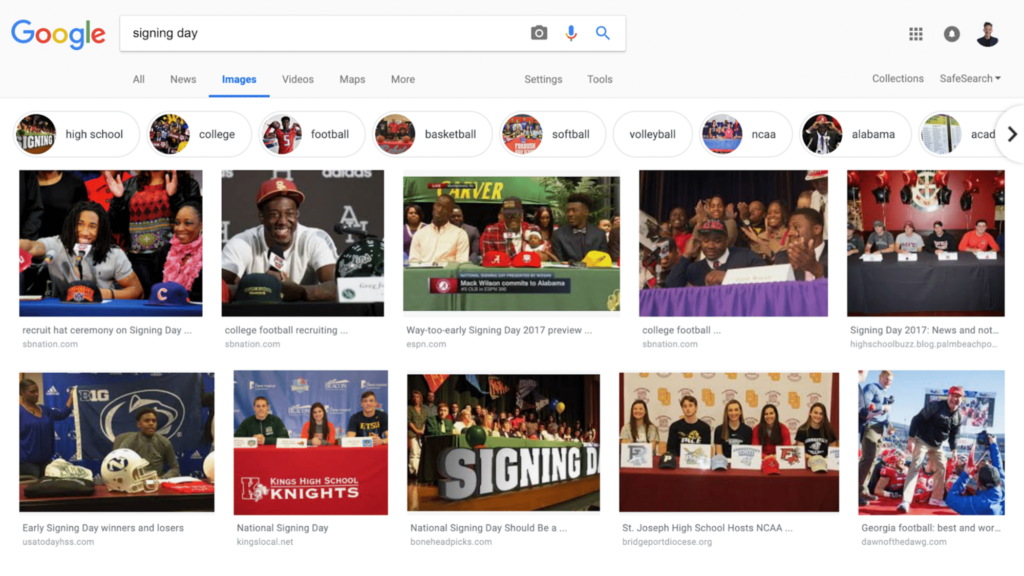 Anyway, as the ad pro­gress­es we learn that Nike is sur­pris­ing Justin with a pro­fes­sion­al contract—they're sur­pris­ing him. But if you Google ​"sign­ing day," you'll see image after image of ath­letes sit­ting at a table with a pen and a con­tract in front of them. Yeah sure some­times there's balloons—it's a great day. But they are treat­ed as pro­fes­sion­als because that is what this is—this is a pro­fes­sion­al contract.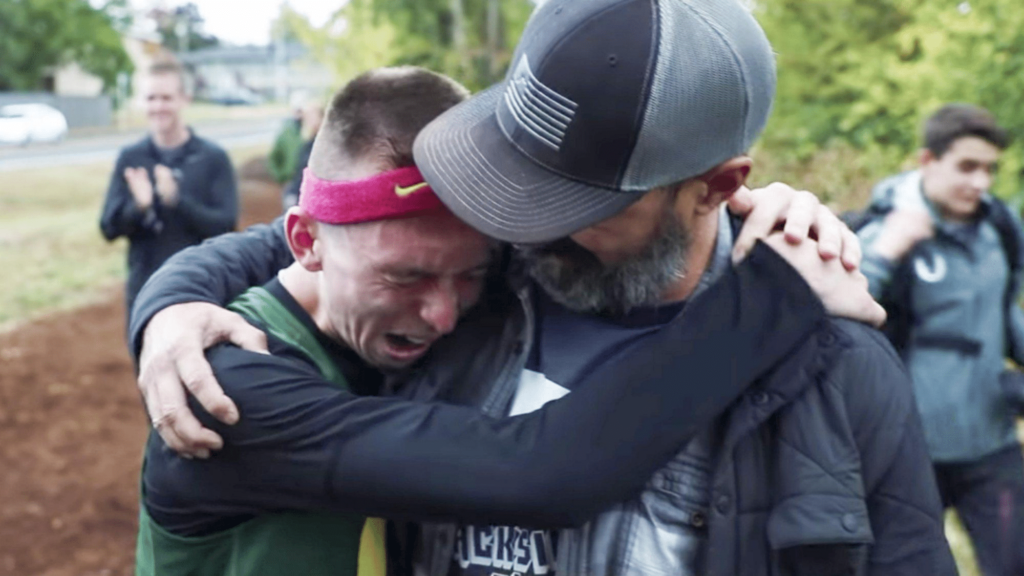 Nike has no idea that what they're telling us is that they don't see Justin as a valu­able signee. The sim­ple act of turn­ing a pro­fes­sion­al con­tract into a gift? tells us that Nike thinks it's their char­i­ta­ble ges­ture that cre­ates val­ue. And cor­rect me if I'm wrong but that's a ter­ri­ble mes­sage to send to dis­abled people.
But again if you were to real­ly real­ly watch this ad, real­ly pay atten­tion, what you would real­ize with all these oth­er ads as well is we're actually…we're not the intend­ed audi­ence. Everyone else is. They're sim­ply using us to inspire you. We are noth­ing more than a brand enhancer.
As a dis­abled per­son who is doing this work in the world I now see there are two paths you can take when we find our­selves in these sit­u­a­tions. The first path is that you can go the ben­e­fi­cia­ry route, where we per­form grat­i­tude. If we don't chal­lenge and we do what's expect­ed, we're gonna ben­e­fit quick­ly. But it's nev­er gonna feel quite right to us because we are noth­ing more than a prop in your stories.
There's a book called Pathological Altruism; high­ly rec­om­mend it. And there's actu­al­ly a real­ly inter­est­ing quote in it about how peo­ple who hoard ani­mals, their ​"sav­ior men­tal­i­ty is rein­forced because the pet can­not ver­bal­ly express an opin­ion of its own." So ​"the own­er may project what­ev­er inter­pre­ta­tion he or she wish­es on the pet's behav­ior and do so with­out fear of contradiction."
And I sup­pose this is what I'm get­ting at. Because in that Nike ad, Justin was­n't mic'd. Nike was­n't inter­est­ed in what he had to say. They just want­ed his grat­i­tude. And giv­en the build-up and the ges­ture, how can Justin ask even a logis­ti­cal ques­tion such as how much is the con­tract for? Or, ​"Will I lose my eli­gi­bil­i­ty to run at Oregon State if I sign it?" And this is actu­al­ly what the real­i­ty of empa­thy is, it's actu­al­ly more focused on the ges­ture than the impact. So, empathy.
And I sup­pose this is real­ly what I've come here to talk about today. So, I think a lot of peo­ple don't real­ly under­stand the his­to­ry of empa­thy. The word has only been around for 110 years. It was coined in 1909. And it actu­al­ly start­ed in like the decade before in Germany. There was a psy­chol­o­gist, his name was Theodor Lipps. And what he saw was that when a per­son went into a muse­um and they encoun­tered a great work of art, right, that per­son they might tug at their col­lar. They might put their hand on their chests and take a step back, or they might sway.
And what he start­ed to real­ize was that peo­ple were phys­i­cal­ly moved by works of great human expres­sion. And so he cre­at­ed a word called Einfühlung. And what Einfühlung meant was a per­son who is phys­i­cal­ly moved by works of human expres­sion. Anyway, the term caught on. It came to the United States. And the def­i­n­i­tion shift­ed. It went from being phys­i­cal­ly moved by works of great human expres­sion to feel­ing sym­pa­thy, or in the case of dis­abil­i­ty pity, for a per­son­'s sit­u­a­tion or circumstances.
And it's always sort of struck me as real­ly inter­est­ing, right. Because as empa­thy shift­ed from inspi­ra­tion to pity, at the same time disability—this is the last 110 years—disability shift­ed from pity to inspi­ra­tion. And I think in all of this we've lost the abil­i­ty to parse out our feel­ings. I don't think we know how to sep­a­rate when we're feel­ing pity and when we're feel­ing inspiration.
And for me I think this dis­con­nect has led to three out­comes. The first is it rei­fies class and pow­er struc­tures, right. You always have the empathizer, and then you always have the empathizee, right. The empathiz­er is cast as the sav­ior, and the empathizee is always the recip­i­ent, and those those roles nev­er change.
Second, it pre­scribes emo­tions. So you know, I think we've sort of caught on to this brand of empa­thy. It sort of feels a cer­tain way. I often say that we've con­vinced our­selves that things that feel a cer­tain way do a cer­tain thing? But they don't. I would even go so far as to say that things that feel a cer­tain way pre­vent us from doing a cer­tain thing.
But the third thing is it silences the recip­i­ent, right. Because you are expect­ed to be grate­ful for that which has been done for you.
Anyway, so I said there's two paths. And what I'm increas­ing­ly find­ing is that I can't bring myself to go down the ben­e­fi­cia­ry route. So for­tu­nate­ly, there is a anoth­er route which I call the path of mutuality.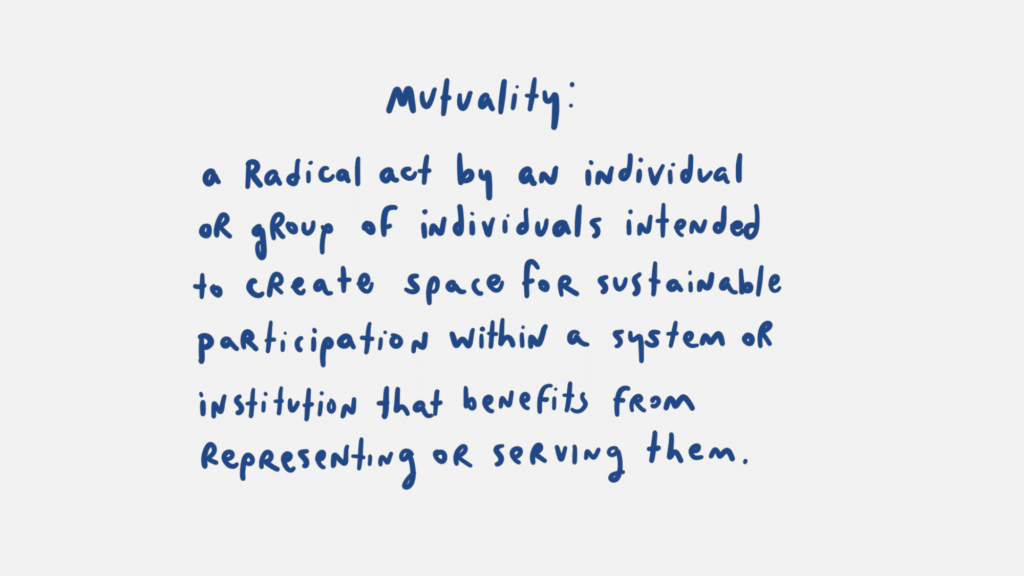 So what is mutu­al­i­ty? I define it as a rad­i­cal act by an indi­vid­ual or group of indi­vid­u­als intend­ed to cre­ate space for sus­tain­able par­tic­i­pa­tion with­in a sys­tem or insti­tu­tion that ben­e­fits from rep­re­sent­ing or serv­ing us. And what's that rad­i­cal act? It's easy. In lieu of grat­i­tude, we ask ques­tions, right. The only time recip­i­ents are val­ued in this process is when we're expect­ed be grate­ful. So instead of being grate­ful we ask ques­tions. We cri­tique— And I can tell you, from expe­ri­ence after expe­ri­ence, we are usu­al­ly shown the door.
So this is why I cre­at­ed the WITH Fellowship. So the WITH fel­low­ship is a pro­gram with­in my orga­ni­za­tion, and what we do is we part­ner cre­ative dis­abled peo­ple with top design stu­dios and cre­ative spaces. And of course, we are eager as hell to cre­ate oppor­tu­ni­ty. But most­ly what we're try­ing to do is build an infra­struc­ture that will sup­port those of us who strive for a more equi­table and more mutu­al frame­work, right. We're com­ing togeth­er and we're say­ing ​"this is how we want it to be done mov­ing for­ward." Because what I've learned is that there is no bet­ter way for us to hon­or our dis­abil­i­ties than by com­mit­ting to the fric­tion of them. We need to be able to inter­ro­gate that which feels wholesome.
And it always sur­pris­es me when peo­ple when peo­ple hear of the WITH Fellowship and they say to me, ​"Oh, you're talk­ing about code­sign," and I say no. I'm not talk­ing about code­sign at all. WITH is the antithe­sis of codesign.
So what's the dif­fer­ence? Well in code­sign, design­ers and insti­tu­tions get to decide when and how they bring in and design with dis­abled peo­ple, mar­gin­al­ized com­mu­ni­ties, etc., etc. WITH, on the oth­er hand, is dis­abled peo­ple insert­ing our­selves into that process.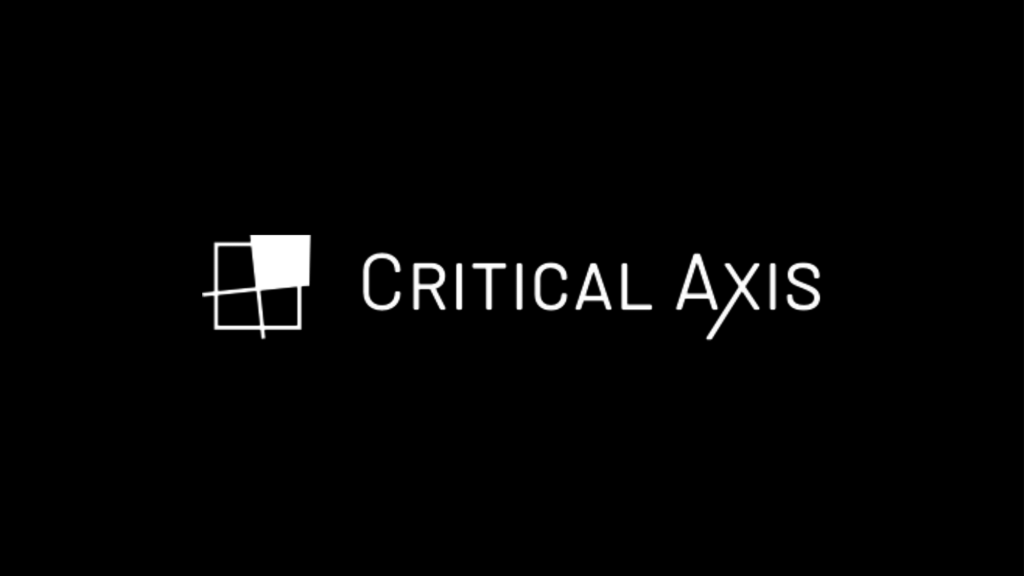 And even if you don't iden­ti­fy as dis­abled, your role is absolute­ly vital in this process. We don't need your empa­thy, we need your sol­i­dar­i­ty. And there's a real­ly spe­cif­ic way you can pro­vide this. I think it's time we came up with a new metric.
My orga­ni­za­tion The Disabled List, we recent­ly announced a new project called Critical Axis where we're study­ing dis­abil­i­ty rep­re­sen­ta­tion in media by plot­ting tropes on a matrix. So, if you look at the top right quad­rant is filled in, and that's because that's what we want brands to strive toward. And basi­cal­ly it's ampli­fy­ing and emerg­ing trends in disability.
I do want to sort of take a moment, though, to call out my friends at This Also, which is a brand that helped us bring this web site togeth­er, because I feel like they offered…in the process of build­ing this web site they offered a real­ly con­crete exam­ple of empa­thy ver­sus sol­i­dar­i­ty. So I turned to This Also and I said, ​"Can you help me build this web site?" And like a week lat­er they sent me a sort of con­tract, a state­ment of work. And in the con­tract as I was read­ing through, I was so excit­ed when I saw that in return for this work they want­ed an equi­table amount of con­sult­ing hours from my orga­ni­za­tion. And it struck me as so inter­est­ing, because it was one of the first times I've real­ly seen… This Also want­ed more than our grat­i­tude, right. And so I just want to say to you it is okay to want more than just grat­i­tude from us. That's what we want.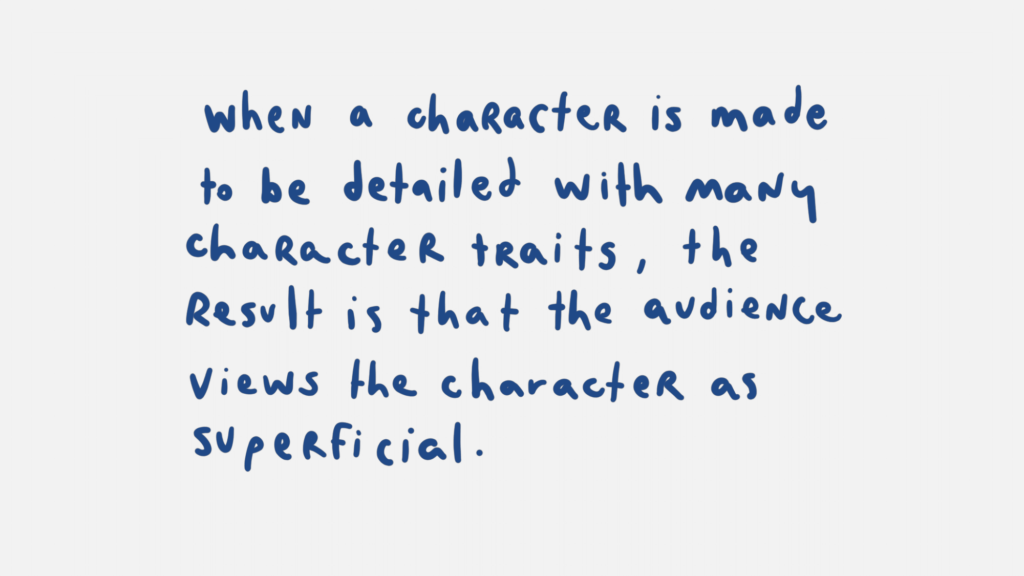 Anyway, our CEO Josh Halstead thought it would be inter­est­ing if we treat­ed each of these ads as a minidra­ma and we looked at them from a sto­ry­telling per­spec­tive. So we asked our love­ly red­head­ed intern Cameron to dig into a book called The Anatomy of a Story. Later that day, Cameron emails me and he says, ​"So John the author talks about ​'how when a char­ac­ter is made to be detailed with many char­ac­ter traits, the result is that the audi­ence views that char­ac­ter as super­fi­cial.' " And I read it a cou­ple times and I was like no. Like, no not at all. And Cameron was like, ​"Yeah. Way. Like you know, it's true." He's like, ​"I can prove it."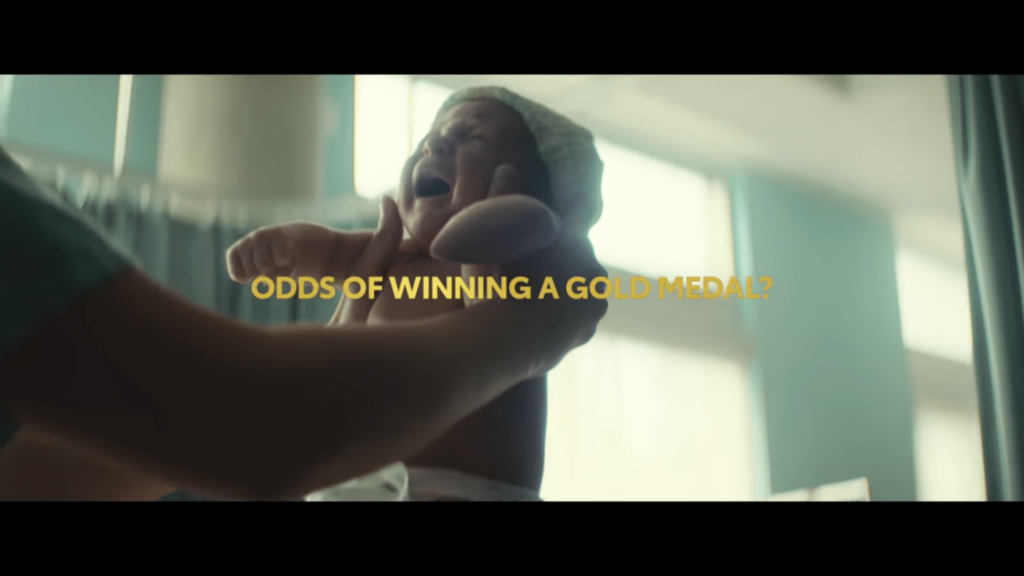 So the first thing he did was he showed me a Toyota ad. It was rat­ed the most effec­tive Superbowl ad of 2018. It's real­ly inter­est­ing if you go and look at this ad, there is not a sin­gle word spo­ken by a dis­abled per­son. And it relies heav­i­ly on tropes. And these were the com­ments that it received: ​"I'm not cry­ing you're cry­ing." ​"Gave me chills." ​"Wow, Toyota just won an Oscar." ​"Man, some brands real­ly know how to adver­tise." And, ​"That inspires me."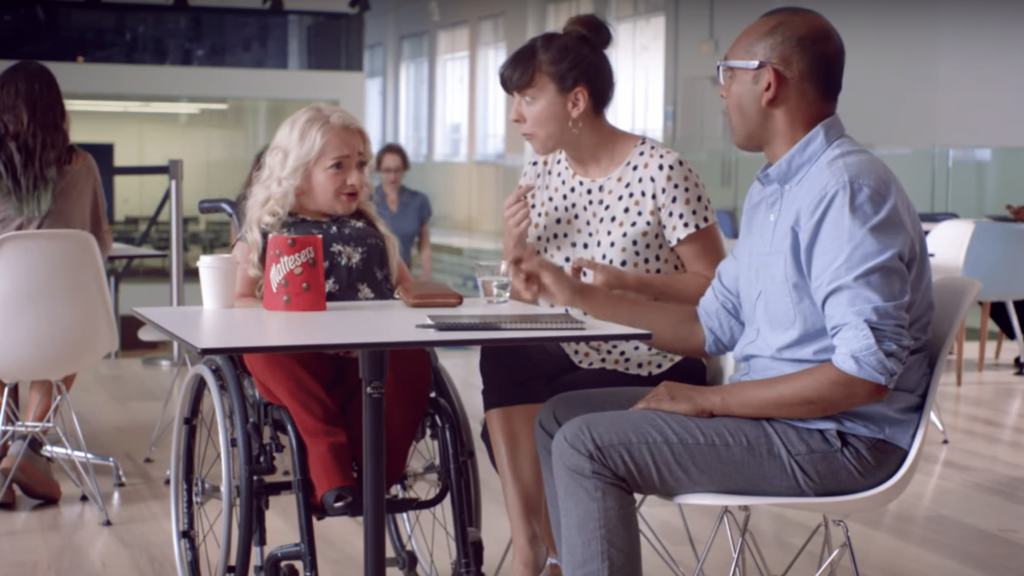 Then he showed me this Maltesers ad which fea­tured a con­ver­sa­tion from a dis­abled per­son. And she was telling a sto­ry, right. And it was a fun­ny sto­ry. It received ninety-two for­mal com­plaints, and was one of the top ten most complained-about ads in 2017 in the UK. And these were the com­ments: ​"I don't like Maltesers any­more." ​"Maltesers ads come across as patron­iz­ing." ​"Forced diver­si­ty." ​"Makes me feel deeply uncom­fort­able." And, ​"Blatant exploita­tion to advance a mas­sive com­pa­ny's standing."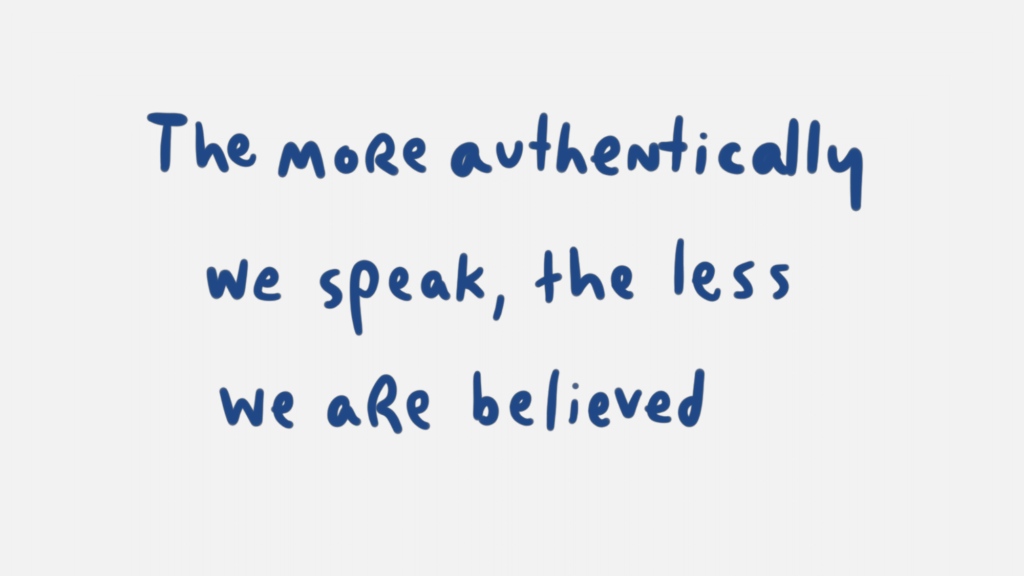 And this is the cor­re­la­tion. The more words dis­abled peo­ple speak, the less we are believed. Sometimes I just wan­na be like do you have any idea how fuck­ing hard this work is? We're not believed. This is why we need mutu­al­i­ty. We need to be believed—we need it. Disabled peo­ple con­tin­u­al­ly have so many doors shut on us, oppor­tu­ni­ties tak­en away because we have the gall to ask ques­tions about some­thing that empathiz­ers feel was gen­er­ous­ly done for us. I want a new met­ric, one where we can take pride in the rig­or and the sub­stance of dis­abil­i­ty instead of sali­vat­ing over gen­eros­i­ty and viral­i­ty. We need to start ask­ing our­selves are our well-meaning efforts caus­ing more harm than good?
So what is inter­ac­tion? It's iter­a­tion. It's mutu­al­i­ty. It is the capac­i­ty to be open to crit­i­cism. It's col­lab­o­ra­tion. It is open dia­logue. It is the free­dom to tell a brand that their nar­ra­tive does­n't feel very good, and know that the door is not going to be shut on you forever.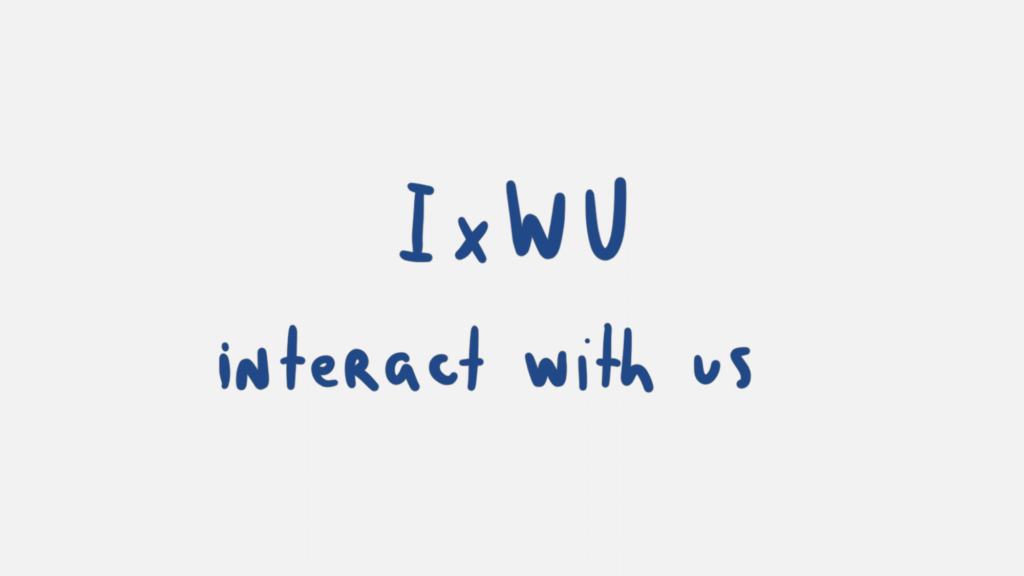 And so I'm here to say yes, it is, this is Interaction Week but it can also be inter­act with us week. So I hope you'll come and say hi. Thank you.
Further Reference