Robin Wilson-Beattie: Hi. I'm Robin Wilson-Beattie, and I am a dis­abil­i­ty and sex­u­al­i­ty edu­ca­tor based in San Francisco, California. I apol­o­gize for being late. Like, every­thing hap­pened this morning.
What I do is I do dis­abil­i­ty and sex­u­al­i­ty edu­ca­tion. And activism and advo­ca­cy around sex­u­al­i­ty and dis­abil­i­ty issues, and repro­duc­tive health issues. And I want to teach the world that peo­ple with dis­abil­i­ties have the right and abil­i­ty to give and receive pleasure.
On Twitter, I am @sexAbled, and I tweet about nation­al and glob­al issues relat­ed to human sex­u­al­i­ty, as well as how it inter­sects with dis­abil­i­ty and sex­u­al ori­en­ta­tion, race, gen­der, and culture.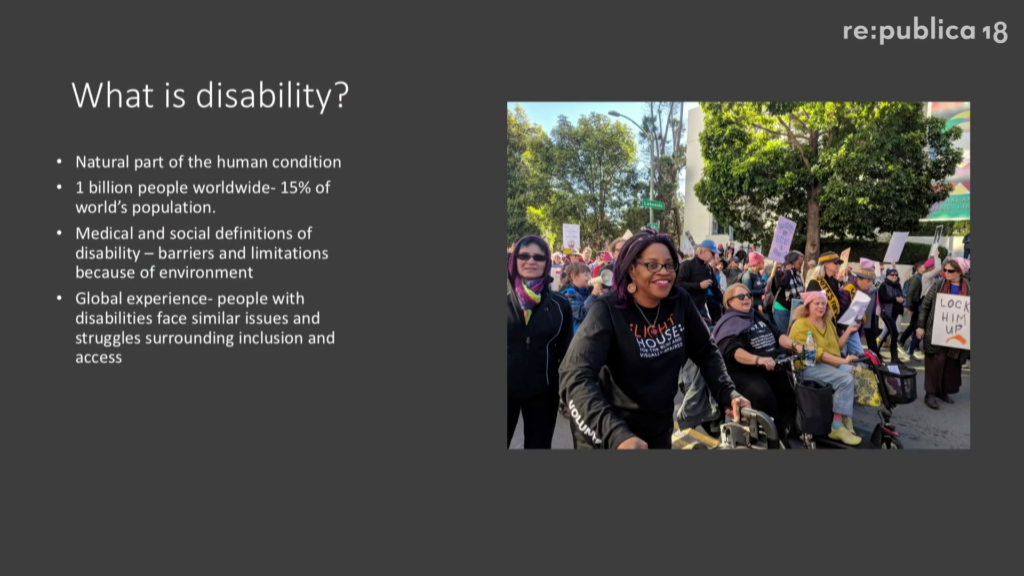 Now, dis­abil­i­ty is a nat­ur­al part of the human con­di­tion. One bil­lion peo­ple (which is you know, rough­ly about 15% of the world's pop­u­la­tion), are peo­ple liv­ing with some form of dis­abil­i­ty. And to have a dis­abil­i­ty means that a per­son has a phys­i­cal, or men­tal, or cog­ni­tive con­di­tion that impacts your abil­i­ty to par­tic­i­pate in soci­ety. This is a med­ical def­i­n­i­tion, but it's due to biol­o­gy. But it's also a social def­i­n­i­tion, because we're talk­ing about the bar­ri­ers that lim­it your par­tic­i­pa­tion in your com­mu­ni­ties. And I'm a per­son with both vis­i­ble dis­abil­i­ties and hid­den dis­abil­i­ties, so I am also one of that num­ber. But regard­less of where peo­ple in the world live, we face sim­i­lar issues in our strug­gles sur­round­ing inclu­sion and access.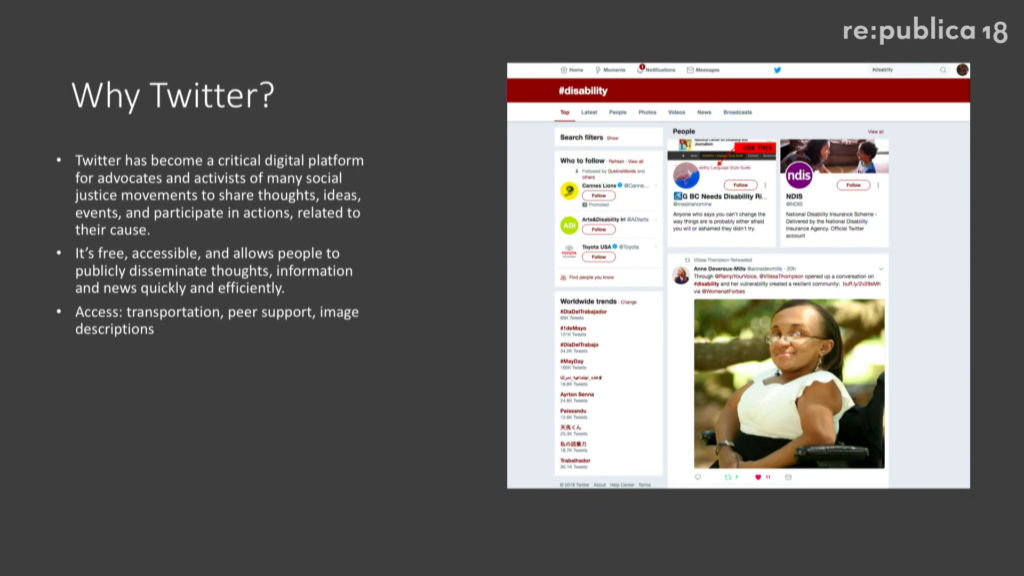 Okay. So why Twitter? Twitter has actu­al­ly real­ly become a crit­i­cal dig­i­tal plat­form for advo­cates and activists in many social jus­tice move­ments to share thoughts and ideas, and events, and to par­tic­i­pate in actions relat­ed to their cause. It's free. It's acces­si­ble. And it allows peo­ple to pub­licly dis­sem­i­nate their thoughts, infor­ma­tion, and their news real­ly quick­ly and real­ly efficiently.
What makes Twitter par­tic­u­lar­ly unique in the social media sphere is the very open and pub­lic way that peo­ple are able to con­nect around the world and have unpar­al­leled access to orga­ni­za­tions, busi­ness­es, pub­lic offi­cials and fig­ures. Like, you con­nect with peo­ple real­ly quick­ly, real­ly open­ly, in a way that you can't con­nect some­times with a phone call or writ­ing a letter.
So why is Twitter an ide­al plat­form, though, for dis­abil­i­ty advo­cates and activists who want to cre­ate change in their com­mu­ni­ties? And like I men­tioned, first off it is free! And one bar­ri­er to access that peo­ple with dis­abil­i­ties face are eco­nom­ic. Across the world, peo­ple with dis­abil­i­ties have less eco­nom­ic par­tic­i­pa­tion and high­er rates of pover­ty than peo­ple with­out dis­abil­i­ties, and this is part­ly because peo­ple with dis­abil­i­ties expe­ri­ence bar­ri­ers in access­ing ser­vices that many able-bodied peo­ple take for grant­ed, includ­ing health, edu­ca­tion, employ­ment, and trans­porta­tion. As well as infor­ma­tion. And these dif­fi­cul­ties are even more exac­er­bat­ed in less-advantaged communities.
With Twitter, you don't have to leave your house in order to con­nect, and orga­nize, and edu­cate. And as such, it's accom­mo­dat­ing for peo­ple with dis­abil­i­ties that can face acquir­ing trans­porta­tion to meet up with oth­er like-minded indi­vid­u­als. Like going to a meet­ing; that takes more than just takes effort, it takes ener­gy, but also is the trans­port even there? But it also offers peer sup­port in a way that is unique, because peo­ple can eas­i­ly find and fol­low and inter­act with oth­ers who share and iden­ti­fy with your experience.
And Twitter also has some real­ly cool fea­tures like as far as acces­si­bil­i­ty goes, they even offer a way to embed image descrip­tions into a pho­to­graph so that peo­ple with visu­al dis­abil­i­ties can know what's going on, and what's being depict­ed in a scene or a picture.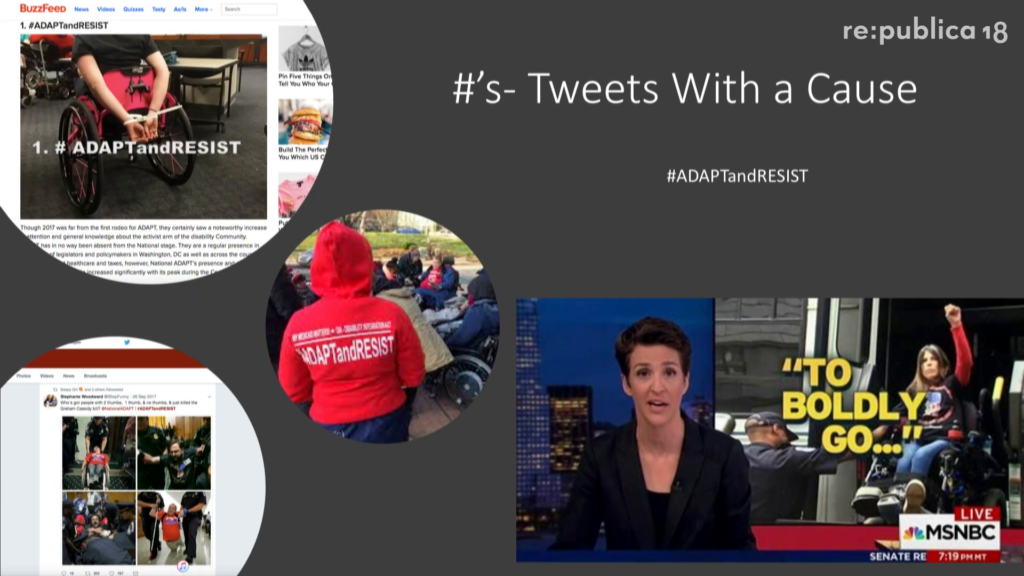 So how are peo­ple with dis­abil­i­ties using Twitter to start the rev­o­lu­tion? Well, a prime exam­ple of how Twitter has been amaz­ing­ly effec­tive in get­ting out the word is at this hash­tag #ADAPTandRESIST. And National ADAPT is a… It's in the United States. And it's a grass­roots dis­abil­i­ty advo­ca­cy group. And they orga­nize non­vi­o­lent civ­il dis­obe­di­ence actions and protest in order to protest injus­tice, and to pro­tect the civ­il lib­er­ties of peo­ple with disabilities.
And in September 2017, there was impend­ing leg­is­la­tion from the love­ly Trump admin­is­tra­tion to repeal parts of this Affordable Care Act in America, that would make cuts to Medicaid. For peo­ple with dis­abil­i­ties, this could be life-threatening because Medicaid pro­vides the health­care for peo­ple dis­abil­i­ties. And also, in home med­ical care you can select your car­ers to help you, so you can stay out of liv­ing in insti­tu­tions and nurs­ing homes. Because that's what they'll do, put you in there. But hav­ing sup­port allows you to live inde­pen­dent­ly in the com­mu­ni­ty and have that auton­o­my. And it also is cheap­er but you know, they haven't seen it like that.
So, with this tweet, what they did was they used this hash­tag #ADAPTandRESIST, and as you can see they put it on the backs of their shirts. But they used this hash­tag add to tweet their activ­i­ties, the actions. And and they did live updates, using Twitter, of what was hap­pen­ing, what was going on, and gar­ner­ing sup­port in the forms of every­body shar­ing that infor­ma­tion and it going out every­where, and peo­ple are see­ing these images. But also not so much about just shar­ing the infor­ma­tion, but as well as fundrais­ing. They were able to raise funds through this. But also to edu­cate peo­ple about why the pro­posed cuts were dan­ger­ous. And as you can see, they had sit-ins at the Senate build­ing to kill this bill that was intro­duced to cut Medicaid. And so peo­ple all over the world saw these images of peo­ple with dis­abil­i­ties being dragged out of their chairs and being hand­cuffed. (And it's like, you can't push your wheel­chair if you're in hand­cuffs.) But they use this very proud hash­tag, #ADAPTandRESIST, and that was picked up all over the world from peo­ple tweet­ing this.
And as a result, at BuzzFeed, that was the num­ber one hash­tag for that. And the nation­al news also picked up on it as a result of this action and every­thing. And here we have Rachel Maddow, a reporter for MSNBC, a nation­al news sta­tion at home.
But hash­tags are also used for rep­re­sen­ta­tion and for empow­er­ment as far as pro­mot­ing inclu­sion. And recent hash­tags such as #DisabledAndCute, which was start­ed by Keah Brown right before Valentine's Day to talk about self-love and empow­er­ment and cel­e­brat­ing that as a per­son with a dis­abil­i­ty. And that was one Twitter trend. And you know, see­ing your­self and see­ing oth­ers that are like you, that's very pow­er­ful. And peo­ple own­ing what it is that they have about themselves.
And anoth­er one that's recent­ly been trend­ing has been #HotPersonInAWheelchair. It was in response to… It was a tweet that was a cou­ple of years old, where this guy said there's noth­ing more sad than see­ing a hot per­son in a wheel­chair. And peo­ple were like, ​"Yeah, you're cry­ing because you can't get with this #HotPersonInAWheelchair." So that was pret­ty cool.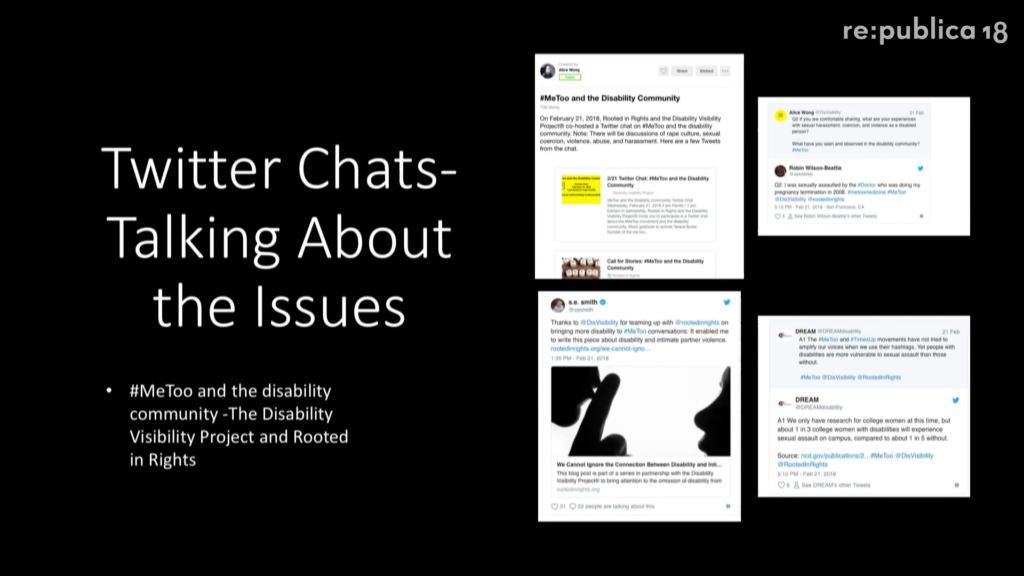 But, anoth­er form where peo­ple are using Twitter for advo­ca­cy, activism, and infor­ma­tion is Twitter chats. You've heard of the #MeToo hash­tag and peo­ple talk­ing about sex­u­al assault, sex­u­al harass­ment in com­mu­ni­ties. But peo­ple with dis­abil­i­ties are like, ​"Hey. Wait a minute. We're get­ting com­plete­ly left out of the con­ver­sa­tion," because peo­ple with dis­abil­i­ties, on aver­age we have a high­er rate than able-bodied peo­ple of being sex­u­al­ly assault­ed or hurt. And so this Twitter chat was a very impor­tant con­ver­sa­tion that Alice Wong, who is the founder of the Disability Visibility Project, got togeth­er with another—and this is where groups are also get­ting togeth­er with oth­er social jus­tice groups. And they got togeth­er with Rooted in Rights and host­ed a Twitter chat where peo­ple with dis­abil­i­ties were able to talk about their MeToo moments.
But not just talk about it, there were also things that were talked about— okay, what about self-defense? And peo­ple were like, ​"Well you know, most of the time self-defense is built up for peo­ple who are able-bodied." Well, some­one else was able to share across the coun­try, ​"Hey. This per­son is doing self-defense class­es for peo­ple with dis­abil­i­ties and mak­ing accom­mo­da­tions and fig­ur­ing out dif­fer­ent ways." And so that was [some­thing] unique that came out of that chat, and peo­ple were like, ​"Oh! Hey. I want to see if we can find some­body to start this in my community."
Another thing that came out of this then was SE Smith is a writer and a founder of [Disabled] Writers, an orga­ni­za­tion for peo­ple that want to hire peo­ple with dis­abil­i­ties to write about issues. And they wrote an arti­cle about dis­abil­i­ty and inti­mate part­ner vio­lence as a result of this chat.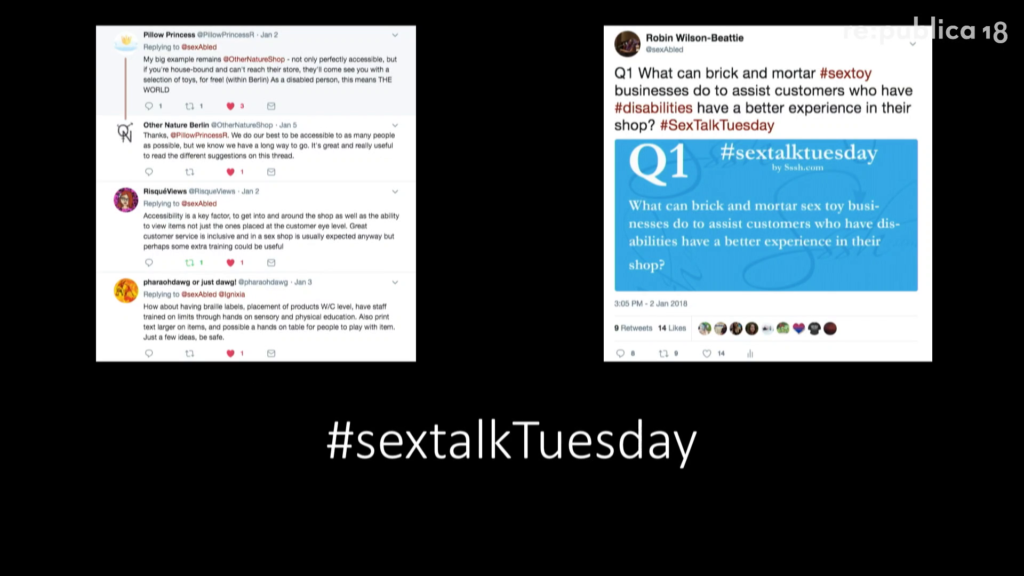 But Twitter chats can also be used for oth­er things. In my work I used it to find out about sex toys and dis­abil­i­ty, and the kinds of things that peo­ple with dis­abil­i­ties, what they want from man­u­fac­tur­ers of sex toys, sug­ges­tions, and also want­ed to talk to retail­ers about things that they could do. And I did this Twitter chat ear­li­er in the year in January. And there were peo­ple from all over the world that were on this chat.
And here was some­body from Berlin, as a mat­ter of fact, who post­ed when we were talk­ing about how can retail busi­ness­es assist cus­tomers with dis­abil­i­ties on hav­ing a bet­ter expe­ri­ence in their shop. This per­son and talked about Other Nature Shop in Berlin, and how not only the shop is per­fect­ly acces­si­ble, but they're like if you're house­bound you can't reach their store they'll come see you with a selec­tion of toys, and it's free with­in Berlin. And we were all like wow, that is amaz­ing. What an idea! So that was that.
But also, Twitter works for chang­ing lan­guage and ideas and thoughts. Because often­times the media will use the phrase ​"wheelchair-bound." It's not…we're not bound to it. It's a mobil­i­ty device. Actually it helps lib­er­ate you and allows you to enter the com­mu­ni­ty. And this is where the reporter had wrote, ​"Teenager bound by wheel­chair to enter in first Lego com­pe­ti­tion." And this gen­tle­men wrote, ​"We're not bound to our wheel­chairs." And as a result, the edi­tor was like, ​"You make a good point. We're chang­ing that lan­guage right now." And that's a pow­er­ful form of show­ing that hey…that's a form of being able to do direct action and to be able to get in con­tact with peo­ple that can help make change, and to educate.
And so this is how the rev­o­lu­tion is hap­pen­ing. And it's pret­ty amaz­ing about how awe­some Twitter has been for orga­niz­ing peo­ple with dis­abil­i­ties, and for mak­ing and cre­at­ing some real change in this world. Thank you very much. And you can find me on Twitter at @sexAbled. Or my web site. Or SexAbled on Facebook. And thank you.
Further Reference