Jay Springett: You can find me online. I'm at @thejaymo. Professionally you can find me at The Ruderal. In my pro­fes­sion­al life, I work as a BizOps-type start­up scal­ing consultant.
So, Madeline Ashby is a sci-fi writer and a futur­ist. And at the end of last year on her blog she wrote that her one piece of advice for 2018 is that we should talk loud­ly, fre­quent­ly, and in detail about the futures that we want. And that kind of real­ly will set the tone for the rest of talk. And I want you to kind of keep that in mind, that we should be speak­ing about the futures—with every­body that you come across—the kind of futures that we want, because it's important.
So I may be best known— I, for my sins, coined the term ​"stack­tivism" ear­li­er this decade, and have been inter­est­ed in infra­struc­ture and pol­i­tics, and what it means. And kind of the thing that I per­haps am most known for tum­bling out of this project is the term, ​"Who owns the means of not dying?" And that was kind of one of my prin­ci­pal con­cerns that falls out of infra­struc­ture pol­i­tics and how we think about technology.
I'm also one of the admins on solarpunks​.net which, if you don't know about solarpunk, it is an emer­gent sci-fi genre which looks to imag­ine a bright green, non-dystopian future for everybody.
Right now, I'm work­ing on a research project called Land As Platform which is kind of look­ing at the cri­tiques that are cur­rent­ly being applied towards plat­forms like Google and Facebook as plat­forms, and tak­ing the log­ic of the cri­tique of plat­forms and apply­ing it to land. What is the log­ic of a plat­form, as opposed to what we think about plat­forms being as like a multi-sided mar­ket, which is what we kind of cur­rent­ly under­stand plat­forms in 2018 to be. But if you say the word ​"land as plat­form," I think you can kind of con­jure an idea about what it is that I'm seek­ing to write about. And this is prob­a­bly the first out­ing of Land As Platform kind of as a few frac­tured thoughts in this talk.
So I first of all want to talk about short-term think­ing. Who works in tech? How many of you have two-week sprints? How many of you work on qual­i­ty goals? Couple of you. Everyone has year­ly goals at their com­pa­nies, right?
Well, when we think about short-term think­ing, how short-term is short-term? Because if you plant a tree, like an oak tree, it takes 100 to 120 years for an oak tree to be ful­ly grown. So any­thing between the point in which you plant the tree to when the tree is ful­ly grown is short-term think­ing, when we speak about land. Because we have to pass through that peri­od. And talk­ing about a hundred-year time scales for plan­ning is not some­thing that our cul­ture is very good at. But we need to do that.
So, giv­en that it takes 100 to 120 years for an oak tree to reach full height, what does it mean when most of the atolls in the world will be unin­hab­it­able by the mid cen­tu­ry? So we have fifty years until the waves take the islands. So we already have plan­ning for 100 years, but we have cli­mate dis­as­ters with­in fifty. So just fram­ing the kind of con­cepts and the amount of time that these things take is impor­tant to get a han­dle on that.
Speaking in longer terms, in terms of deep time, this is what 8,000 years of agri­cul­ture will do to a land­scape. Does any­one know where the Loess Plateau is? Anyone know? So this is in China. This is where the ter­ra­cot­ta war­riors were found, and it's where the Han Dynasty began. So if you farm a land­scape for 8,000 years it ends up look­ing like this.
An inter­est­ing fact, I'm sure you all know about Petra in the Middle East. Petra did not deser­ti­fy because the cli­mate changed, it deser­ti­fied because they cut down all the trees and changed the cli­mate. So what do we do about this? Because these are man-made environments.
So this is an exam­ple of what's going on. This is a pic­ture from last year. And as you can see they're plant­i­ng these basins on the hill­sides. So when it rains, the water tum­bles down the hills and filled up the basins and is cap­tured and then slow­ly sinks in once rain stops. And there a tree plant­ed in each of these basins.
So it might not look very impres­sive, but giv­en the right amount of plan­ning and time, this is what you can do to a land­scape. This is the biggest land­scape regen­er­a­tion project ever attempt­ed by human­i­ty, and it's still very much short-term even if it does look regreened, because trees take 100 years to grow. It looks bet­ter, though. And I'm kind of down for that as a plan.
But these aren't the only projects. There are big­ger ones. There's the Nile River Basin, the NBI project, which is going to be restor­ing all of the water­sheds that feed the Nile, improv­ing water qual­i­ty, fre­quen­cy of flow, reduc­ing deser­ti­fi­ca­tion upland, and also mak­ing sure that Egypt gets its con­tin­u­al flows. As part of this project they will be remov­ing dams from the Nile. It is already in progress, the stuff that they can do, but there's a lot of plan­ning that still needs to be done in terms of how the project gets rolled out.
So that seems like a big project, but there are even big­ger projects than this. The Great Green Wall of Africa project, which is the sin­gle biggest plan right now. It is a length of about sev­en and a half thou­sand kilo­me­ters. And the area in ques­tion that they are hop­ing to regreen to pre­vent the Sahara from deser­ti­fy­ing fur­ther is 11 mil­lion hectares of land that is being planned and regreened.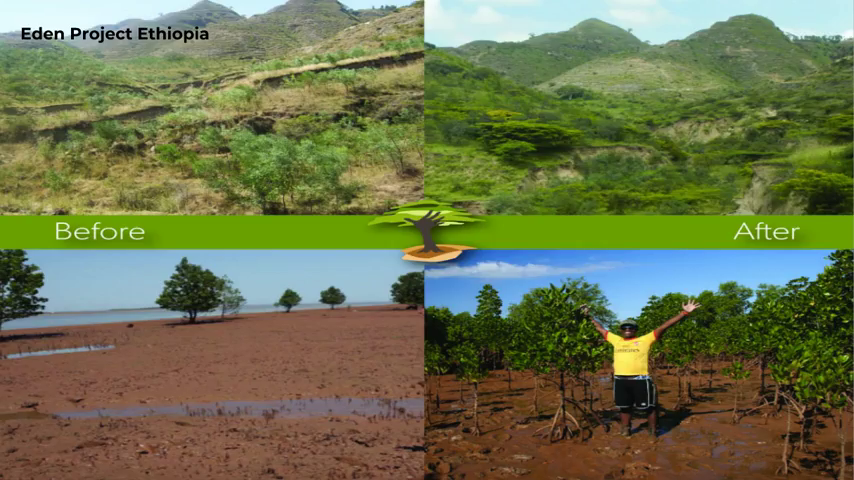 As part of both of these projects, Ethiopia as part of the Eden Project has already regreened one-sixth of its land­mass. So, from the left to the right. And these projects are hap­pen­ing now, and I think it's real­ly impor­tant that those of us that don't know any­thing about this do. Because this is very much what the future's gonna look like. These are not nat­ur­al spaces, these are now anthro­pogenic spaces. Humans have designed these spaces.
But in order to design these spaces we need to plan it. And I'm gonna give you a very brief overview of a thing called key­line design today, which works very much in Europe where it has rolling hills and not so many mountains.
So this is a map. You can see the fall run­ning from the high­est to low­est. And to find a key­point, it is the loca­tion where a pri­ma­ry val­ley emerges from the side of the hill and begins to flat­ten out. So if you can imag­ine rocks falling down a hill, at the point in which rocks first start to stop falling down a hill and land, that is a key­point. And if you want to find a key point, if will you hold out your hands like this and press your fin­ger up between your fin­ger and the mid­dle fin­ger, you'll see a lit­tle dent in your skin. That is the key­point, it's like a pond, essen­tial­ly. It's the high­est point in the land­scape where you can hold water. Does every­one get that?
So we can iden­ti­fy a key­point in the land. And then the con­tour line becomes the key­line in the land­scape, which it's high­est point in the land that can hold water. And once we've found a key­point, we can then abstract the idea of val­leys and ridges and actu­al­ly define where it is the val­ley walls start and where does the ridge end. Which if you were stand­ing in the land­scape is quite hard to iden­ti­fy, like where are the walls of the valley…where it shifts from being a ridge to a dale, let's say.
So, we can iden­ti­fy these two dif­fer­ent types of lev­el in a landscape—ridges and dales. And then we can extrap­o­late out into a much larg­er map. So you can see here that there's a pri­ma­ry val­ley and then there's a sec­ondary val­ley, and you have the red line which is the key­line that runs through the landscape.
What you can then do is then you start to draw par­al­lel lines on the land­scape, both ver­ti­cal­ly up the hill and down the hill from your key­point. And then there's var­i­ous things that you can do. It basi­cal­ly gives you a log­ic for lay­ing out the land. You can plant trees on these lines. Or you can use a thing called a key­line plow, which is basi­cal­ly a t‑shaped plow that goes into the soil and explodes the sub­sur­face. So when it rains the water runs into the ground and is soaked into the soil.
And what that does is means when it rains… You can see the direc­tions of these arrows ice and it means that the water will run from the cen­ter of a val­ley out to the ridges. It's not run­ning uphill, but it is run­ning out to the ridges. And water that lands on the ridges will flow into the val­leys. Which means that you get a full cov­er­age of water into a land­scape and it's far more effi­cient than just let­ting the rain­wa­ter run down the val­ley and cause erosion.
And then we extrap­o­late fur­ther, and you end up with, you know, at a high lev­el a key­line plan for the land­scape. Keyline also allows you to dic­tate where you can put roads in order to best pre­vent ero­sion and water move­ment through the land­scape. But essen­tial­ly, if you were look­ing at maps, this is a key­lined plan for the landscape.
But you can zoom in. And this is an actu­al key­line plan for a farm. So if you were to zoom in on Google Maps, obvi­ous­ly it's like a frac­tal land­scape because you will find small­er key­points with­in land­scapes. So you can see here this land­scape has got des­ig­na­tions where they're going to be grow­ing trees; it's the yel­low. You've got the key­line rip lines, which is the blue where the water's going to go. And you can also see they've got places where ponds will nat­u­ral­ly form from rain­wa­ter. And these are known as pock­et ponds rather than large ponds. So if you've got a cou­ple of acres you can lay out your land­scape to best opti­mize water flow.
This is the first key­lined land­scape, from 1965. PA Yeomans is Australian—or was an Australian farmer who invent­ed key­line. And you can see here that there's all the dams on the land­scape hold­ing water and allow­ing for flood irri­ga­tion and stuff like that.
But what does it actu­al­ly mean to talk about a land­scape that has been designed in this way? This is New Forest Farm in the States. And this is what a key­lined land­scape looks like. I think it looks pret­ty cool com­pared to square indus­tri­al farm­ing fields that we're kind of used to. So this is a key­lined land­scape, and it's kind of what the future is going to look like, I think.
So on the inverse, in the very short term, what is tech­nol­o­gy bring­ing, and what does say the next ten, fif­teen years look like in terms of tech­nol­o­gy? Well, they're in the audi­ence today, but there's terra0 who are based here at Trust. And they are a blockchain start­up that attempts to kind of wres­tle with the ques­tion, can an aug­ment­ed for­est own and uti­lize itself? And behind here is the grow wall for their test stuff that they'll be doing. Maybe they can speak about that a bit later.
But in order to think about a for­est that is gonna uti­lize itself, it needs a lot of deep sens­ing data in order to inform its deci­sions about… Or, we need deep sens­ing data in order to inform the deci­sions that we need to take about the land­scape. At the moment you've got stuff like ​'this which is a soil mois­ture sen­sor from OpenHardware. It's two AA bat­ter­ies. Very cheap if you buy them in bulk. But they still require bat­ter­ies. And there's also car­bon sen­sors, soil pH testers, mois­ture testers, all var­i­ous things that you would expect com­ing out of the open hard­ware move­ment. But they're all indi­vid­ual sen­sors that require bat­ter­ies at the moment.
There's also things like this, which is the Ebird mon­i­tor, which can be placed around the land­scape and plot­ted on a map. These things can record over a mil­lion hours of sound. Then they run it through machine learn­ing and can iden­ti­fy bio­di­ver­si­ty of birds in the land­scape, because machine learn­ing lis­tens to the bird­song and extrap­o­lates how many birds there are in a cer­tain region, etc. Again, they have to be pow­ered, which is a bit of a prob­lem. So we need to start think­ing about how do we bring all of these var­i­ous sens­ing devices togeth­er, and what does it look like when we do.
So we've kind of reached a point in 2018 where we've reached the end of general-purpose com­put­ing. If you're not famil­iar with the term, then Cory Doctorow wrote a fan­tas­tic essay in 2012 about the end of general-purpose com­put­ing, and you can read the dan­ger up top. Basically it's the idea that you can't run code on a device unless it's either signed, or you have per­mis­sion to do so.
Some of the prac­ti­cal impli­ca­tions of this is like, self-driving cars can only run code that is signed because you would­n't want peo­ple you know, installing mod­ules onto self-driving cars and delib­er­ate­ly dri­ving into peo­ple rather than avoid­ing them, for example.
The sec­ond part of the end of general-purpose com­put­ing is a thing called ASICs. Does any­one know what an ASIC chip is in the audi­ence, hands up? Alright, not that many. I'll seek to explain. So an ASIC chip is a chip that is only designed to do one thing. So it does­n't run code in the same way as you would assume code to be run, where you can just run all sorts of com­pu­ta­tion and code. An ASIC chip will only run what it's phys­i­cal­ly designed to run. And in 2013, this is the Butterfly Labs bitcoin-mining rig. It was one of the first kind of dri­ves for­ward in the open source ASIC space. Because all that these chips did was mine Bitcoin. They could­n't do any­thing else. They're mod­i­fied GPU chips.
But what it's meant in this kind of push­ing for­ward of chip design is that we now have things like this, which is Google's TensorFlow. These units only run neur­al nets. So if you're doing machine learn­ing, they don't run any oth­er code except the code required to train neur­al networks.
Advantages of this is that the code only runs on the chips. It also means you get a mas­sive pow­er sav­ing, because it can only do what you're ask­ing the chip to do and it does­n't have all of the over­heads of try­ing to do com­pu­ta­tions in a gen­er­al way. It's very spe­cif­ic and targeted.
One of the oth­er places that you'll find ASIC chips every­where is inside mobile phones. And it's very unclear where iOS on your mobile phone ends and the hard­ware begins. So for exam­ple, all of your MP3s, MPEGs, JPEGs, are all decod­ed in hard­ware on tiny chips on the moth­er­board, not in soft­ware. So, those tiny chips only decode video, for exam­ple. And this is what is also dri­ving the ASIC space, is the minia­tur­iza­tion of mobile phones.
In the ear­ly days of solarpunk, there was a talk giv­en on low- or no-power com­put­ing. So as you can see here there's like, a soil clock. I'm sure you used to make pota­to clocks as a kid, where you could pow­er a pota­to. Well you can also do the same thing with soil. You can run devices from soil.
So what do deep sens­ing devices look like when they're that low-power that you don't need to have a bat­tery is a ques­tion. Can we get there? Maybe. But we need to have a think about if we're gonna be deploy­ing all of these sen­sor devices on a land­scape, what does it kind of look like? How often you have to go change a bat­tery? If you've got like thir­ty hectares of land, there's no way that you want to go walk or get on a quad bike to go to the oth­er end of your land if you're a farmer to change the bat­tery in a sens­ing device. Because that's like— Especially if it's like once every six months. That's mad­ness. People are too busy on farms to be chang­ing bat­ter­ies in devices.
So when we try and put these things togeth­er, the idea of land as plat­form and deep sens­ing, what does it look like? So I heard a bit of… One of the most ridicu­lous things I've ever heard I heard the oth­er day, a blockchain con­fer­ence, where some­one said that the inven­tion of the blockchain is our gen­er­a­tion's pyra­mids. But I would like to con­tend that the tri­umph of our civ­i­liza­tion, with ASIC chips and so on and so forth, is that we will teach minute bits of moun­tain into think­ing with cap­tured light­ning. Because they will be think­ing machines at that point. Not in the way that we per­ceive think­ing in terms of AI, but it will lit­er­al­ly be a slab of mate­ri­als that only do one thing and they think. And they give us sens­ing data.
But what do these devices look like? Well, I don't know if you make music but there's like Palette Gear is prob­a­bly like the nicest design objects out there. These are MIDI con­trollers that you can just click togeth­er and build a board of all of your dif­fer­ent­ly MIDI controllers.
So I'm imag­in­ing that sen­sor plat­forms, or deep sens­ing plat­forms, will be one plat­form that goes in the grounds and then you can just con­nect mod­ules on depend­ing on what sen­sors you want. And obvi­ous­ly when you put a sen­sor on you're going to have a deep­er pow­er load on the par­tic­u­lar sensor.
So, the Ebird instal­la­tions kind of look like this. You can't real­ly see the map but you can kind of see how it works. So at the moment it's all pow­ered by base sta­tions. And each one needs to be pow­ered and there's wifi net­works that then ship all the data back­wards and for­wards. And because they know where they are in the land­scape they can also tri­an­gu­late where the birds are on the landscape.
So one of the appli­ca­tions this, and why I'm here speak­ing at Peer-to-Peer Web is mesh net­works. What does it look like when we start to think about con­nect­ing, or plan­ning for, sen­sor data with mesh net­works that allow for much smoother com­mu­ni­ca­tion routes in terms of its infor­ma­tion? What hap­pens when mesh net­works start think­ing in terms of land as platform?
And this is where I feel like I went off the deep end a lit­tle bit when I was mak­ing this slide, because it kind of looks like art rather than a dia­gram. But, the idea here would be mesh net­work pro­to­cols have to have an under­stand­ing of how we're going to be lay­ing out the land. Because if that's where I live, there's no way I want to go all the way up there to change a bat­tery in a router. So how do these mesh net­works work in the land­scape? How often do they ping each oth­er, how often do they pass infor­ma­tion through the mesh? How often do you even need infor­ma­tion from cer­tain sen­sors? Is it once a week, is it once a month? All of these things can be baked into the pow­er con­sid­er­a­tions of how mesh net­works work.
And yeah, so that's the final slide. And that's land as kind of the…the land as plat­form. Thanks.