Golan Levin: And we're back. I'm Golan Levin, direc­tor of the Frank-Ratchye STUDIO for Creative Inquiry at Carnegie Mellon, and direc­tor of the Art && Code Festival. This is the final pre­sen­ta­tion at Art && Code: Homemade: Digital Tools, Crafty Approaches, Janury of 2021. And our final pre­sen­ter tonight is Kelli Anderson.
Kelli Anderson is an artist, design­er, ani­ma­tor, and tin­ker­er who push­es the lim­its of ordi­nary mate­ri­als by seek­ing out pos­si­bil­i­ties hid­den in plain view. Her books have includ­ed a pop-up paper plan­e­tar­i­um, a book that trans­forms into a pin­hole cam­era, and a work­ing paper record. Intentionally low-fidelity, she believes that hum­ble mate­ri­als can undo black box­es and make the mag­ic of our world acces­si­ble. Ladies and gen­tle­men, and all friends, Kelli Anderson.
Kelli Anderson: Hey you all. So, I want­ed to start here with the paper ani­mat­ed GIF that I con­tributed to the awe­some zine that we col­lec­tive­ly made. So this is a good thing to per­haps print out at home and make for a friend who needs a lit­tle help remem­ber­ing not to doom­scroll all day.
So, thank you so much for hav­ing me, every­one. So I've been mak­ing home­made things from my one-room stu­dio apart­ment for over a decade now as I've been work­ing as an artist and exper­i­men­tal printmaker.
A coder and animator.
A pro­fes­sor and author.
A paper­craft music video maker.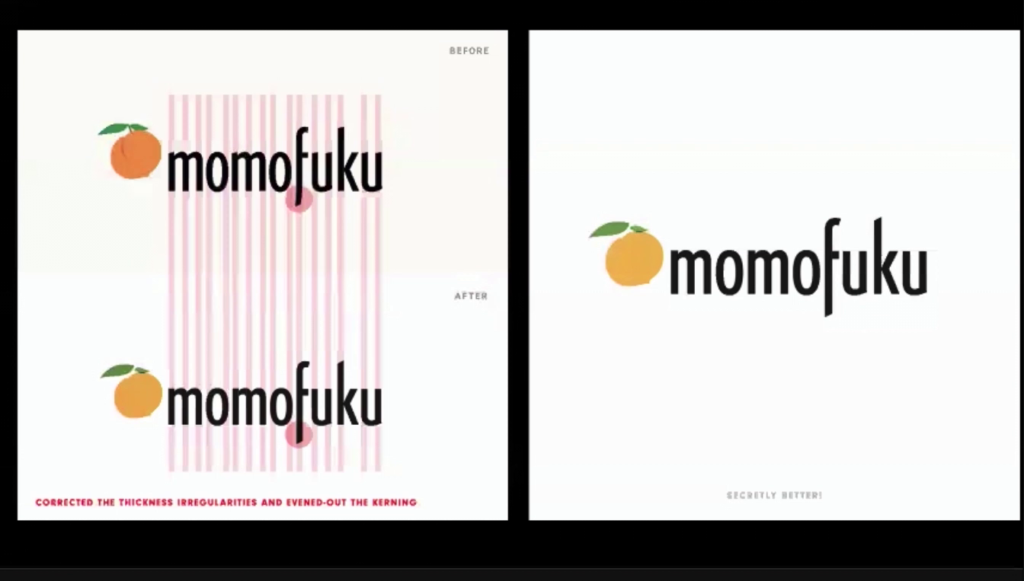 And with­in these four walls, I've worked on secret brand redesigns from my desk.
And then I've also designed everything—logos, menus, bags, wall­pa­pers, archi­tec­tur­al facades—for things like this one hun­dred year-old bagel and lox insti­tu­tion called Russ & Daughters. This is a facade I designed in Photoshop, which is not ide­al but def­i­nite­ly scrap­py. But we com­plet­ed our third restau­rant togeth­er in 2019. So, it's work­ing out.
I've pub­lished two books from my desk here.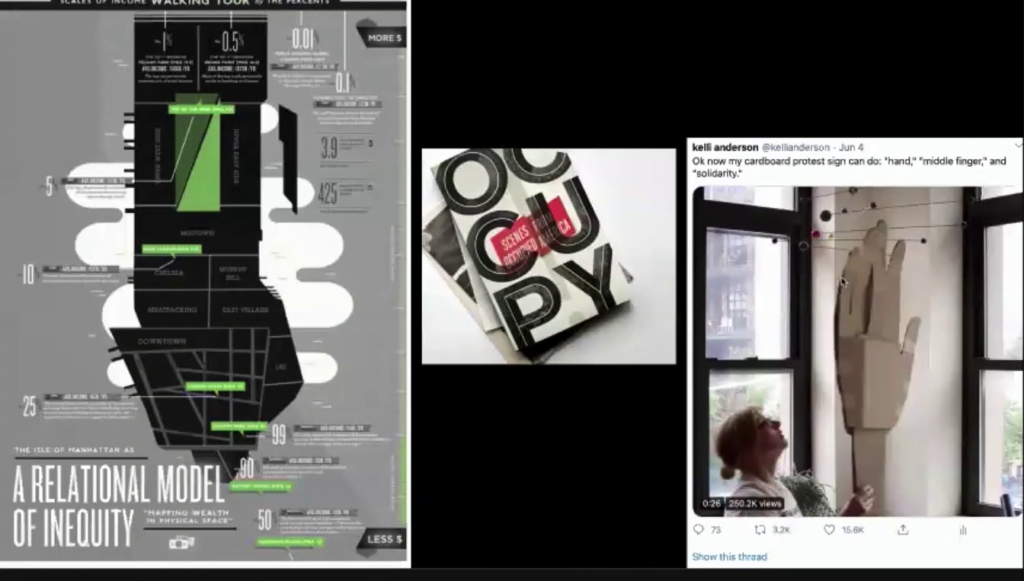 And I've par­tic­i­pat­ed in small ways in two of the major protest move­ments of my gen­er­a­tion, Occupy Wall Street and Black Lives Matter. So I feel like stay­ing home­made, and stay­ing small and sort of in con­trol of my path has­n't lim­it­ed what I've been able to do but rather has allowed me the free­dom to show up for the occa­sions and life and cul­ture that real­ly mat­ter to me.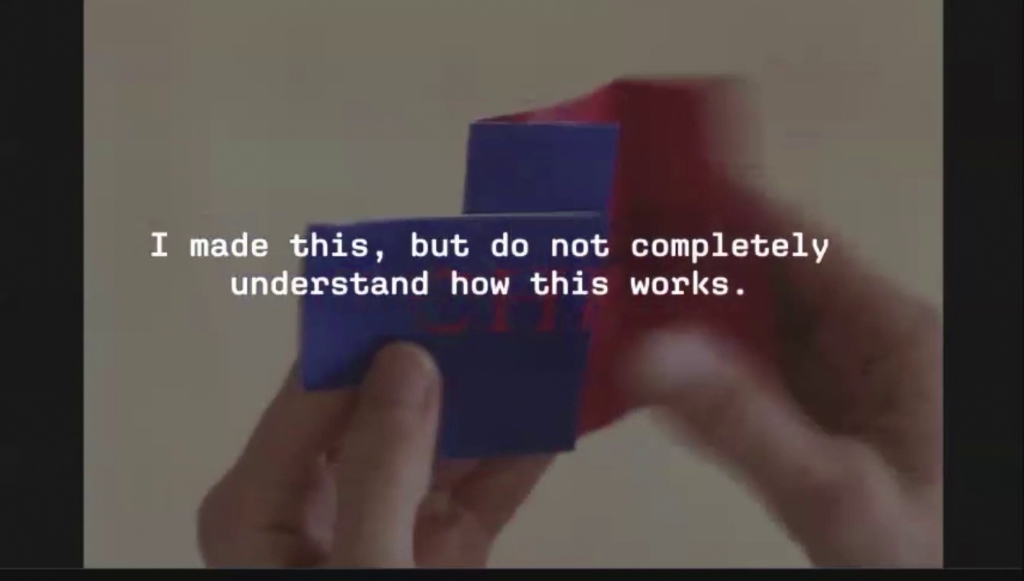 And like this paper ani­mat­ed GIF, I can't say for sure that I under­stand exact­ly how it works? I can only under­stand the flexagon from frame to frame, real­ly, and I nev­er have had even more than like a one-year plan for my career? But my hands found a way to make it work and I can show you the extreme­ly scrap­py way that I make the things I do.
So for me, hav­ing the free­dom to explore and tin­ker and wan­der to advance the plot has felt real­ly key. And I want to acknowl­edge that hav­ing the capac­i­ty to allow such uncer­tain­ty and anar­chism into one's life is not a priv­i­lege that every­one has.
An inter­est­ing case study in the ques­tion of how does one struc­ture a life and career are these two broth­ers that I feel all of the con­trast in the world resides with­in. This is J. Robert and Frank Oppenheimer. And both start­ed out with this preter­nat­ur­al tal­ent for sci­ence. Both were head­ed on a track, des­tined to become top physi­cists in their field.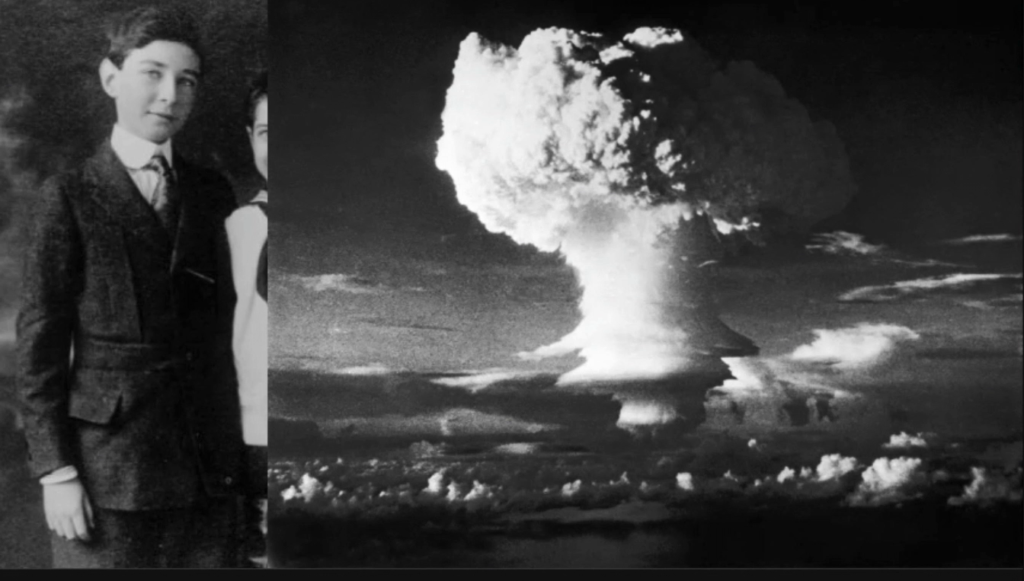 And Robert suc­ceed­ed on every count. He sort of gar­nered every pro­fes­sion­al ves­tige of suc­cess. He rose to the very top of this field, lead­ing the Manhattan Project and he became the father of the atom­ic bomb. And Frank, while equal­ly bril­liant, was com­plete­ly banned from doing pro­fes­sion­al work in his field due to an affil­i­a­tion with the Communist Party.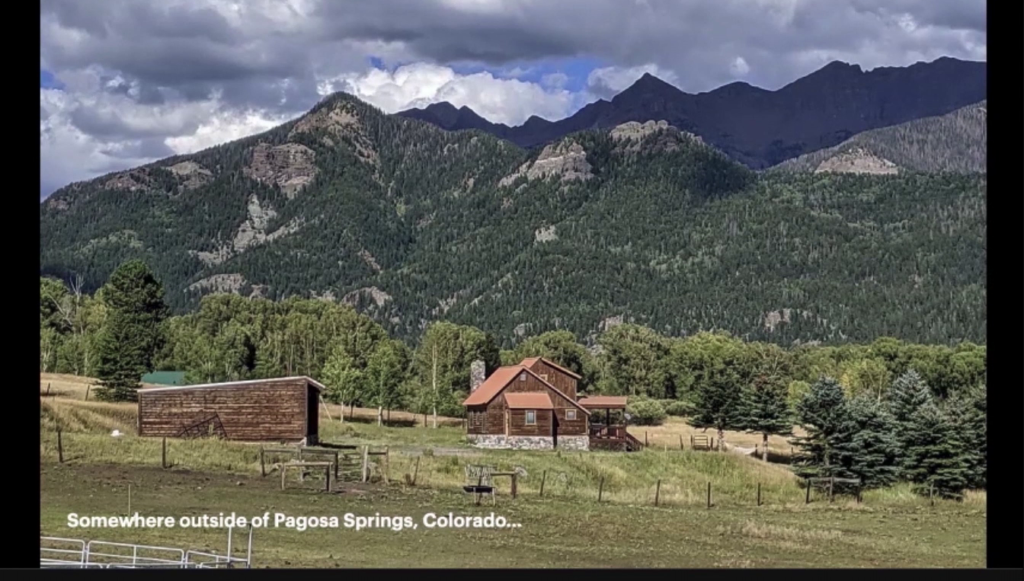 So Frank, with his career and his lifestream stripped away by McCarthyism, moved to a ranch. He end­ed up farm­ing cat­tle for a lit­tle while. He taught some high school. And he even­tu­al­ly embarked on a path that no one had pre­vi­ous­ly tread, no one even saw coming.
And what he built out of this exile was the real­iza­tion that the world need­ed a muse­um of human per­cep­tion to make sci­ence acces­si­ble and scrutable to every per­son. And so he began rais­ing the funds to build what would become The Exploratorium, which is a muse­um where vis­i­tors can use their hands and learn that the world's seem­ing­ly mun­dane mate­ri­als all around us actu­al­ly con­tain real deep and pro­found magic.
So Frank used his bril­liance to make that joy a pos­si­bil­i­ty in dis­cov­er­ing tin­ker­ing that sci­ence offers is con­ta­gious, while his broth­er J. Robert, who fol­lowed the highest-achieving path of suc­cess laid out for him as struc­tured by the field of physics, who won all of the prizes, found his way into cre­at­ing the most dan­ger­ous weapon of mass destruc­tion ever invented.
I was a fel­low at the Exploratorium in 2019, in the before times. And while I was there I thought a lot about these broth­ers and their wild­ly diverg­ing fates and real­ly came to think­ing of them as rep­re­sent­ing the two sides of the coin of what we call tech­nol­o­gy offers us. One is about this like ongo­ing pur­suit of under­stand­ing, and the pur­suit of curios­i­ty. And the oth­er one is about the seek­ing of pow­er and destruction.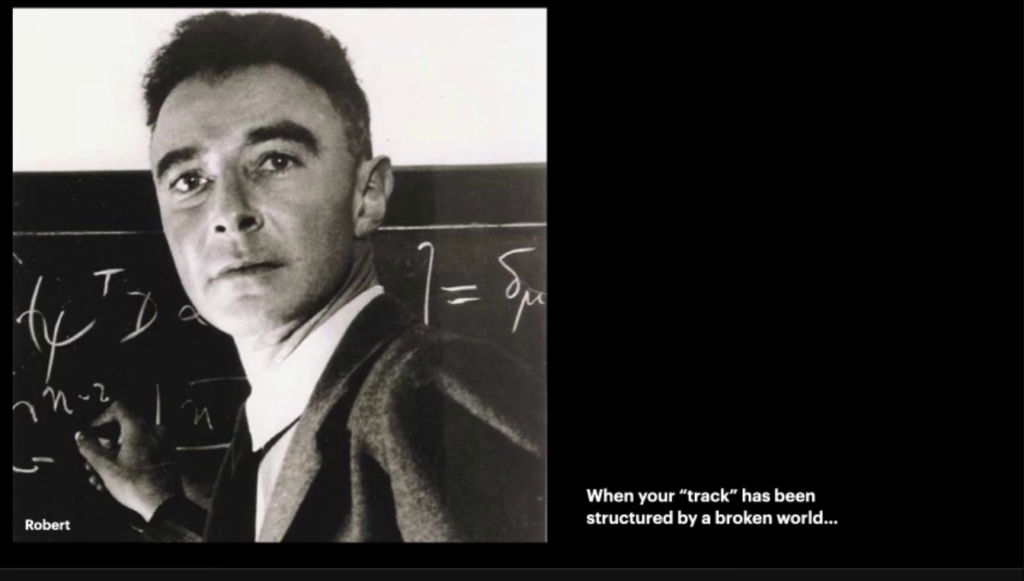 Since the pan­dem­ic hit, many of us I think feel like Frank on the cat­tle ranch. We're trapped in exile in our own lives. So I want this talk talk to be an oppor­tu­ni­ty to think about what the des­ti­na­tions are on these two paths, and per­haps give your­self per­mis­sion to day­dream, and close your eyes, and imag­ine a more strange and per­son­al des­ti­na­tion for yourself.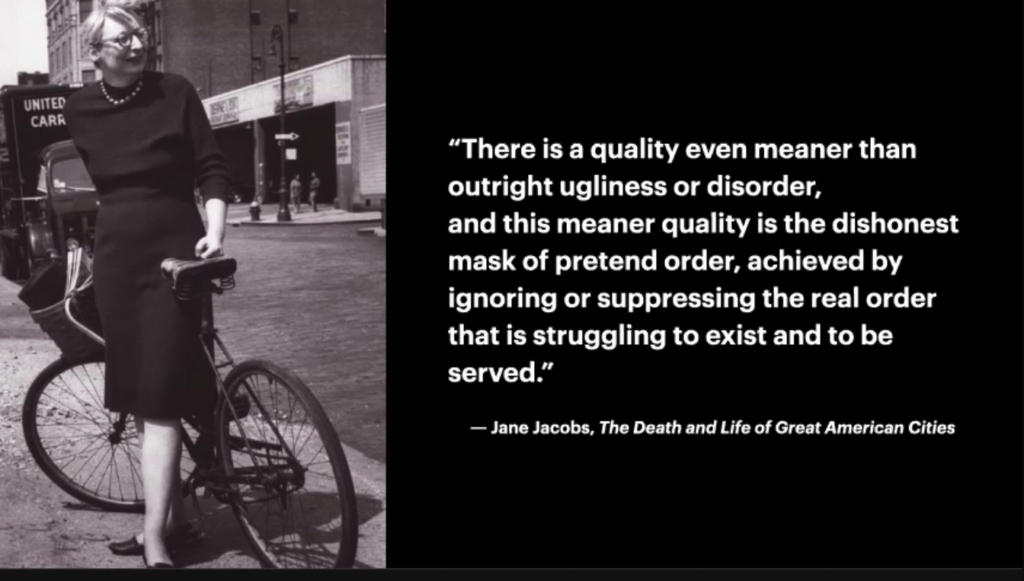 Jane Jacobs, who wrote my favorite design book of all time, The Death and Life of Great American Cities— I may be the only per­son who con­sid­ers this a design book, but she makes this point beau­ti­ful­ly that the world is full of all of this false order and all of this false struc­ture that does­n't nec­es­sar­i­ly deserve our respect. And I think that the moment we tru­ly real­ize this, like the moment we inter­nal­ize this, is the moment we become empow­ered as cre­ative peo­ple, lis­ten­ing to our own rather than those externally-imposed imper­a­tives and structures.
This frees us from our fixed assump­tion about what the world needs, what we should be mak­ing, what has to be done, what mate­ri­als we're allowed to work with, and allows us to go straight for push­ing at the bounds of what's pos­si­ble and just explore. And I've found design is real­ly the per­fect tool and the per­fect method­ol­o­gy to do this, because design does­n't care what is sup­posed to work. Design does­n't care what you're sup­posed to do. Design only cares about what you can make. What can actu­al­ly be pro­to­typed. What type of graph­ic design actu­al­ly com­mu­ni­cates to the per­son look­ing at it. Everything is about tests and proofs of those tests.
And it does­n't require fan­cy tools. Like in my work I found that even the most ubiq­ui­tous low-tech mate­ri­als like…cheap mate­ri­als like paper and cheap plas­tic are capa­ble of reveal­ing new, amaz­ing facets of our real­i­ty. Cheap mate­ri­als in par­tic­u­lar, they scale dra­mat­i­cal­ly. So the same prin­ci­ples that work in tiny hand-held expe­ri­ences can be scaled up to a lev­el of space­craft, which is some­thing we'll get into a lit­tle bit later.
This is an ani­ma­tion that I made out of a pud­dle of water of Muybridge's run­ning horse. I made it by cut­ting a sten­cil with my Craft ROBO vinyl cut­ter, which I might show you later.
And then I used a hydropho­bic coat­ing on the glass to cor­ral water into these shapes to make each one of these indi­vid­ual frames.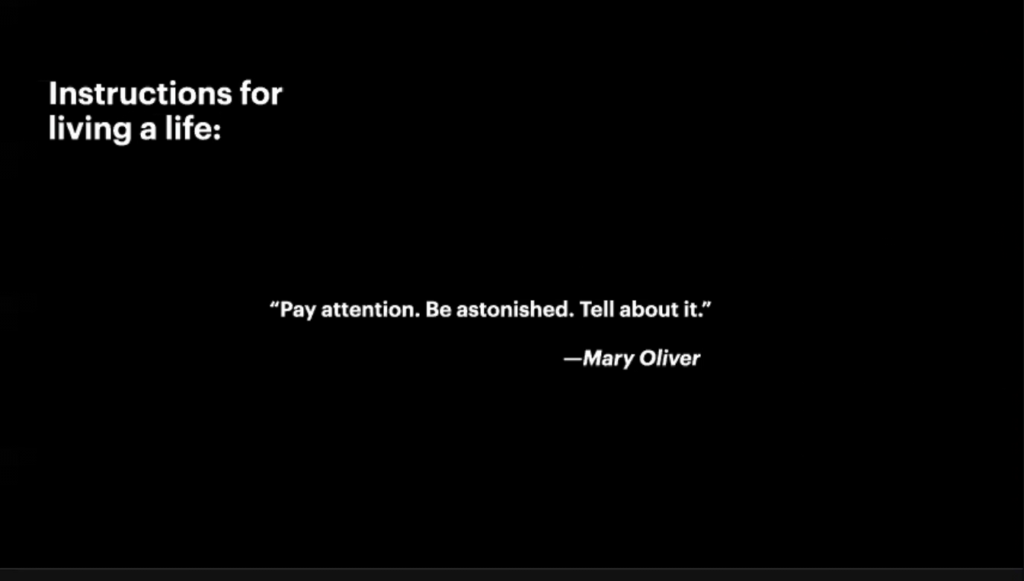 When exper­i­ment­ing and try­ing to fig­ure out what projects to devel­op, I often think about Mary Oliver's very sim­ple instruc­tions for liv­ing a life that we should pay atten­tion and be aston­ished, and then tell about it. And try to just remain pret­ty hon­est with myself and let­ting my aston­ish­ment lead me, and hope that oth­ers are charmed by it as well.
This project real­ly rep­re­sents when I first got hooked on my own aston­ish­ment. So this is a wed­ding invi­ta­tion that I did about a decade ago for my friend, open source advo­cate Karen Sandler and her hus­band Mike. And it's based on this idea that like, you can make a record play­er from almost noth­ing. That you can roll up a cone of paper, tape a nee­dle to it, and that's enough to ampli­fy that sound, those vibra­tions, from those grooves into audibility.
So this was a real­ly fun A/B test­ing process, because I bought acupunc­ture nee­dles, I bought sewing nee­dles, I bought all kinds of dif­fer­ent papers to try to test out the para­me­ters of what is going to make this lit­tle hand-held record play­er the loud­est. And mean­while Mike and Karen were writ­ing this real­ly adorable song invit­ing guests to the wed­ding. And we put it on a flexi disc, which is a total­ly clear and total­ly crap­py flex­i­ble acetate record.
And you can see here that the cou­ple on it, they're print­ed in black and all of the col­or you see is the page beneath. So that way there's this inter­play that when you rotate that clear disk it lines up with the under­neath col­ors, and it com­pletes the cou­ple in all of these dis­guis­es. So, turn it 90 degrees and then you get Karen and Mike here play­ing music togeth­er. And anoth­er 90 degrees and they're eat­ing and drink­ing and being mer­ry. And then final­ly grow­ing old together.
And the rea­son that I did this was to A, entice peo­ple to actu­al­ly turn the record. But also so that we'd have a design fall­back jus­ti­fi­ca­tion in case the record did­n't actu­al­ly play. Because even though I had exten­sive­ly pro­to­typed and A/B test­ed every sin­gle nee­dle and paper, there was always the pos­si­bil­i­ty that like, the one #7 nee­dle I had hap­pened to fit in the groove prop­er­ly and then the 300 I ordered in bulk were not gonna work. So, always a per­il. But it did work, and this is how does. So, the device cor­rals minute sound­wave vibrations:
Okay. So, you could hear the actu­al record­ing ver­sus the orig­i­nal song. And it was the fun­ni­est thing because I feel like all of my friends are the type of peo­ple who sit around and fuss over like, record fideli­ty and com­plain about how some obscure album isn't in Bandcamp or what­ev­er. But peo­ple real­ly seemed to like this thing that did not sound good, did not work well, only had one song. In fact it was so pop­u­lar it went viral. And I'm stuck with this like, real­ly weird ques­tion but it turned out to be a very gen­er­a­tive ques­tion of like, isn't the whole pur­pose of high-tech things…don't we want these tech­nolo­gies to func­tion well?
And you know, I thought about this. Like, why is it that these lo-fi, glued and taped-together things are so appeal­ing and and endear­ing in a world where we can make any­thing we want to hap­pen on a screen hap­pen. And I even­tu­al­ly real­ized, after just a lot of read­ing, that there's this weird dimen­sion in our rela­tion­ship with our things that mod­ern tech just has­n't real­ly pro­vid­ed or solved yet.
Modern tech gives us what­ev­er we want. It's like win­ning at this game of wish ful­fill­ment. It's kind of its whole deal. But what it does­n't do in its black box-ness is make the world leg­i­ble to us in human terms in the way that we con­nect to the universe.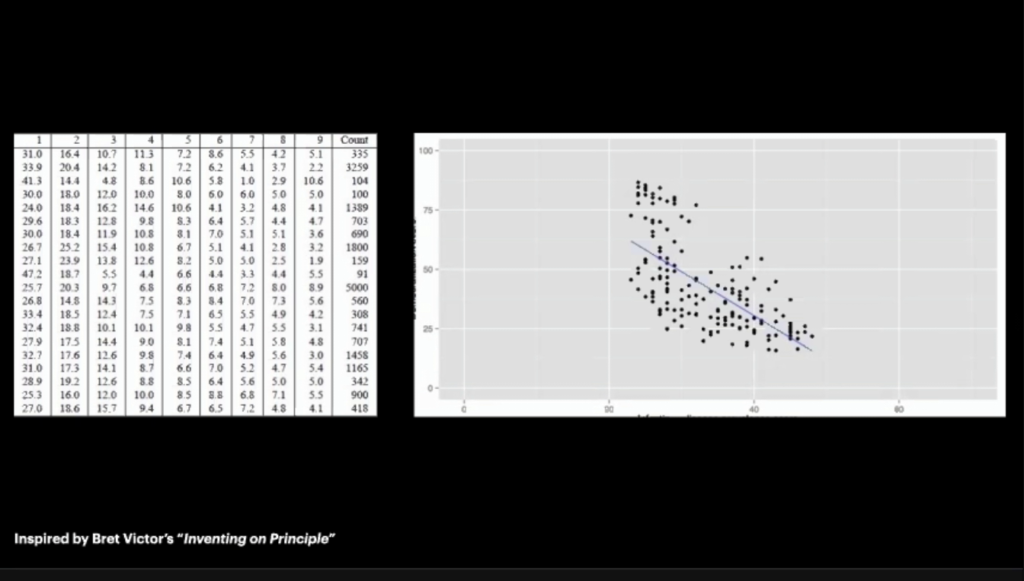 Bret Victor writes about how the scat­ter plot graph was actu­al­ly a real­ly impor­tant human inven­tion because it was able to make infor­ma­tion bioavail­able to human per­cep­tion. This is just a lit­tle demon­stra­tion of that. If you look at the num­bers on the left in the spread­sheet, it's real­ly hard for your brain to parse that. This is exact­ly how a com­put­er wants those num­bers, but as humans it's more dif­fi­cult to read. But as soon as you take those num­bers and put them on a map, it opens them up to our spa­tial rea­son­ing and sort of like touchy-feely per­cep­tion that we've honed as a super­pow­er over thou­sands of years, just from nav­i­gat­ing the world spa­tial­ly. So our more tan­gi­ble rea­son­ing skills imme­di­ate­ly flag like, alright what's the out­lier? You can find the high point, the low point. You can see the pat­tern, the spread. You can see where most of them are con­cen­trat­ed. You can imme­di­ate­ly start read­ing this data that was com­plete­ly obscured to your brain before.
And so I start­ed think­ing that you know, we real­ly intel­lec­tu­al­ly think and inter­act and intu­it a lot about the world through out bod­ies, and through touch, through fric­tion and resis­tance, much more than any­one talks about. It'd kind of odd and, you know, often­times awk­ward to talk about sen­so­ry expe­ri­ence. When I was study­ing art his­to­ry, we often­times called describ­ing a painting—you'd be like oh, that's like danc­ing about archi­tec­ture. Which is why I think it's not done as much.
The ner­vous sys­tem does­n't end with the brain alone. It extends all the way to the skin. So, every­thing we know as humans is an event on the skin, whether it's light hit­ting our reti­nas, or sound vibrat­ing our eardrums, or mol­e­cules hit­ting our taste buds. We are sim­ply hard-wired as peo­ple to have these very deep and rich intel­lec­tu­al and philo­soph­i­cal exchanges with how we inter­face with the phys­i­cal world.
So since we're phys­i­cal beings, ana­log tech was always in the back­ground, secretly…you know, in addi­tion to doing the wish ful­fill­ment thing, it was ful­fill­ing the sec­ondary func­tion of teth­er­ing us, us mate­r­i­al beings, to the larg­er uni­verse of mate­r­i­al things. So like, spend­ing time fuss­ing with an anten­na to try to find a radio sta­tion pro­vides a con­nec­tion point between our bod­ies and our minds, and this tech­nol­o­gy that we're work­ing with.
So, know­ing that and want­i­ng to intro­duce for exam­ple chil­dren who may have grown up with dig­i­tal devices into the mag­ic of the phys­i­cal world, I start­ed writ­ing these books that teach through phys­i­cal inter­ac­tion and touch, mak­ing these hum­ble paper tech­nol­o­gy things that could func­tion as a direct inter­face in the won­der of physics. So this first one is called This Book is a Camera.
And it's a very lit­er­al title. It lets the user/reader inter­act with light and learn about how light works through using it as a pin­hole cam­era. So you load pho­to paper into the back of it in the dark. You take a pho­to. And then you unload it in your bath­room and you can devel­op it in instant cof­fee and bak­ing soda and water.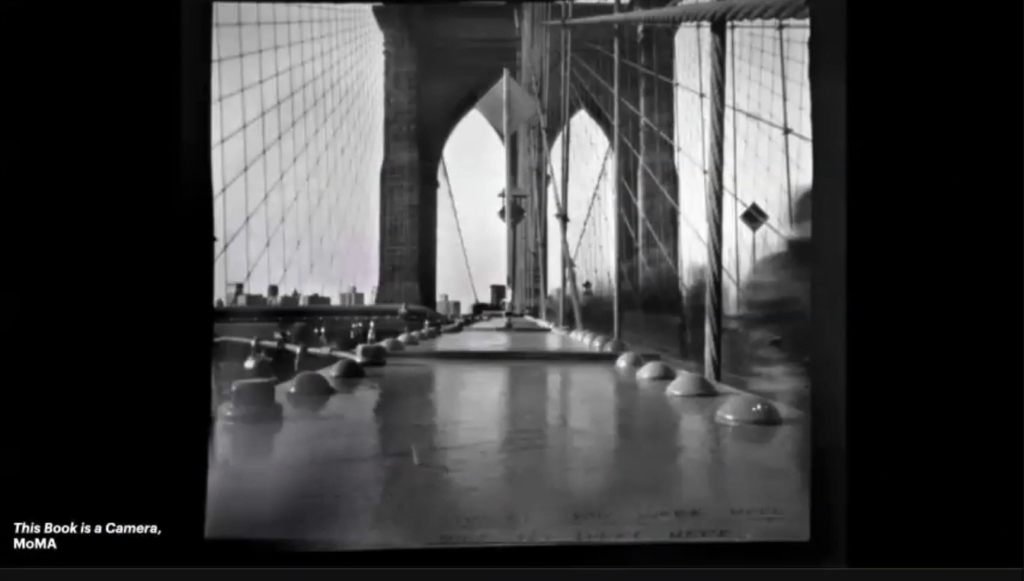 It takes pret­ty good pho­tos. They're large for­mat, so they're like four inch­es by five inches.
And a year lat­er, this follow-up came out. This was a larg­er col­lec­tion of devices that asked my favorite gen­er­a­tive ques­tion in the world of what can paper do. And answer­ing with six dif­fer­ent paper tech­nolo­gies. So peo­ple can take their hand and tin­ker with con­cepts of time, and con­cepts of how cal­en­dars are orga­nized, con­cepts of encod­ing and encryp­tion, play with the direc­tion­al­i­ty of sound waves, play with pitch, play with how com­put­ers draw math­e­mat­i­cal­ly; a spiro­graph is basi­cal­ly like an ana­log ver­sion of openFrameworks.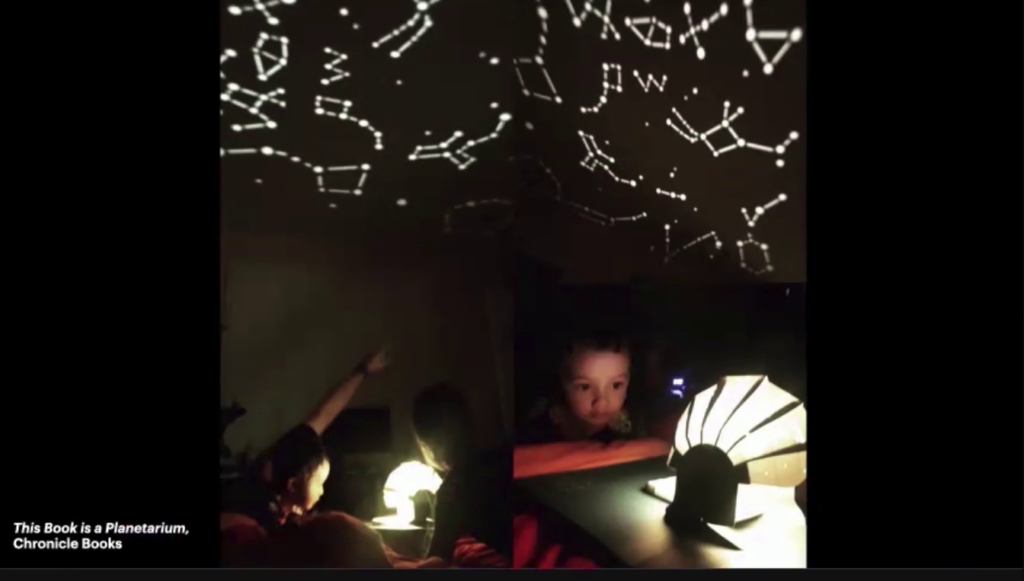 And also how the stars in this skies work. This is anoth­er super lit­er­al title. There's a lit­tle plan­e­tar­i­um inside the book.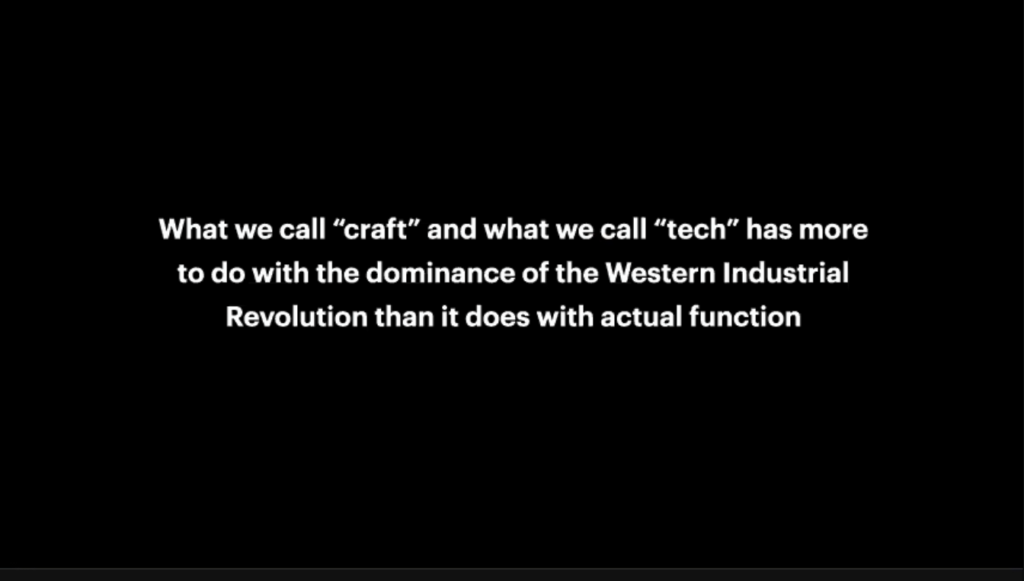 Another argu­ment that I want to flag, that the strait­jack­et of the sort of struc­tured pro­fes­sion­al­ized think­ing in tech lim­its us, is that we tend not to draw upon the full toolk­it of human dis­cov­ery because the line between craft and tech is often­times so rigid. Which has more to do I think with the dom­i­nance of the Western Industrial Revolution than it does with craft tech­niques' abil­i­ty to pro­duce func­tion. And so we might con­sid­er look­ing to non-Western cul­tures for their design wis­dom when faced with these high-tech challenges.
For exam­ple, these tech­ni­cal origa­mi pat­terns are being used to solve prob­lems in space­craft design over at JPL NASA. What I'm show­ing you is a set of riso­graph origa­mi tes­sel­la­tions that talk about paper as tech and explain that paper has a mate­r­i­al mem­o­ry that we can pro­gram by fold­ing. Once you fold a piece of paper, it nev­er for­gets where that line is and it always wants to redi­rect pres­sure. This is a series of dif­fer­ent paper fold­ing activ­i­ties that pro­vide dif­fer­ent chore­o­gra­phies of motion redi­rect­ing through these com­plex net­works of folds.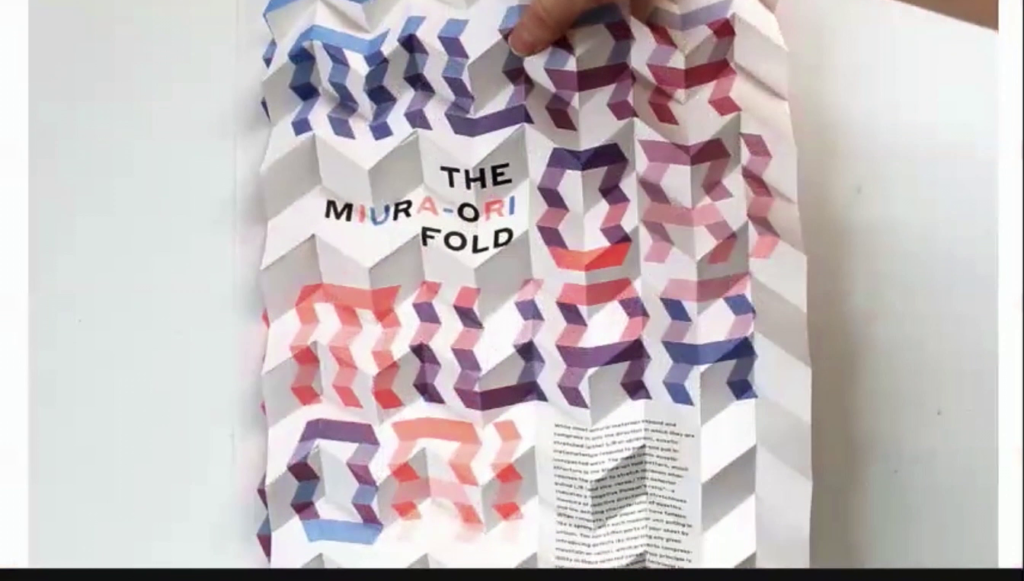 This one is my favorite. This is the Miura-Ori fold, which con­verts an inert sheet of paper into a multi-directional paper spring. And this form was devel­oped by Koryo Miura, who is an astro­physi­cist who drew from the ancient tra­di­tion of origa­mi— So he envi­sioned the Miura-Ori fold as a solu­tion to of all things, a satel­lite design problem.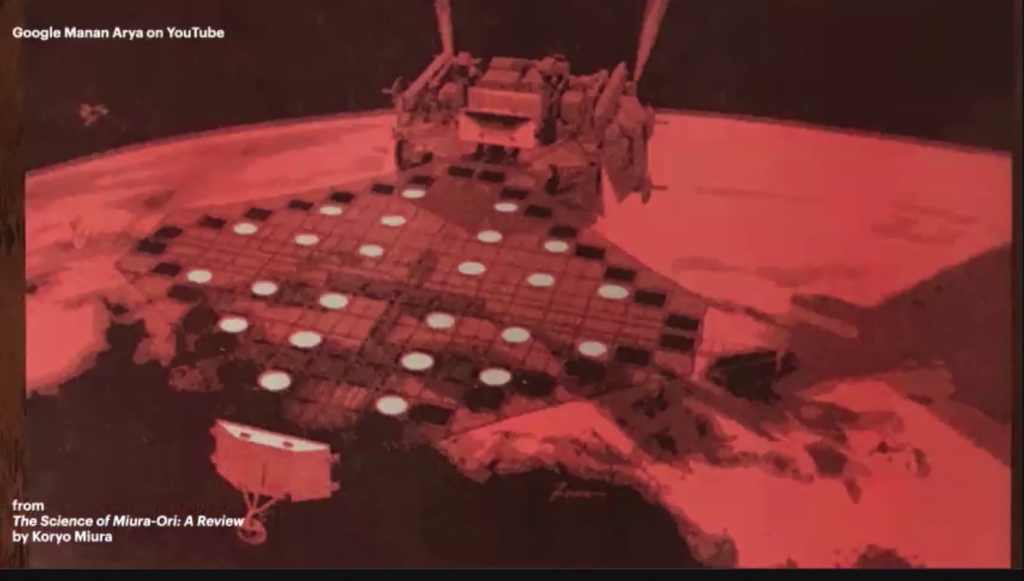 This [1995] Space Flyer specif­i­cal­ly. If you Google Manan Arya—I have his name typed onto this slide—on YouTube, you can learn more about this thing. It need­ed an array of shift­ing solar pan­els to track with the sun using min­i­mal ener­gy. So that's how origa­mi came in to solve this problem.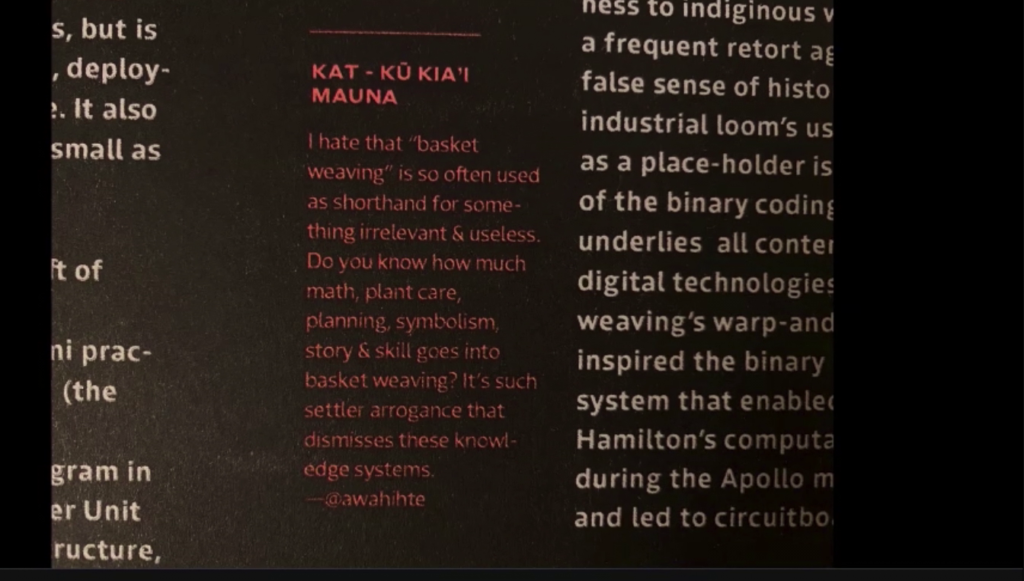 Beyond paper, ​"Kat-Ku Kia'i Mauna" [@awahihte on Twitter] writes that she hates the term ​"bas­ket weav­ing." It's so often used as a short­hand for some­thing irrel­e­vant and use­less. That there's so much math and plant care, plan­ning, sym­bol­ism, sto­ry, and skill that goes into bas­ket weav­ing that it's set­tler arro­gance to dis­miss these knowl­edge sys­tems. There's a whole lot of knowl­edge sys­tems that we don't think to tap into because they come out of these dif­fer­ent craft traditions. So, in my work there has been this trend of scal­ing down these large-scale con­cepts into hand-held tiny things. But now that we are in 2021 I feel like all of the projects I'm work­ing on this year are…ballooning sort of out of con­trol. So I'm just going to show you a lit­tle bit about what's on my desk right now.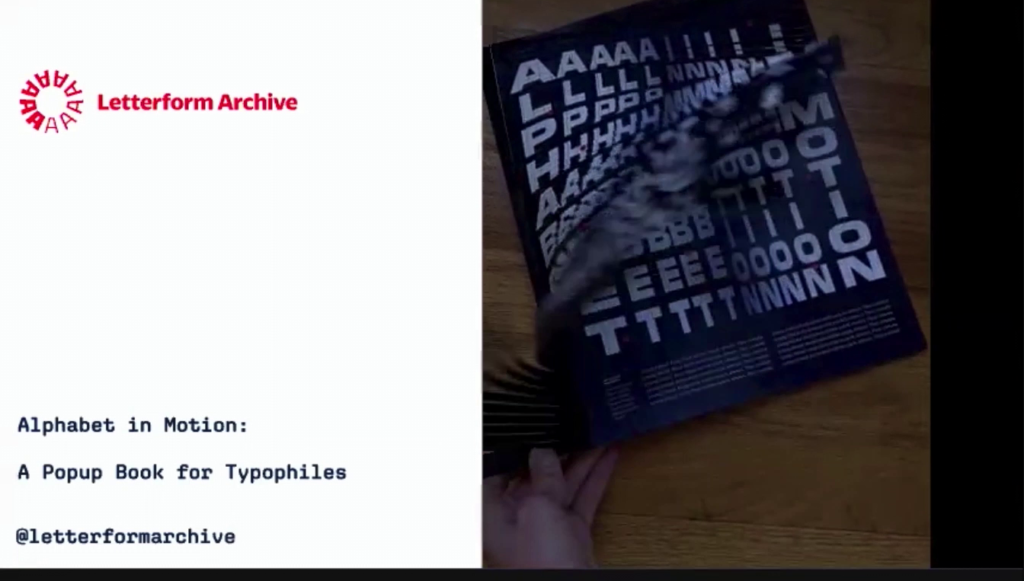 So this year I am work­ing with Letterform Archive's pub­lish­ing pro­gram, and I'm mak­ing a book that demon­strates typo­graph­ic con­cepts with sev­en­teen dif­fer­ent paper gad­gets. So…yeah. I made a one-page pop-up book, a six-page pop-up book, and now we're like, jump­ing to sev­en­teen pages. But all the pro­to­types are at the print­er, and I'm writ­ing the essays, doing the graph­ic design now. This is a rough pro­to­type of the cov­er that I'm show­ing you.
And with this book, I'm explor­ing these mechan­i­cal idioms to explain the sto­ry of type tech­nol­o­gy, which pro­gress­es from the mechan­i­cal to this flat dig­i­tal expe­ri­ence where all type is pret­ty much on screens now.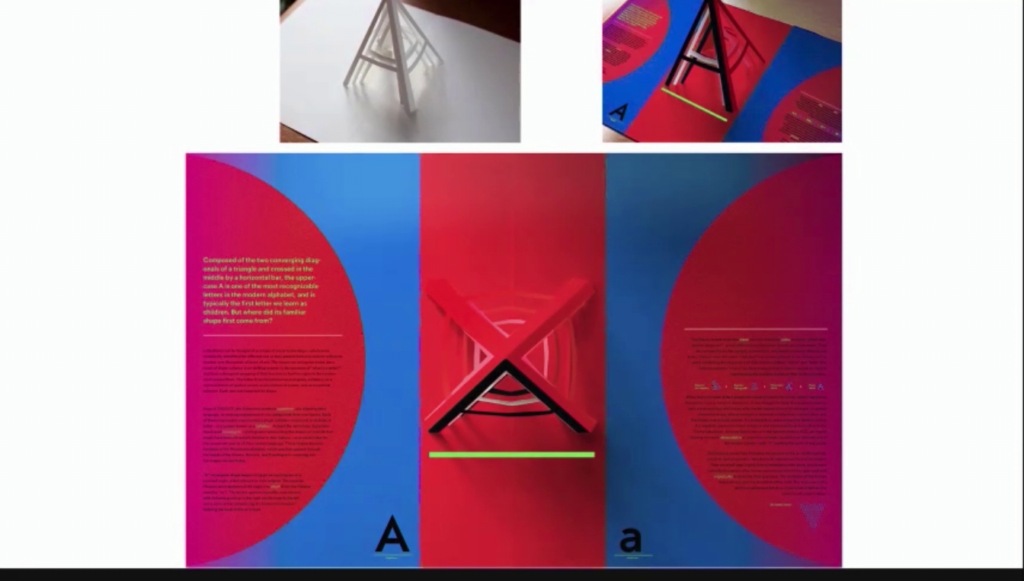 And the book large­ly focus­es on this tran­si­tion­al moment from met­al type to screen tech­nol­o­gy, so I'm employ­ing this neon sort of RGB aes­thet­ic to design. This is the let­ter A page.
This is a reject­ed pro­to­type, but it sort of sums up what I'm doing here. So, here I was try­ing to a cre­ate phys­i­cal ana­log for that expan­sive feel­ing of vari­able or para­met­ric type on slid­ers. You could hold this and all of these let­ters turn into like their extend­ed form as you go ahead and pull that tab.
The essays focus on the notion that type is an impos­si­bly micro­cos­mic rep­re­sen­ta­tion of cul­ture that's ever-changing. And that the changes in the world, and the changes that we see through­out his­to­ry and tech­nol­o­gy are also per­cep­ti­ble if you look at type. It just hap­pens in this tee­ny tiny sub­tle scale.
So I'm hop­ing the book answers ques­tions like you know, when I see warped and dis­tort­ed and pro­ject­ed type, like you do in film noir posters for exam­ple, why does it feel like psy­che­delia, by trac­ing its aes­thet­ic ori­gin back to the source. So, this is the spread for the let­ter J, and it's all about the aes­thet­ics of light pro­jec­tion, of pro­ject­ing a two-dimensional shape on to three-dimensional envi­ron­ments and how that warps and manip­u­lates type.
So it's an expe­ri­ence you can have in your bath­room, but it has the inten­tion of con­jur­ing up ref­er­ences to like, The Joshua Light Show, Andy Warhol's Plastic Exploding thing, inevitable…Brion Gysin's med­i­ta­tion device.
And also ties into the basic mechan­ics of pho­to­let­ter­ing, which rose dur­ing this time peri­od as an alter­na­tive to met­al type. This method allowed for a ton of exper­i­men­ta­tion, which is why we see all of this warp­ing and dis­tort­ed shapes in graph­ic design of this time. It also allowed type­faces to be devel­oped faster because they did­n't have to be cast in lead.
Another 60s zeit­geist actu­al­ly is why do cer­tain type­faces like Eurostile—I nev­er pro­nounce it right. This is a hand-drawn ver­sion of [indis­tinct]. Why do these shapes always feel so mod? So this is a pro­to­type for the let­ter R page. It's cre­at­ed out of six­teen dif­fer­ent spin­ning disks.
The ani­ma­tion of these disks works sim­ply through V‑folds, which is kind of the sim­plest form in paper engi­neer­ing. Paper engi­neer­ing's all about tak­ing one basic form and sort of like frac­tal­ing it out in a crazy way. So each one rotates on these hooks and then the cir­cles rotate [inaudi­ble].
But the answer to why it feels so mod, like [Anagrama?] on the dash­board in 2001: A Space Odyssey is because all of these let­ter­forms, these wide, extend­ed let­ter­forms from the 60s are built upon a dif­fer­ent shape than oth­er let­ters have been.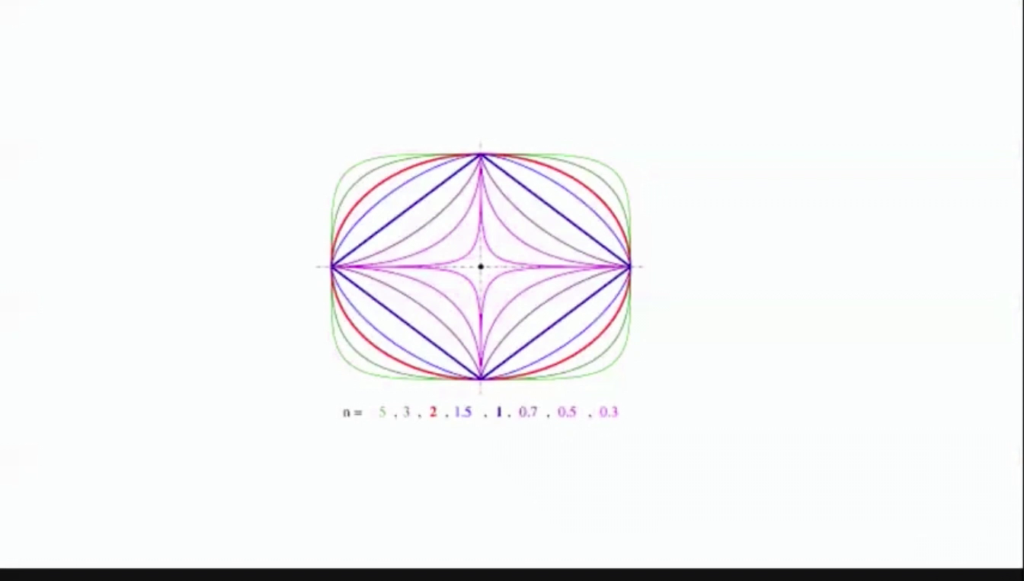 They're built upon the shape of a super­el­lipse. Which is a shape that came on pret­ty strong in the 60s, and then went out of vogue real­ly quick­ly. Sort of for­ev­er to be asso­ci­at­ed with this moment in time. The super­el­lipse is a post-World War II inven­tion which is not quite organ­ic, not quite geo­met­ric. There's a cer­tain left of tech­no­log­i­cal pre­ci­sion and indus­tri­al pre­ci­sion required to man­u­fac­ture the shape.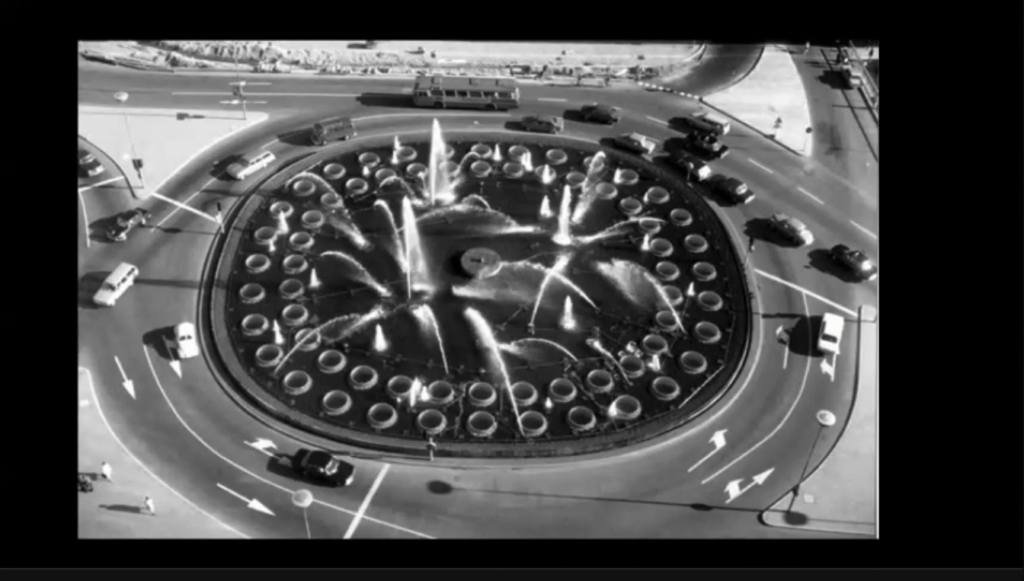 It was iden­ti­fied and named by a Danish poet and recre­ation­al math­e­mati­cian, Piet Hein for his 1959 pro­pos­al for a redesign of a round­about in Stockholm. He explained the shape's aes­thet­ic pres­ence as a com­pro­mise. That in the whole pat­tern of civ­i­liza­tion, there have been these two ten­den­cies, one toward straight lines and one toward cir­cu­lar lines. And each one has its draw­backs. And so he invent­ed the shape called the super­el­lipse to solve this.
And it made its way, as indus­try was able to pro­duce this pre­ci­sion shape, onto all of the indus­tri­al design of the time. Onto TV screens, the shape of plates.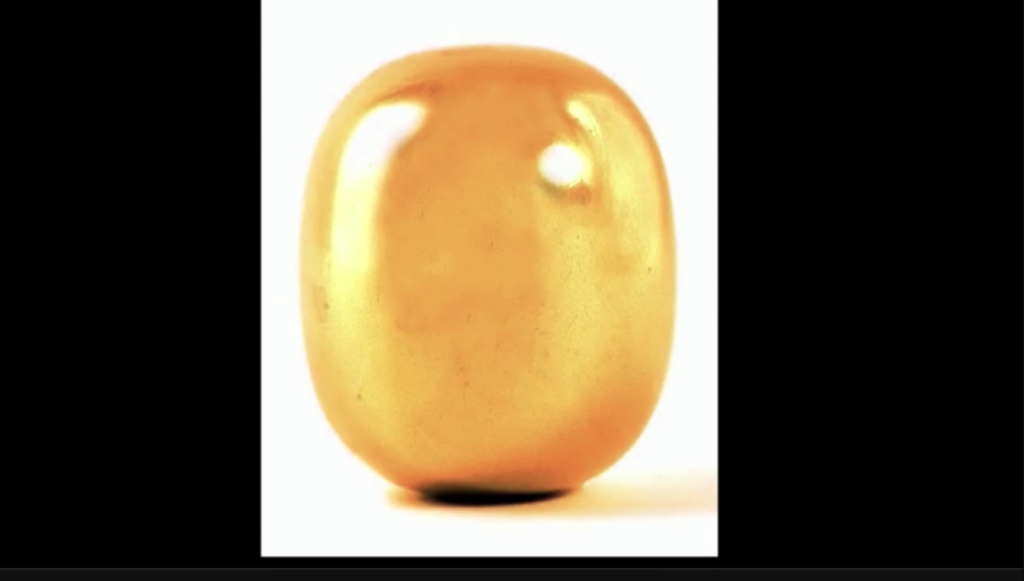 He even made this like…this is called a super­egg. It's a toy. And the two options are it can sit upright, or it can roll on its side.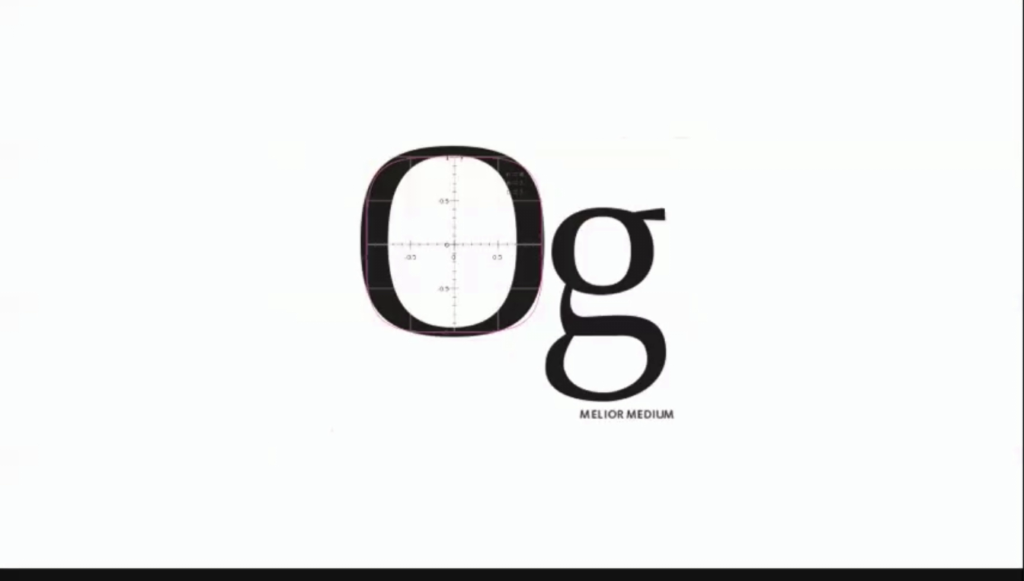 So, yeah. This also made its way into typog­ra­phy of the time.
I'm run­ning out of time so I'm going to be fast.
So…I've got to tell you this sto­ry. So in 1968, when the Vietnam War nego­ti­a­tions were hap­pen­ing in Paris they could­n't agree on the shape of the table. Should they have a rec­tan­gu­lar table, should they have a cir­cu­lar table. And ulti­mate­ly they made the nego­ti­a­tion table in the shape of a super­el­lipse as a com­pro­mise between these two oppos­ing geo­met­ric tendencies.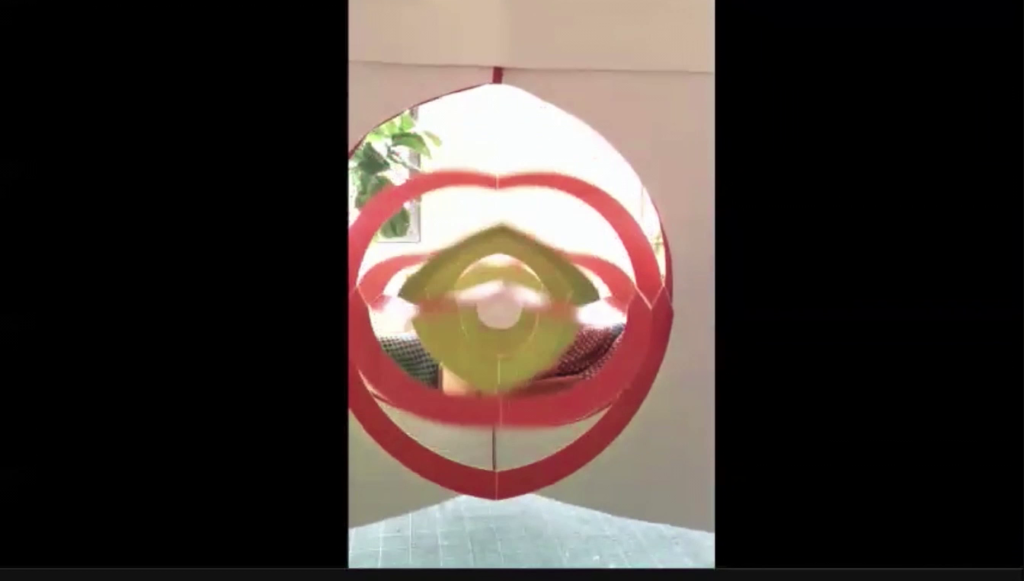 So yeah. That's why those shapes feel mod. So I'm just gonna gra­tu­itous­ly scroll past a cou­ple oth­er pro­to­types. This is the mechan­i­cal O. I was gonna talk all about mechan­i­cal sig­nage in Las Vegas.
This one is all about Wim Crouwel, and I just put my URL in there in case you want to learn more about this book, since I'm kind of speed­ing fast.
So these are all pro­to­types I just made on my desk with like spray paint and tape and glue and paper.
And I'm just gonna show you two more things real­ly quickly.
Another project that I'm scal­ing up. I've been research­ing this con­cept of moire mag­ni­fi­ca­tion, where you take a screen with aper­tures in one peri­od and lay it over a print­ed grid of dots with the same peri­od, and it cre­ates this mag­ni­fi­ca­tion effect.
So I've been play­ing with this at a small scale in books, but I'm scal­ing it up this year. I've start­ed to work on pro­to­typ­ing a clock based on this con­cept, where time comes and goes. So this is a clock with a whole bunch of lit­tle tiny 2s and 3s that scales as you rotate it.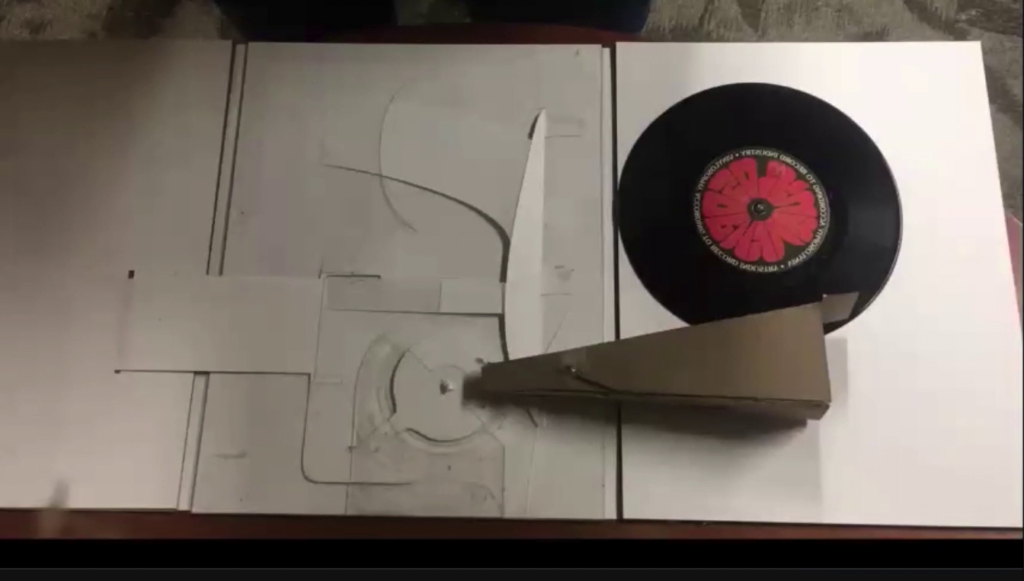 I've also been mak­ing a more com­plex record play­er as part of a larg­er book about sound in the same vein as the oth­er two books that I've made.
And then this, I just want­ed to show you…I don't think we have time. But in case we have time to walk over and see the rest of my stu­dio. This is the most recent project I just fin­ished. This is a stop-motion I made for the New Public festival.
So as you can see, I'm real­ly obsessed with this idea of like, craft mate­ri­als being phys­i­cal­ly pro­grammed. So this N was purpose-built designed to turn into this P. When I pulled on a string, it cas­cad­ed into all these lit­tle geo­met­ric shapes rolling up on each oth­er. So I love that. I feel like it is sort of a func­tion that my eyes can fol­low, and I think it helps me con­nect my human sens­es. And I think about sort of like the endur­ing lega­cy and feel, as well as the exper­i­men­ta­tion that's offered by these dif­fer­ent craft methods.
So yeah. I think I went a lit­tle bit over, Golan. I'm so sor­ry, but that's what I have.
---
Golan Levin: Thank you, so much Kelli for gift­ing us with this view onto your work.
We are a lit­tle bit over time and there's been a great request com­ing from the Discord where all the chat's hap­pen­ing, which is rather than hav­ing you answer with words, I won­der if you could just take your cam­era over and just give us a glimpse that we can con­sume with our eyes, if we could see your desk or your stu­dio. There's a lot of curios­i­ty to sort of see the space you work in. Which is some­thing that we don't get in the nor­mal kind of talk.
Kelli Anderson: Yeah. Totally. So every­thing's a mess, and it always is, but this is my very long desk. I made it out of IKEA cab­i­nets. And so there's a lot of stor­age there. I cut all of my paper stuff and all of the sheet plas­tic on this machine, which is called a Craft ROBO. It's a vinyl cut­ter. There's also one called a Cricut. There's also a Silhouette.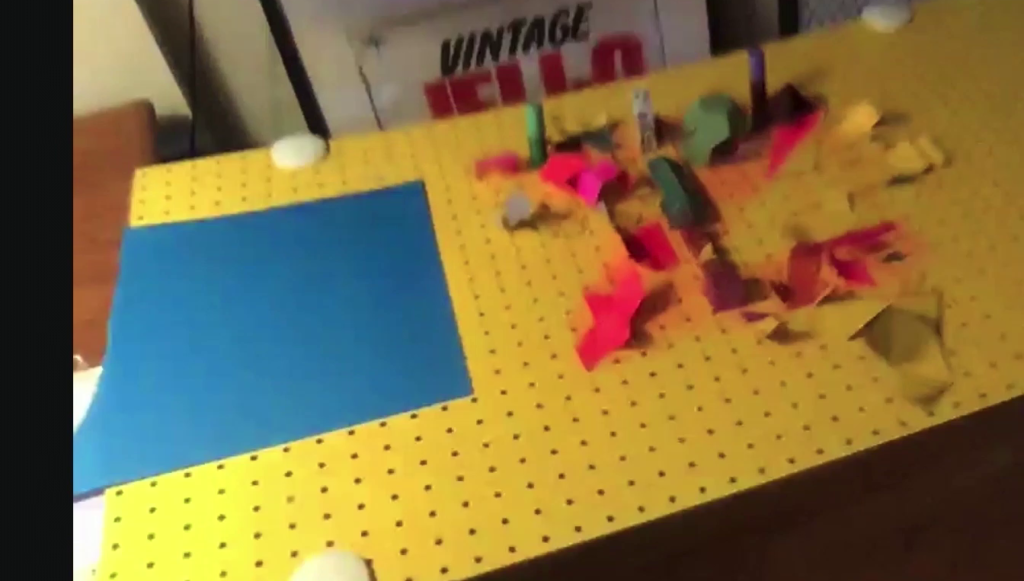 And this is my set, which is kind of destroyed right now. But that's how I made the New Public thing. It's basi­cal­ly all of these lit­tle geo­met­ric shapes, and then there's strings that come down. I could­n't get it in one take. It was like six­ty takes. But that's what com­put­ers are for.
So yeah. I try to do the things that com­put­ers do well on a com­put­er, and then do the things that com­put­ers don't do well like shad­ow and tex­ture and lit­tle phys­i­cal sounds and stuff, all of that physically.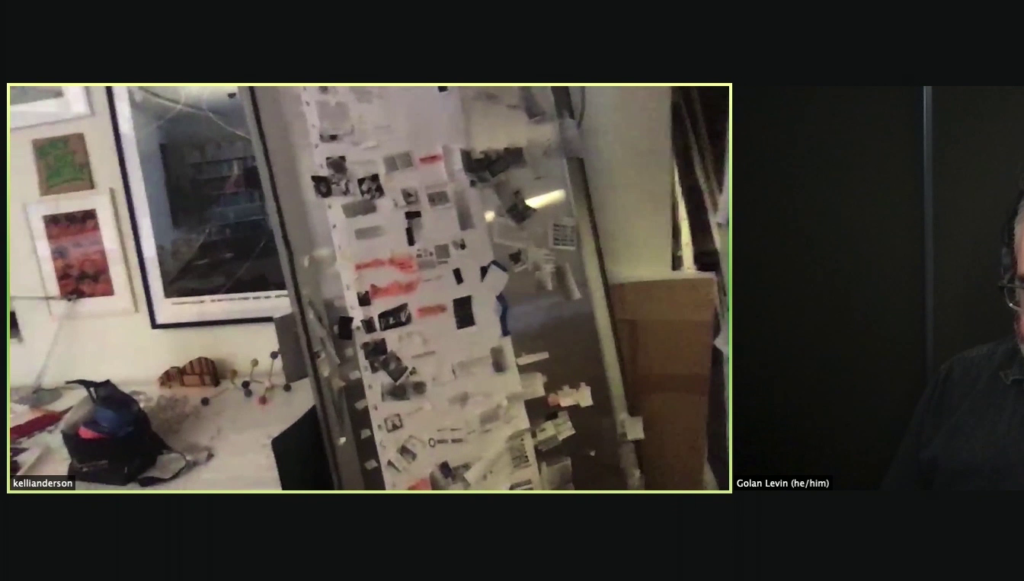 This is a ran­dom door I have with the entire con­tents of my ABC pop-up book taped to it. So that's how I know what I'm gonna write about and what the pop-ups are.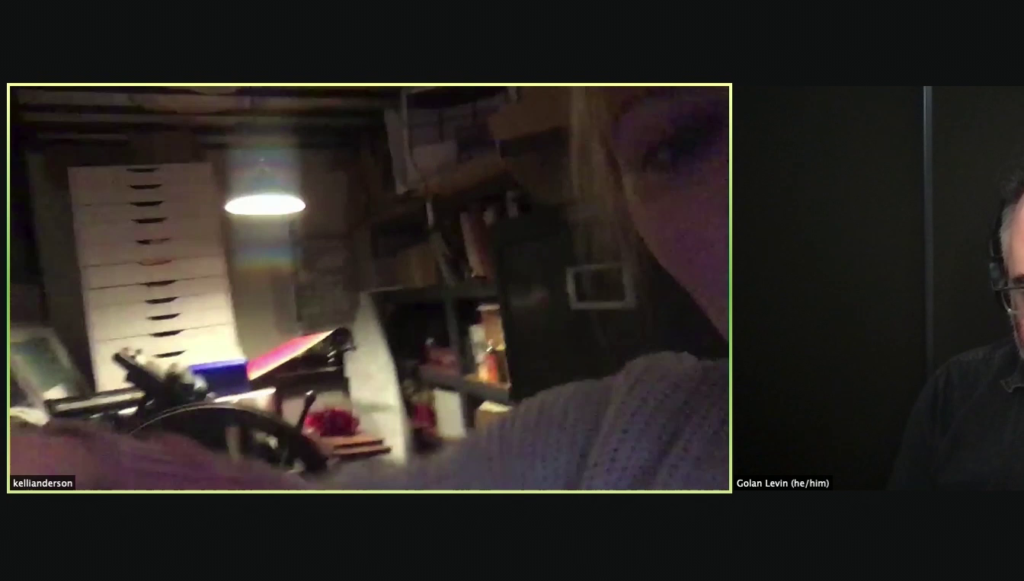 And then in here, this is kin­da like my garage kind of. Like I have a let­ter­press. I have stor­age for print­ed things. I recent­ly got—this is my favorite thing in the world right now. This is a paper drill. So I can make lit­tle note­books and stuff.
So yeah, that's pret­ty much it. I've been here like twelve years, and so every­thing you've seen me make has hap­pened here and I nev­er leave my house, even before the pandemic.
Levin: Kelli, thank you so much for shar­ing with us.