Golan Levin: Good after­noon, every­one. It's our Friday after­noon ses­sion of Art && Code: Homemade. I'm Golan Levin, direc­to­ry of the Frank-Ratchye STUDIO for Creative Inquiry at Carnegie Mellon, and direc­tor of the Art && Code fes­ti­val. And it's my plea­sure to intro­duce the begin­ning of our Friday after­noon ses­sion. We're going to have three pre­sen­ta­tions by Ari Melenciano, Sarah Rosalena Brady, and Imin Yeh.
And just anoth­er quick announce­ment. There has been unfor­tu­nate­ly a can­cel­la­tion at 5:30 this after­noon. Olivia McKayla Ross has had to can­cel, we've just learned. So there will be a gap at 5:30. We will talk more about that when we do the evening ses­sion. But we will still have Leah Buechley and Nanibah Chacon at 5:00.
So, with that it's my plea­sure to intro­duce Ari Melenciano, who is an artist, design­er, cre­ative tech­nol­o­gist, researcher, and edu­ca­tor whose research com­bines approach­es from human-computer inter­ac­tion, Afrocentric design prac­tices, and exper­i­men­tal ped­a­gogy. She is the founder of Afrotectopia, a social insti­tu­tion fos­ter­ing inter­dis­ci­pli­nary inno­va­tion at the inter­sec­tions of art, design, tech­nol­o­gy, Black cul­ture and activism. And she cur­rent­ly teach­es cre­ative tech­nol­o­gy and coun­ter­cul­ture at NYU and Pratt. Ari Melenciano.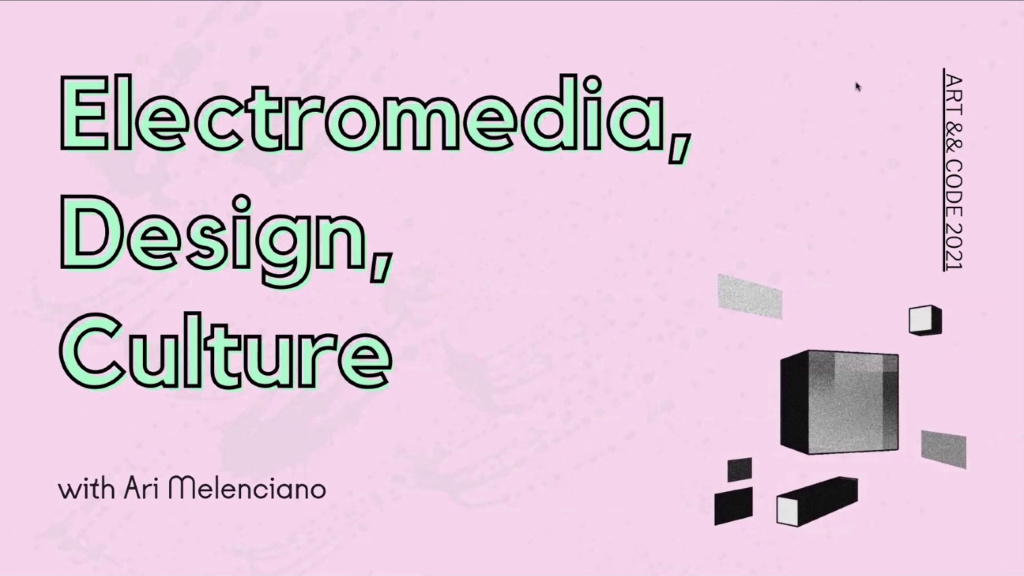 Ari Melenciano: Thank you. Thank you for hav­ing me. Very excit­ed to be here, and I will talk quick­ly because I usu­al­ly put in too many slides in my pre­sen­ta­tions. I know we're on a quick times­pan. So, I'll be talk­ing about elec­tro­me­dia, design, and cul­ture, which is where a lot of my work lies.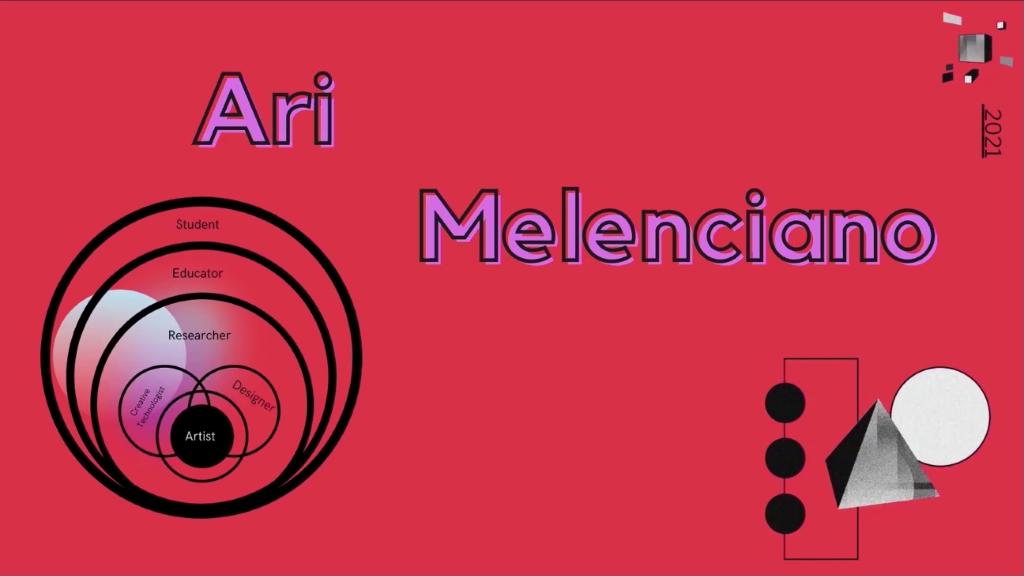 So again I'm Ari Melenciano, and at the core of who I am as far as my prac­tice I've always iden­ti­fied as an artist and have found that design and cre­ative tech­nol­o­gy are real­ly great vehi­cles for me to use to con­tin­ue expand­ing the pos­si­bil­i­ties of art. And a lot of my work is built off of research so I'm con­stant­ly engag­ing in research and study­ing dif­fer­ent facets of the world. I often turn all of this work into class­room envi­ron­ments. I teach a lot at dif­fer­ent uni­ver­si­ties and in being a teacher I feel like I'm always for­tu­nate enough to be a stu­dent to con­tin­ue to learn from the stu­dents that I have.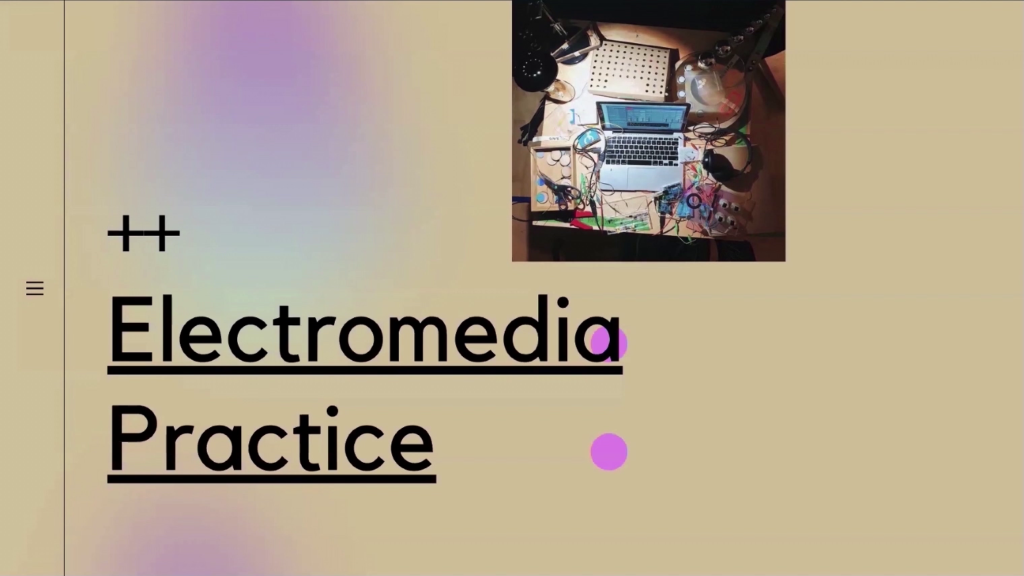 So, with my elec­tro­me­dia prac­tice, it spans a lot of dif­fer­ent medi­ums but it gen­er­al­ly start­ed from a project called Ojo Oro, which I cre­at­ed while a grad­u­ate stu­dent at NYU's Interactive Telecommunications Program. And this was a dream project for me because I grew up as some­one that loved pho­tog­ra­phy and tak­ing pic­tures and doc­u­ment­ing moments, but also hav­ing a real­ly beau­ti­ful expe­ri­ence with dig­i­tal pho­tog­ra­phy but an even more beau­ti­ful expe­ri­ence with ana­log pho­tog­ra­phy. And I want­ed to cre­ate some­thing that kind of blend­ed both of those worlds.
So in being some­one that just loved the aes­thet­ics of dif­fer­ent cam­eras, espe­cial­ly film cam­eras, I feel like there's a lot more atten­tion to the craft and the design of them ver­sus dig­i­tal cam­eras, at the time. Now dig­i­tal cam­eras are try­ing to mim­ic the aes­thet­ics of a film cam­era, but at the time they were like these kind of bulky machines. And so I want­ed to cre­ate some­thing that kind of had the best of both worlds in that it was oper­at­ed dig­i­tal­ly, but it mim­ic­ked a film-like expe­ri­ence. So with this cam­era, peo­ple would use it, it would take dig­i­tal pic­tures, and it would— And it was also think­ing about fash­ion, of it being a sort of wear­able device. You're wear­ing it around your neck so why not have it be some­thing that's com­ple­men­tary to your outfit.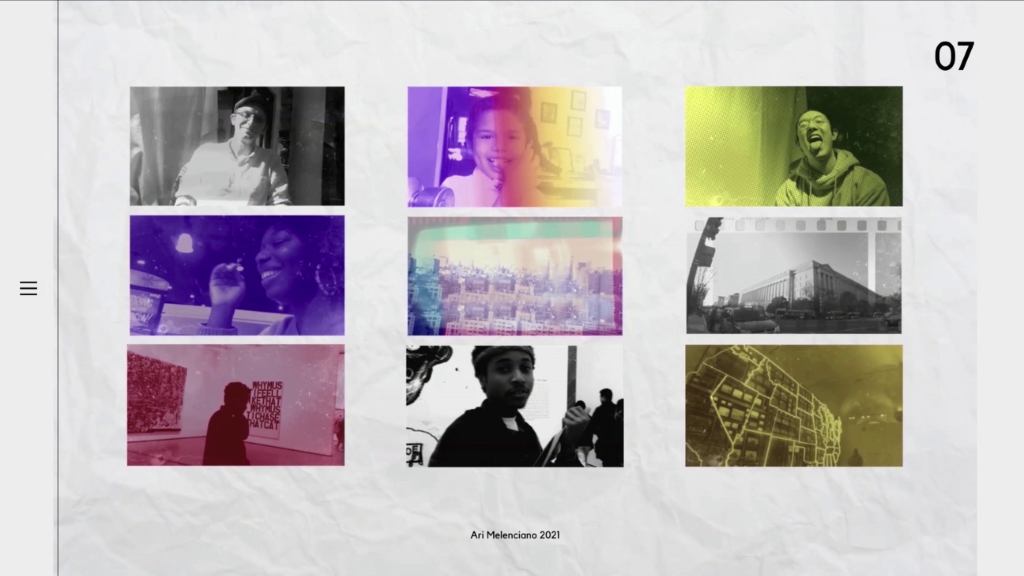 And then these are the dif­fer­ent pho­tos that it would take. So it's dig­i­tal but it's ran­dom­ly apply­ing film-like fil­ters onto the pho­tos to cre­ate the sort of dis­tor­tion and col­or­ful­ness. And that's where the name Ojo Oro comes from, which is Spanish for ​"gold­en eye." It was meant to be a tool that allows you to real­ize your artistry in a way where you're not scared of the end result. There's no mis­take or error. It's pure­ly just…everything that comes out of it is some­thing to be treasured.
And so then I con­tin­ued expand­ing on that work in cre­at­ing sound sculp­tures, and being real­ly excit­ed about how music could be cre­at­ed in new forms. And so I would cre­ate these sculp­tures that would allow peo­ple to engage them and turn dif­fer­ent knobs, and that would then change the fre­quen­cy or oth­er forms.
And so that con­tin­ued to expand in the form of a more recent series of work or body of work as far as sound sculp­tures, in the name of the Election·Negro·Synesthesyo. So this is a com­pi­la­tion of dif­fer­ent sound sculp­tures that are all root­ed in Black cul­tur­al arti­facts. And so being obvi­ous­ly a Black per­son and lov­ing Black cul­ture and all the dif­fer­ent arti­facts that we have in it. But also very atten­tive to the fact that a lot of dif­fer­ent Black cul­tur­al arti­facts when worn on Black bod­ies have a neg­a­tive stig­ma to them, and they're seen as some­thing neg­a­tive stereo­typ­i­cal­ly, and unpro­fes­sion­al or what­ev­er it is, specif­i­cal­ly when worn on a Black body but when worn on oth­er bod­ies it's seen as trendy or cool.
So, for me I'm think­ing a lot about what is the future of Black cul­ture out­side the white gaze, where it's able to express itself and define itself on its own terms. So through this I've cre­at­ed these sound sculp­tures where I'm using these dif­fer­ent cul­tur­al arti­facts that have such neg­a­tive stig­mas, but recon­tex­tu­al­iz­ing them and plac­ing them in a sort of future. Whereas peo­ple engage with them and they're sound inter­ac­tive, they then are able to enter this new world. So in touch­ing things like the hair rollers, or the do-rag, or the bam­boo ear­rings, you hear new sounds—or even in touch­ing the braids, you hear them play sounds in response to it.
And I'm also think­ing about there's this notion that you should nev­er touch a Black wom­an's hair or a Black per­son­'s hair, peri­od. It can often be a very degrad­ing act. But I'm think­ing what if it was­n't because it was degrad­ing but more if it's because you know, the being, the Black being is too mag­i­cal to touch? But if you do touch it you're enter­ing this new world. So in cre­at­ing this arti­fact I was explor­ing that.
And then as you change the dif­fer­ent afro picks, it's not a sound tool it's actu­al­ly— I've embed­ded this sort of dig­i­tal DNA inside of each afro pick. So as you change the afro picks on that bed, it then changes the visu­als that would be pro­ject­ed on the wall.
Another more recent project is Metamorphosis. I cre­at­ed this dur­ing the sum­mer. And just hear­ing the sounds of protest non-stop all through­out the sum­mer and won­der­ing what is every­thing that we're going through doing to our bod­ies. And so think­ing a lot about heal­ing modal­i­ties, and dig­i­tal heal­ing modal­i­ties, with us being in a remote era.
So how tur­moil and pain affect our body, think­ing about that sci­en­tif­i­cal­ly and spir­i­tu­al­ly. And so I want­ed to cre­ate a space that was also think­ing about epi­ge­net­ics. Epigenetics is an expe­ri­ence that your body has with­out you phys­i­cal­ly hav­ing it. It's an ances­tral sort of expe­ri­ence that you have that's embed­ded with­in you. And so when we're con­stant­ly going to these trag­ic expe­ri­ences, that's alter­ing the way that we nav­i­gate through the world in our DNA. So I want­ed to think of is it pos­si­ble to have a rever­sal of those neg­a­tives epi­ge­net­ics and cre­ate a pos­i­tive epi­ge­net­ics, and do that through sound and color.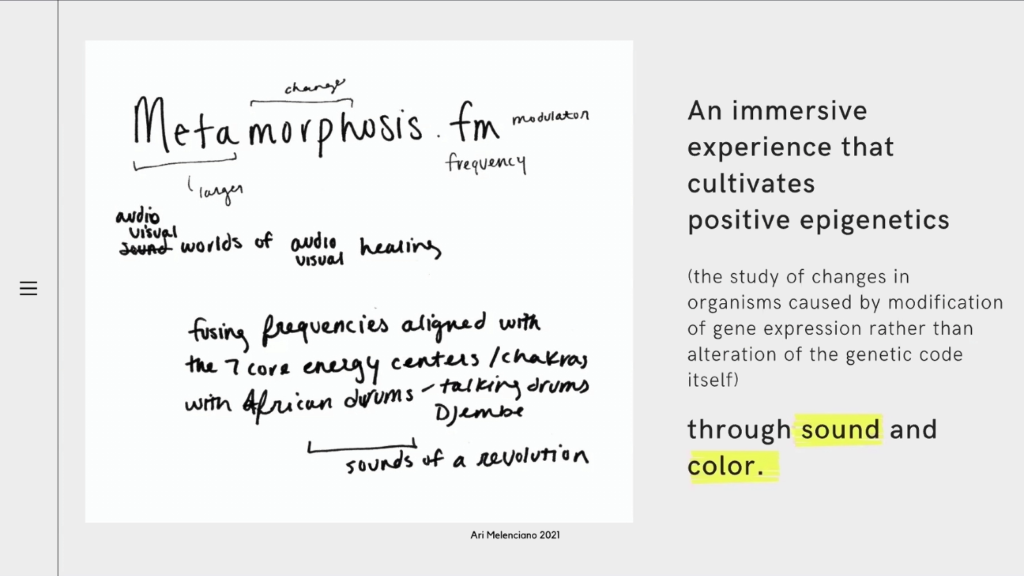 So with this, called meta​mor​pho​sis​.fm, and that it's a change. It's a larg­er change with­in our DNA struc­ture through fre­quen­cy and the mod­u­la­tion of fre­quen­cy cre­ates this expe­ri­ence where as you enter this space and lis­ten­ing to dif­fer­ent sounds that tie direct­ly to dif­fer­ent ener­gy chakras, those would then poten­tial­ly do some sort of a rever­sal of the neg­a­tive genetics.
And so I did a lot of research in study­ing sound and how that impacts the body and study­ing its rela­tion to dif­fer­ent chakras or ener­gy cen­ters. And then also had known about African drum pat­tern music and that hav­ing been a tool to car­ry Black peo­ple and African peo­ple through Pan-African rev­o­lu­tions through drum sounds. So I want­ed to blend both of those to cre­ate this audio­vi­su­al expe­ri­ence. And so think­ing also about the archi­tec­ture of the space and mov­ing through it, and the psy­cho­geog­ra­phy and curved walls allow for relax­ation and calm­ness. And so using those tac­tics inside of the space and then in being a sound artist, cre­at­ing all the music and blend­ing it all togeth­er and pro­duc­ing it to cre­ate this envi­ron­ment which I designed in Cinema 4D and then export­ed into a VebVR envi­ron­ment, where also think­ing about again psy­cho­geog­ra­phy of high­er ceil­ings, these are things that we often expe­ri­ence when we're in a cathe­dral or a space of such significance.
So also plac­ing that inside of this space so you feel like you're in a place that's real­ly impor­tant. And then as you nav­i­gate through it you feel like this cycli­cal kind of rela­tion­ship between you and the sound and the envi­ron­ment as you move through an enter these dif­fer­ent sphere areas.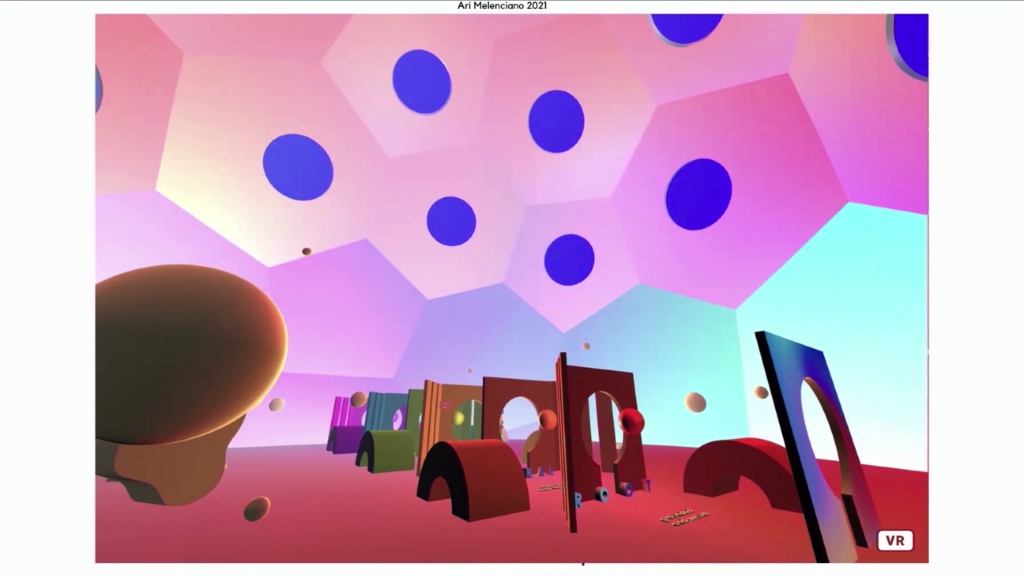 And then each sec­tion has its own music that's being played in that area alone. And each of those areas are des­ig­nat­ed for each of the dif­fer­ent ener­gy centers.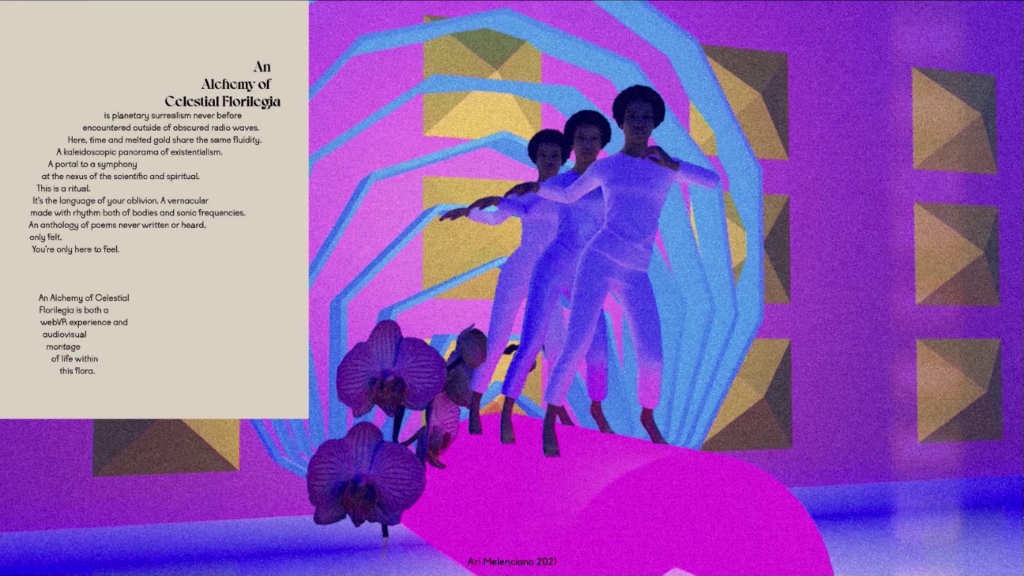 And con­tin­u­ing this I've been explor­ing a lot about cre­at­ing in WebVR and vir­tu­al envi­ron­ments. And this is a more recent project that I'm still devel­op­ing that I'm pre­sent­ing at Sundance this year in their online envi­ron­ment. It's called An Alchemy of Celestial Florilegia. And so this is think­ing about time being a very spher­i­cal thing. It exists and there are alter­nate real­i­ties, and this idea of exis­ten­tial­ism and what does it mean to exist. What does it mean to under­stand lan­guage out­side of the writ­ten or oral kind of pas­sage of lan­guage. And so it's a huge mon­tage. Just gen­er­al­ly like a sur­re­al­ist and exis­ten­tial­ist kind of under­stand­ing of the world.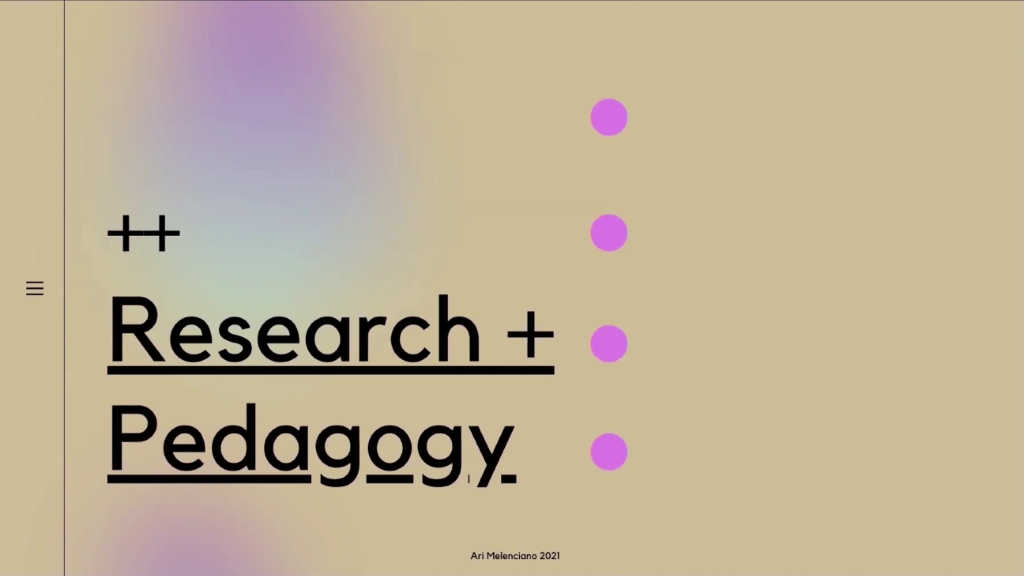 And so I'm gonna move even quick­er through this research and ped­a­gogy and then go into Afrotectopia so that we can go into a Q&A.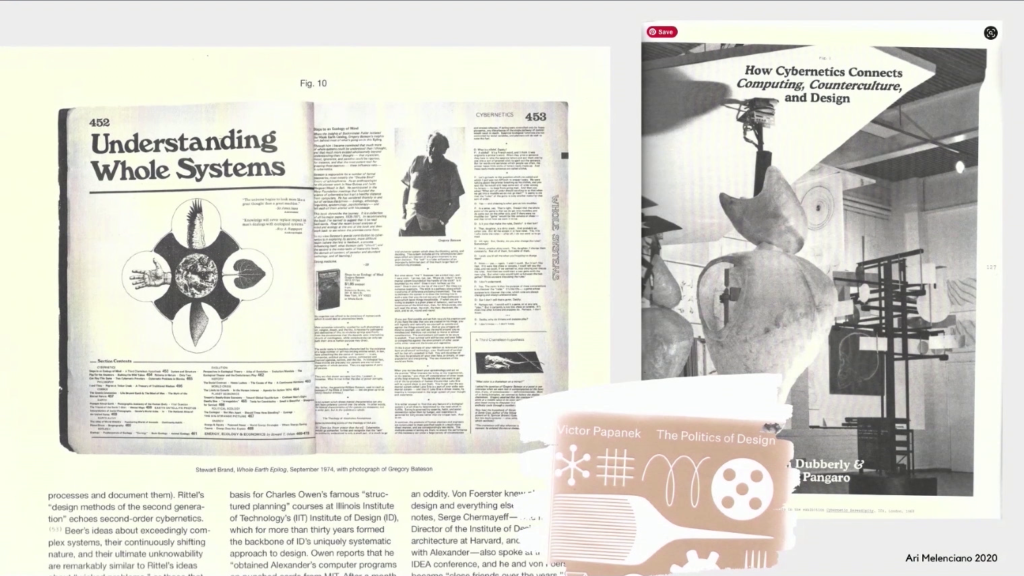 So as I men­tioned, a lot of my work is built off of research. And I real­ly enjoy research­ing and under­stand­ing what peo­ple have done in the past and using that as a tool for design­ing futures. So a lot of my work is very inter­dis­ci­pli­nary, which I found a lot of sim­i­lar rela­tion­ship in my work as peo­ple like Steward Brand and Victor Papanek had in their own work of being very whole-system think­ing. Of not focus­ing strict­ly on one facet of life but think­ing about a lot of dif­fer­ent parts of the world and how they all have a rela­tion­ship between each oth­er. So, things like the Whole Earth Catalog and Victor Papanek's work on pol­i­tics for design have been real­ly great resources for me.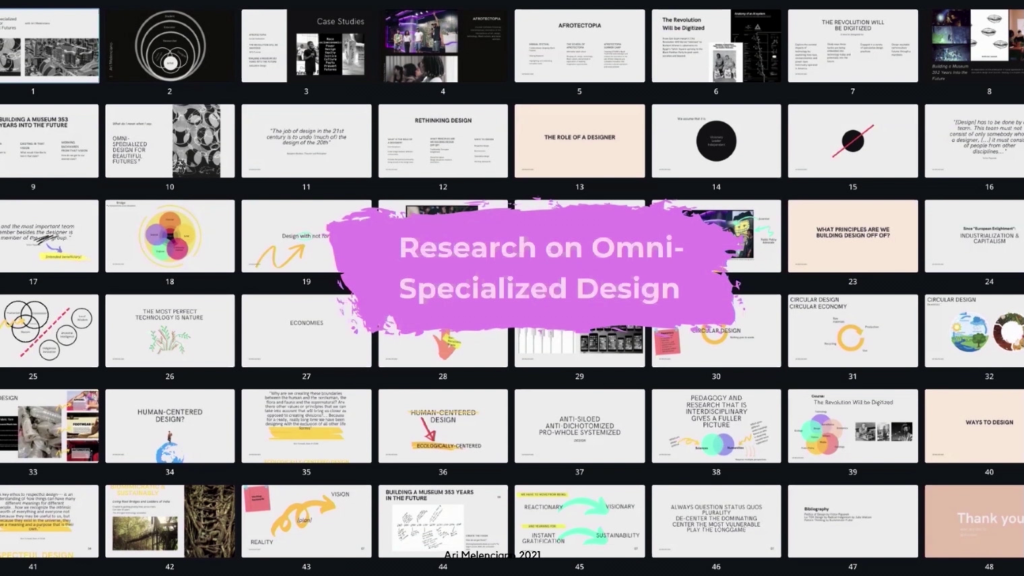 And often­times when I'm engag­ing in this research in omni-specialized design I'm out­putting in the form of a pre­sen­ta­tion like this, where I'll talk about a lot of the dif­fer­ent areas that I've explored and how I'm bring­ing them all together.
Or they will take the form of cours­es. So I design cours­es at NYU and teach them. And a few of them have been The Revolution Will Be Digitized, where we're think­ing about tech­nol­o­gy but in a holis­tic and com­pre­hen­sive form where it's not just about com­put­er sci­ence but it's about eco­nom­ics, and soci­ol­o­gy, and pub­lic pol­i­cy, and ecol­o­gy, and media, and mil­i­tary. Or with Designing Club Culture, which is kind of the flip side of cre­ative tech­nol­o­gy or elec­tro­me­dia in that it's not entire­ly about the social impacts of tech in a neg­a­tive kind of way, but more of what has been allowed to exist because we have had access to elec­tro­me­dia? So how coun­ter­cul­ture move­ments have used tech­nol­o­gy through var­i­ous forms to cre­ate these kind of dis­co scenes and then peo­ple have been able to cham­pi­on and real­ize their own kind of utopias with­in these spaces.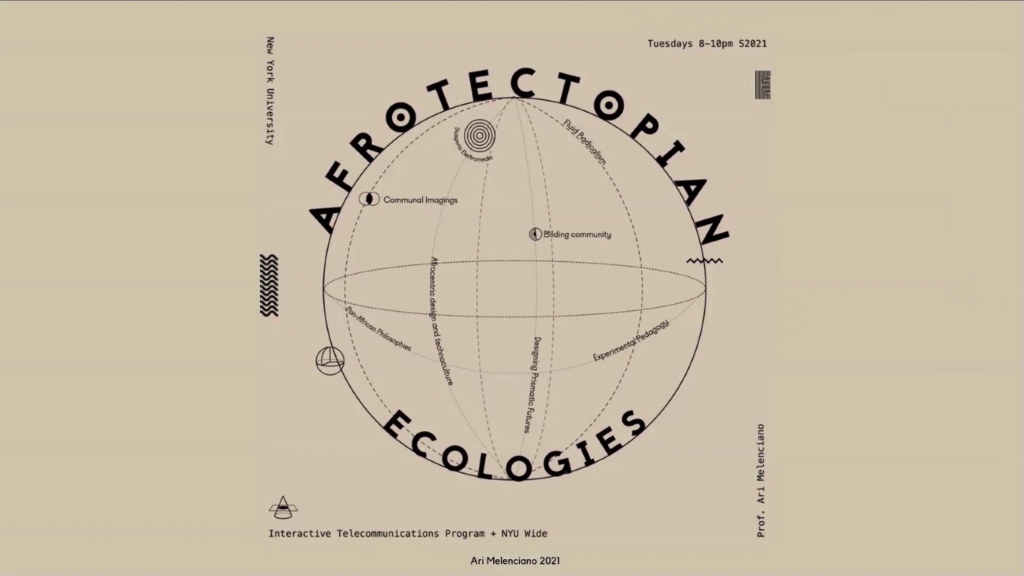 And a more recent course that I'm teach­ing is called Afrotectopian Ecologies, which is also a very inter­dis­ci­pli­nary kind of approach of com­bin­ing a lot of dif­fer­ent areas of research that I've been explor­ing and kind of putting them all togeth­er into a course where we're under­stand­ing so many dif­fer­ent aspects of the world but with­in a few weeks.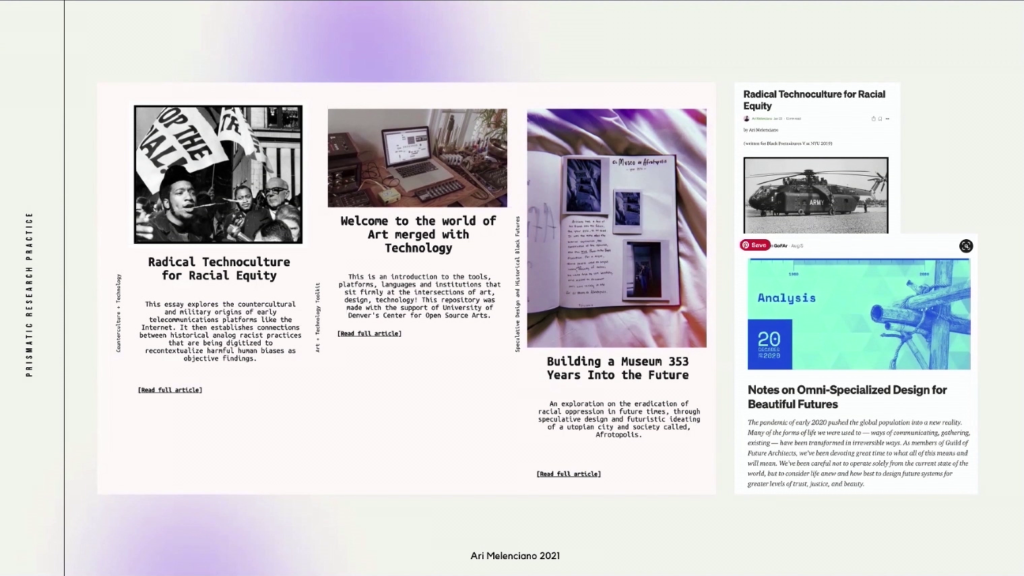 And then the research also takes forms in writ­ing essays. So I'll pub­lish essays online about things like rad­i­cal tech­no­cul­ture for racial equi­ty, or build­ing a muse­um 353 years in the future, or a whole essay on omni-specialization in design for beau­ti­ful futures.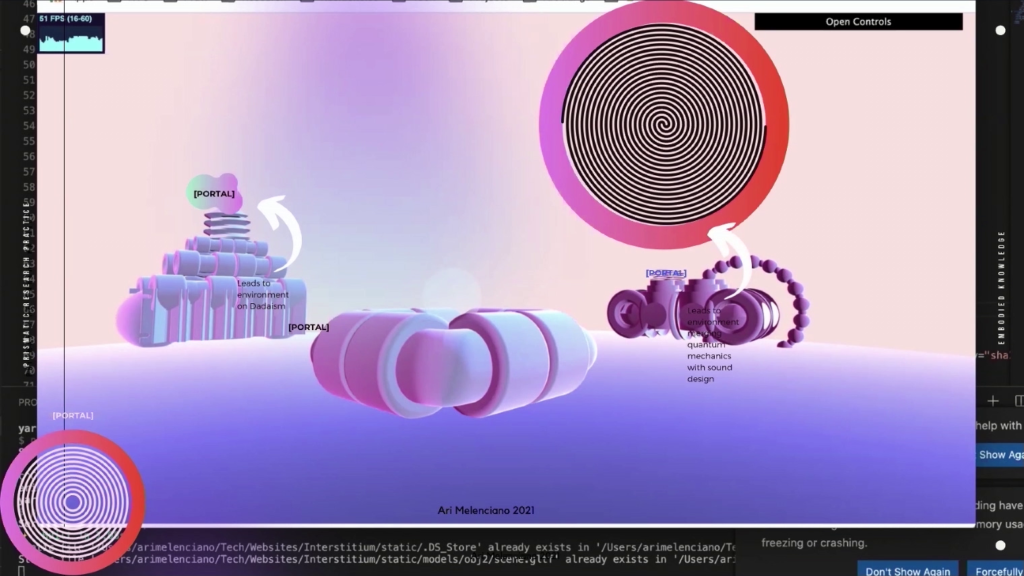 And so what I've been work­ing on and what I've had the sup­port over the past sum­mer with Eyebeam as a fel­low and now going into this new year with the sup­port from Onyx in their new kind of new media, vir­tu­al real­i­ty space and mem­ber­ship kind of thing with the New Museum is think­ing of how can I trans­late all of this research into a vir­tu­al envi­ron­ment where I'm think­ing about the archi­tec­ture. Not only infor­ma­tion archi­tec­ture but also the archi­tec­tur­al kind of ren­der­ings of the space in the dig­i­tal space. So think­ing about the Internet not so much as a tool—it's a lin­ear tool of you get from point A to point B—but mov­ing away from that and allow­ing for spon­tane­ity and explo­ration, and not as a lin­ear tool but an explo­rative tool. And so as you enter the space, you would then find dif­fer­ent por­tals that are lead­ing you to envi­ron­ments that have infor­ma­tion on a vari­ety of dif­fer­ent ideas like quan­tum mechan­ics and sound design, or envi­ron­men­tal­ism and Dadaism.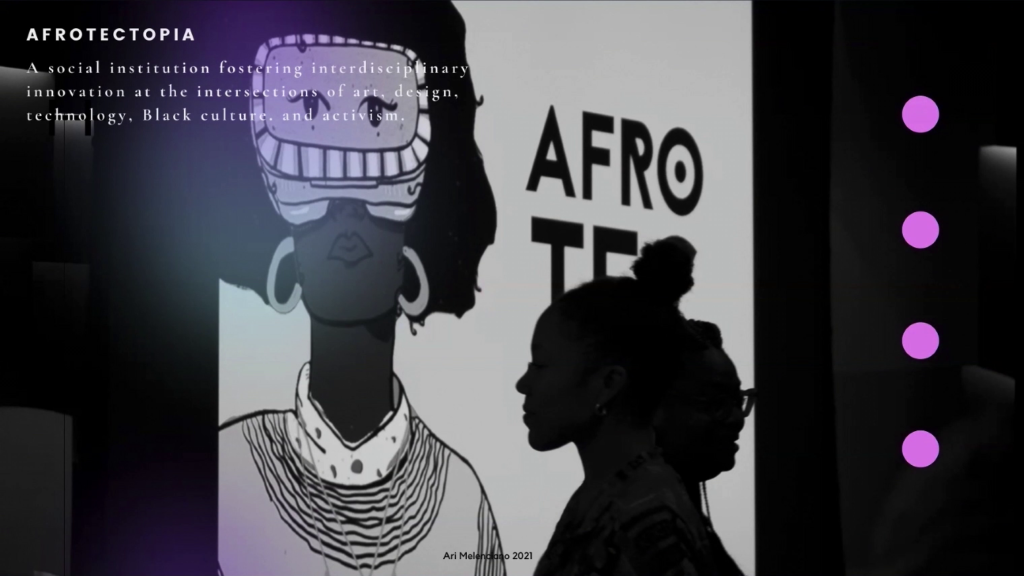 And so that's a more recent work that I'm build­ing out and work­ing on. But I'm also as the founder of Afrotectopia think­ing a lot about not only vir­tu­al dig­i­tal envi­ron­ments but also com­mu­ni­ties of peo­ple, and how we can cre­ate spaces that cul­ti­vate imag­i­na­tion and cre­ativ­i­ty and stimulation—artistic sim­u­la­tion and design stimulation.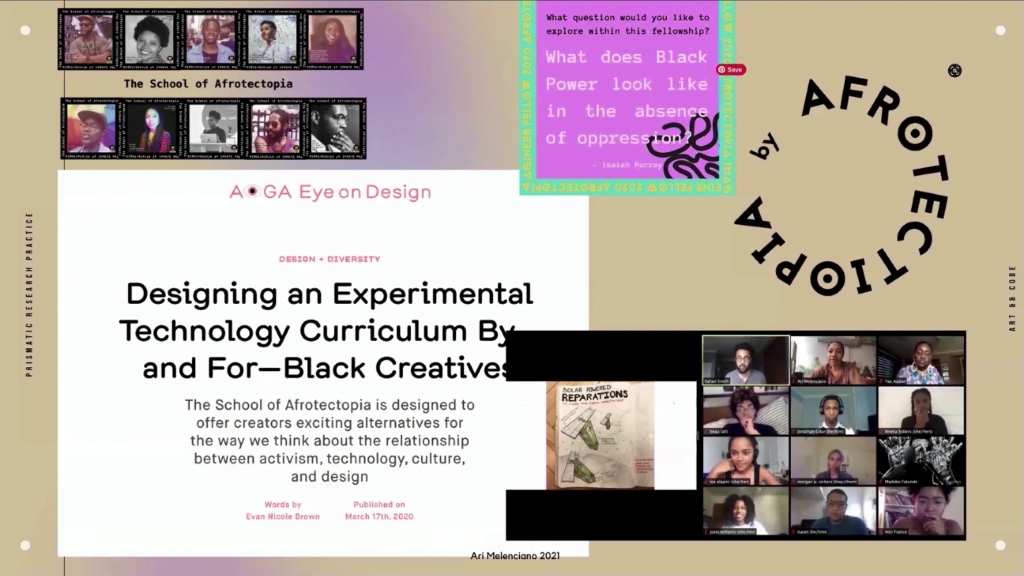 And so Afrotectopia has tak­en the form of a lot of dif­fer­ent things. It start­ed off as a new media fes­ti­val while I was a grad­u­ate stu­dent. I cre­at­ed it there. And it has expand­ed into being an alter­na­tive adult school. So last year we held ten dif­fer­ent class­es host­ed by Verizon Media. We also had a more recent fes­ti­val we had last year at Google. And this year we're in the midst of a four-week-long alter­na­tive adult school called Fractal Fête which is think­ing a lot about a whole bunch of ideas around art, design, Black cul­ture, tech­nol­o­gy and activism. And we also just wrapped up an inter­na­tion­al cohort fel­low­ship where we were think­ing about ways that we can use tech­nol­o­gy and design and art to mit­i­gate racial dis­par­i­ties and cre­ate these new worlds.
And so with Fractal Fête, which is hap­pen­ing right now, we have twen­ty dif­fer­ent amaz­ing and bril­liant Black pre­sen­ters and Pan-African pre­sen­ters, and the space is open exclu­sive­ly to Black and Pan-African peo­ple, where we're just giv­ing each oth­er the space to explore process and under­stand­ing the behind-the-scenes for dif­fer­ent cre­ators and the things that they're think­ing about, and have this kind of open dia­logue so we can get to know each oth­er and build with one anoth­er and explore new possibilities.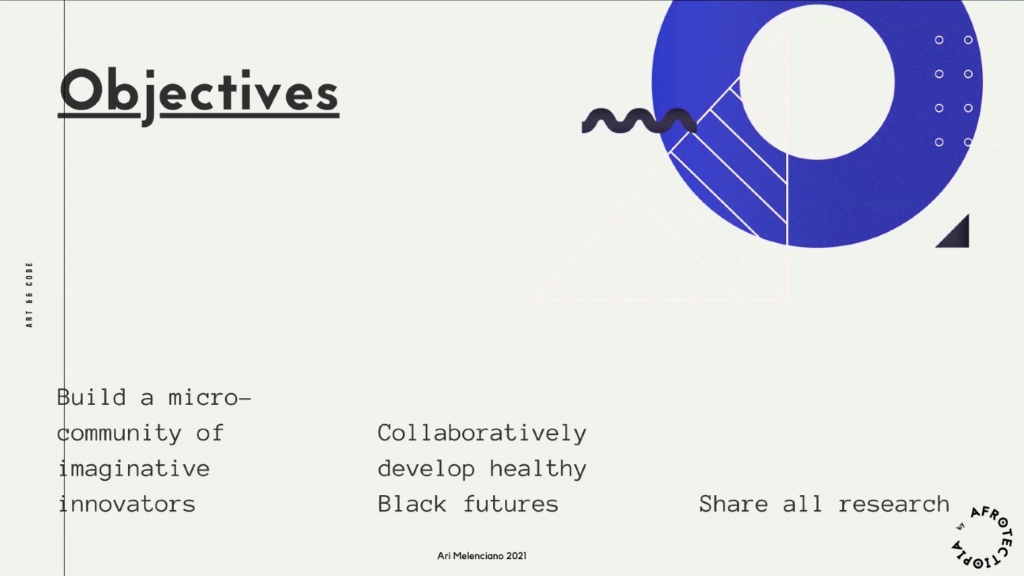 And so gen­er­al­ly the work with Afrotectopia has just been to build a micro-community of imag­i­na­tive inno­va­tors. So it's real­ly impor­tant for us to have spaces where we can come togeth­er and explore and imag­ine, and to col­lab­o­ra­tive­ly devel­op healthy Black futures where we're not leav­ing that respon­si­bil­i­ty to oth­er peo­ple but we're tak­ing the agency with our own hands and design­ing it for ourself.
And to share all of our research. It's real­ly about being as open source as pos­si­ble and mak­ing sure that any­one that does­n't have access to our space or our com­mu­ni­ty in per­son or vir­tu­al can at least have access to the work that we're building.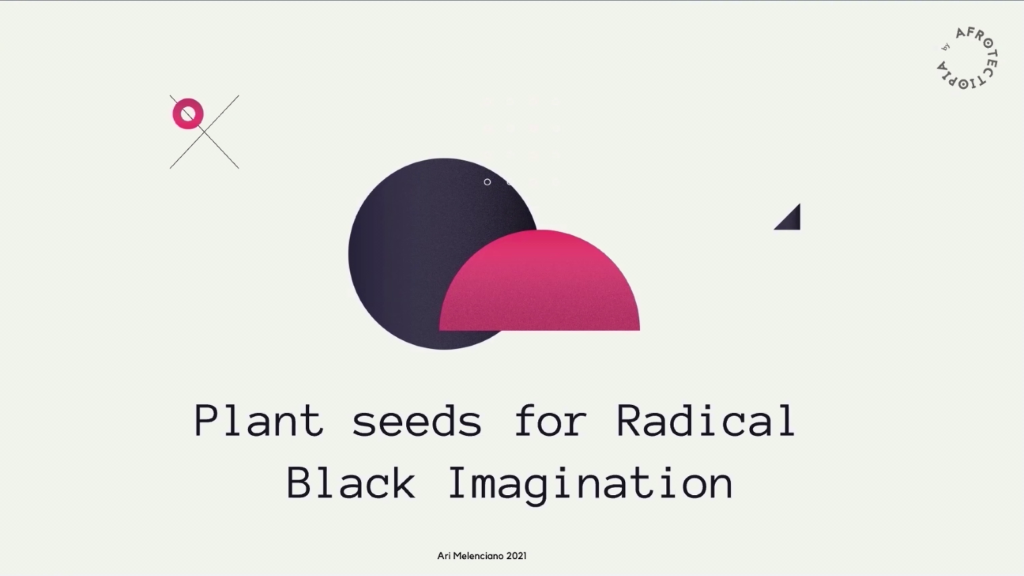 And the biggest and the most impor­tant thing has been to plant seeds for rad­i­cal Black imag­i­na­tion. So, how can we cre­ate spaces for peo­ple to just imag­ine, and dream, and place them­selves in the future and work back­wards from there and cre­ate new forms and real­ly lean into their agency.
So I think I actu­al­ly talked a lit­tle too fast. I was wor­ried about time. But that's where I am, so we can maybe have a longer time for Q&A.
---
Golan Levn: Hey Ari, thank you so much. This is great. We do have oh, prob­a­bly five to ten min­utes for for Q&A. So I'll pull from from the Discord. I'm jug­gling a cou­ple of com­put­ers here.
But maybe the first ques­tion I have for you just is to think about, in the fes­ti­val Art && Code: Homemade, sort of what we were think­ing of by homemade—and the cura­to­r­i­al advi­sors were also talk­ing to me about this, was not just nec­es­sar­i­ly home­made like you know, apple pie or some­thing like this, but real­ly that one would be mak­ing tech­nolo­gies for dif­fer­ent audi­ences. Perhaps in gift cul­tures or you know, tech­nolo­gies that one would make for one­self, one's friends, one's fam­i­ly, one's com­mu­ni­ty, maybe even one's ances­tors. And I won­der if you could speak to that notion of who the tech­nolo­gies are for in your think­ing about Afrotectopia and its try­ing to sort of instill or cre­ate a space for Black tech­no­log­i­cal imag­i­na­tion. Is this about help­ing cre­ate Black inno­va­tors who're going to make tech­nolo­gies that are going to be mass-produced, or is it about sort of help­ing peo­ple cre­ate tech­nolo­gies for them­selves and their friends and fam­i­ly? Or is it sort of all of that? How do you imag­ine… Who con­sumes and pro­duces the tech­nolo­gies from these?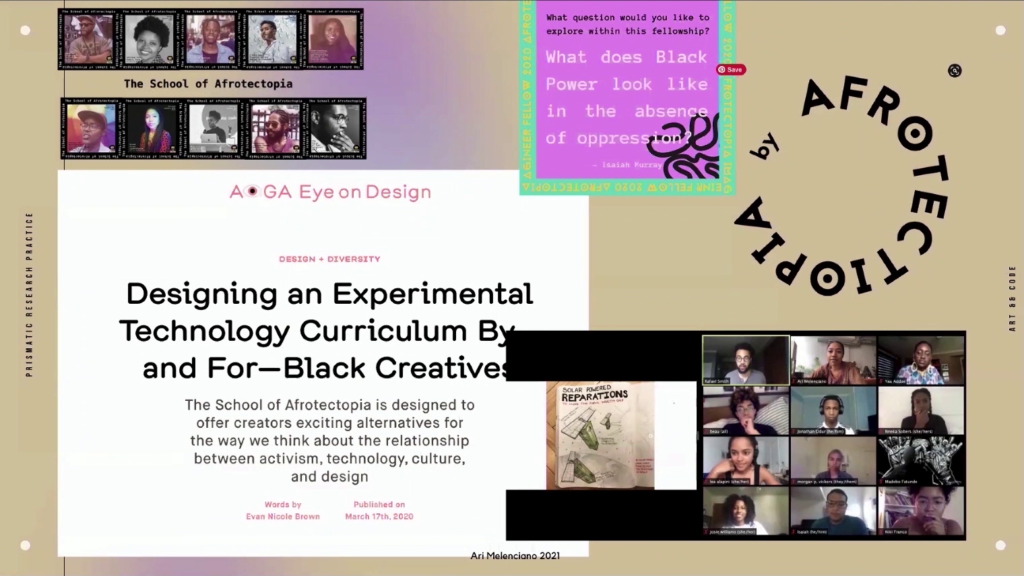 Melenciano: Yeah, I think it's real­ly also one thing that I start­ed off the fel­low­ship with. You see the fel­lows in the lower-right cor­ner. It was ground­ing the work and mak­ing sure that they under­stand what Afrotectopia stands for. Which is one, that we under­stand and we believe that tech­nol­o­gy is mere­ly an exten­sion of human capa­bil­i­ty. So I think we def­i­nite­ly to get away from this idea that tech­nol­o­gy is syn­ony­mous with com­put­ing, and dig­i­tal­i­ty, like it has to be in the elec­tric form, but it's sim­ply under­stand­ing that tech­nol­o­gy has always exist­ed around us. And it's some­thing that's been innate in things like ances­tral intel­li­gence and the way that indige­nous peo­ple have oper­at­ed with the land and worked with the land. So I think for one it's mak­ing sure that it's cre­at­ing a com­mu­ni­ty that under­stands their capa­bil­i­ty and agency, and under­stands that the way that their ances­tors have prac­ticed all along have been what we've need­ed for tech­nol­o­gy in gen­er­al going forward.
But it's also a space where were think­ing a lot about not assum­ing that black­ness is a mono­lith. Because as you can see with the fel­lows here, the fel­lows were com­ing from all over the world for one, and they have a lot of dif­fer­ent eth­nic­i­ties. So one of them was Haitian, anoth­er was French, anoth­er is Ghanaian. Like they're com­ing from all over. And though we have this shared idea of an iden­ti­ty of black­ness, we have very dif­fer­ent under­stand­ings of what black­ness means and the ways that we engage in prac­tice with it. So it's also cre­at­ing that kind of envi­ron­ment. But yeah, I think ​"for," who's it for? It's real­ly just for peo­ple that are inter­est­ed in being curi­ous, and explor­ing, and real­iz­ing new poten­tials and ways to express them­selves dig­i­tal­ly if they want to, or also out­side of dig­i­tal forms. But it's real­ly just for peo­ple that are just curi­ous and want to learn more about the world.
Levin: Another ques­tion com­ing from the chat is do you have places that you think would be most impact­ful to share this work, or that you fan­ta­size about like the goal, the holy grail would be to present this work? Like the ques­tion says, ​"Would X audi­ence real­ly get it, or audi­ence Y at this place should real­ly be expe­ri­enc­ing this?"
Melenciano: Hm. That's a real­ly— I don't think I've ever been asked that kind of ques­tion. As I present these in all dif­fer­ent kind of spaces, I think the goal for me, like what I would love to do in pre­sent­ing the work of Afrotectopia is to present it to schools that are pre­dom­i­nant­ly Black. Like ele­men­tary schools and mid­dle schools and high schools that are pre­dom­i­nant­ly Black in their pop­u­la­tion. I think that excites me the most. Oftentimes this work I'm pre­sent­ing in areas that are more pre­dom­i­nant­ly white or some­thing else. So I think for me that would— Because that's why this was cre­at­ed. I cre­at­ed this because I grew up as some­one that loved tech­nol­o­gy but was nev­er a tech­nol­o­gist, was more of an end user. So I nev­er saw myself in the space, at all. So this was cre­at­ed because we need to be able to see each oth­er and we need to know that these are things that we're capa­ble of doing. And if we had access to it, these are the things that we would be doing. So just being able to see each oth­er is the most impor­tant part of it.
Levin: Yeah, some­thing I've told the speak­ers is to give the talk that you would like to see.
Melenciano: Yeah.
Levin: And it's been said you know, you can't be it if you don't see it. And that can mean a lot of things, you know. In one case it's sim­ply like the kind of way that you work across so may dif­fer­ent dis­ci­plines. I've men­tioned sev­er­al times in the fes­ti­val, this per­mis­sion to be hybrid, is so latent and embed­ded in your work. And to see of course many dif­fer­ent kinds of approach­es to tech­nol­o­gy being done here as well.
There's a ques­tion on the chat about what's in— This is less about Afrotectopia and more about the phys­i­cal things that you've shown. What's inform­ing the aes­thet­ic choic­es you've made in your phys­i­cal work? Someone says, ​"I'd like to hear more about the influ­ences and inten­tions behind the beau­ti­ful visu­al design lan­guage that you have across your work." Where have you drawn from to make these?
Melenciano: I think uh… Well thank you. It's a kind ques­tion. I think— I'm not sure real­ly where it comes from. I remem­ber being in art school in under­grad and I was always the only one that was using a lot of col­or and every­one else was kin­da using these min­i­mal, mono­chro­mat­ic kind of col­or palettes. And just hav­ing con­ver­sa­tions with oth­er peo­ple, and even just in my fam­i­ly, I real­ized that maybe it's some­thing that's more Caribbean or what­ev­er. My fam­i­ly is from the Caribbean. I'm Dominican American, so it could be that. Maybe it's just kind of like a cul­tur­al thing that just kin­da comes in. Because for me col­or is real­ly impor­tant in cre­at­ing a space that just feels vibrant. I think it allows peo­ple to feel very excited.
But yeah, I don't know where the oth­er parts come—and I think it's also just like this ances­tral intel­li­gence again, of the things that you kin­da do is just stuff that your…it's just in your DNA, I guess. And for me pat­terns are real­ly impor­tant. I love to blend togeth­er dif­fer­ent pat­terned aes­thet­ics and cre­ate these new shapes and bal­ance between com­plex­i­ty and sim­plic­i­ty. So, I don't know. I think it's kind of a mix of that, just col­or and pat­terns are real­ly impor­tant to me.
Levin: I think this will prob­a­bly be our last ques­tion. It's again from the Discord. Oh, there's a cou­ple. But this one is where and when, or where and/or when, will there be oppor­tu­ni­ties to expe­ri­ence the Metamorphosis vir­tu­al space? And also, fol­low­ing on that, did you incor­po­rate any of the think­ing of the work of Dr. Nadine Burke Harris on ACEs, which is Adverse Childhood Experiences?
Melenciano: No, but I'm gonna write that name down. It sounds real­ly interesting.
Levin: It's in the chat as well. So is there a plan to exhib­it, or for peo­ple to expe­ri­ence the Metamorphosis vir­tu­al space?
Melenciano: It's live now. You could go to meta​mor​pho​sis​.fm and you'll be able to move through the space. But in just being asked that ques­tion, I've nev­er real­ly thought about exhibit­ing it out­side of the web site, but I think that would be a real­ly real­ly real­ly cool opportunity.
Levin: And who are some peo­ple who are work­ing in tech­nol­o­gy for activism, or just oth­er tech­no­log­i­cal approach­es that you are intense­ly inter­est­ed in or that you feel aligned with, or whose work you admire and that we should look into? Do you want to give shout outs to anyone?
Melenciano: Oh there's so many. There's every speak­er that's pre­sent­ing at Fractal Fête. You could look at that. And yes­ter­day we had Ash Baccus-Clark, and then the day before that we had Onyx Ashanti. So yeah, you could def­i­nite­ly look at that line­up and find a lot of them.
Levin: Thank you so much for shar­ing your ener­gy and work and objec­tives with us, Ari. It's real­ly inspi­ra­tional and it's real­ly impor­tant work for this kind of thing to hap­pen and for peo­ple to see it. It's love­ly see­ing you again, and I hope you get to enjoy some more of the fes­ti­val, too.
Melenciano: Yeah, thank you for hav­ing me.
Levin: Thanks. We're going to take a quick break, and at two o'clock, we will have Sarah Rosalena Brady. So we'll see you all in a few minutes.